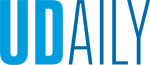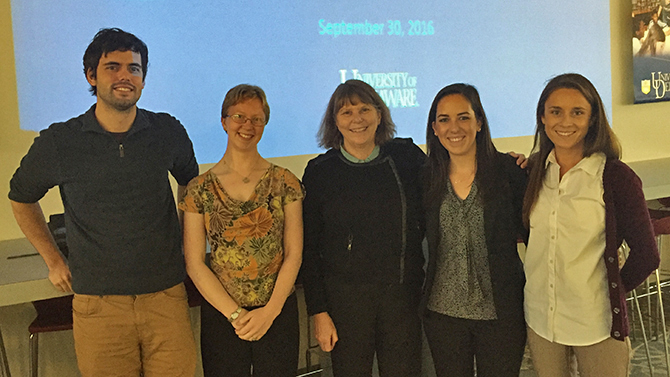 Water Symposium
Article by UDaily staff October 04, 2016
Symposium considers water quality, climate change, environmental education
The third annual Water Symposium was held on Friday, Sept. 30, in Townsend Hall on the University of Delaware College of Agriculture and Natural Resources (CANR) campus.
The annual event provides an opportunity for faculty and students associated with the interdisciplinary water science and policy (WSP) graduate program, which is spread across multiple departments and colleges at UD, to come together to present their research and share ideas.
The symposium included a plenary talk by Diane McKnight, an internationally-renowned water expert, short five-minute talks by WSP graduate students, and an open forum on how to further enhance water and environmental education at the University.
The symposium was opened by CANR Dean Mark Rieger, who highlighted the importance of water quality for agriculture and food production in the Delmarva region. Rieger emphasized the importance of understanding climate variability because it has significant consequences for crop yields, farming practices and the economic wellbeing of the agricultural community.
Rieger said that this year was an excellent example of such variability, with a wet and cold spring followed by a hot and dry summer that posed challenges for crop growth, irrigation and crop harvest. As per the National Oceanic and Atmospheric Administration (NOAA), this July and August have been the hottest months on record, and if trends persist, this year could be the warmest year on record.
Rieger applauded the strong progress and accomplishments of the WSP program and said that such multi-college and multi-departmental interdisciplinary partnerships were key to solving environmental problems. The dean said UD President Dennis Assanis is a strong supporter of such innovative and interdisciplinary programs, adding that the WSP program provides an excellent example of how such programs can succeed at UD.
Shreeram Inamdar, director of the WSP program, provided a quick update indicating that the program, which started in 2011, is doing very well and moving ahead by leaps and bounds.
Inamdar said that the program did particularly well this past year with 18 graduate students, eight of whom successfully completed their master of science degrees. He said this success resulted in the permanent approval of the WSP master of science degree program in the spring of 2016.
The program also graduated its first doctoral candidate, Jennifer Egan, this summer.
Inamdar said that the program continues to attract highly qualified and motivated students. It only recruits students that are fully funded and supported by adviser grants and assistantships. This fall, four new students joined the WSP program.
Plenary talk
The plenary talk for the program was presented by McKnight, a professor of civil, environmental and architectural engineering at the University of Colorado Boulder and a fellow at the Institute of Arctic and Alpine Research (INSTAAR), who is internationally recognized for her research on water quality of aquatic ecosystems.
McKnight's talk was sponsored by four departments and programs, including WSP and UD's departments of Civil and Environmental Engineering, Geography and Plant and Soil Sciences. The talk was attended by nearly a 100 people from across and beyond the University.
McKnight is a founding principal investigator of the National Science Foundation's Long-Term Ecological Research (LTER) program in the McMurdo Dry Valleys. She is also an elected member of the National Academy of Engineers (NAE).
In her talk, McKnight discussed some of the water quality challenges posed by acid mine drainage in the Rocky Mountains and by climate change in the McMurdo Dry Valleys of Antarctica. She said that legacy contamination associated with historic, abandoned mines posed a threat not only to the water quality of Rocky Mountains streams but also impacted sensitive and fragile aquatic habitat in the alpine streams.
For a scientist who has visited Antarctica 23 times, she said it was a new learning experience every time.
Despite the isolated and harsh environment and time-limited and difficult working conditions in Antarctica, McKnight and her research team have been successful in recording the changes in chemistry and ecology of polar streams at the bottom of the world. She said she jumped at the opportunity to study in Antarctica since it provided one of the only places in the world where aquatic/stream organic matter was derived primarily from microbes as there are no plants or other terrestrial sources in this frozen landscape.
Directing her attention to the students, she said that they should never hesitate to take up such unique and exciting challenges because they will learn more from such experiences that take them out of their comfort zones.
Student presentations
Following the plenary talks, current WSP students provided quick 5-7 minute talks on their research. Research presentations covered a wide range of topics including extreme storms and water quality, greenhouse gas (GHG) emissions and urban runoff.
For example, Erin Johnson and Chelsea Krieg discussed how extreme storms associated with hurricanes and tropical depressions could flush sediments and associated nutrients into streams; Dan Warner and Margaret Capooci emphasized the need to study GHG emissions from soils, vegetation, and coastal marshes; and Joe Brown highlighted the benefits of using biochar as a soil amendment to improve soils and reduce surface runoff in urban landscapes.
Since some of the new WSP students had yet to define their research projects, they spoke about what attracted them to the WSP graduate program. Jordan Hockman-Martin, who graduated in the spring 2016 from UD's environmental engineering program, said she was especially attracted to the WSP program because of its novel focus on both the science and policy aspects of water. She said very few graduate programs address both of these important issues simultaneously. Linking science and policy issues is critical to developing sustainable solutions for today's water challenges, she said.
At the end of the symposium, faculty and students had an informal dialogue about how to further enhance the WSP program and strengthen the linkages and partnerships with working professionals in industry, state and federal governments, and non-profit organizations.
One of the ideas that was mentioned was developing an "environmental boot camp" which would be designed and taught by working professionals — with assistance from UD faculty — with the intention of providing critical missing skills and tools for UD students.
The rationale was that with such skills and tools, UD students could hit the ground running when hired by employers and consulting firms in the region. The boot camp would also benefit working professionals and employees to learn alongside UD students.
WSP's first doctoral graduate, Egan, who is currently employed with Skelly and Loy, an engineering and environmental consulting firm, has agreed to identify the needs for such a boot camp and has already sent out surveys seeking input and participation from employers and industry in the Mid-Atlantic region.