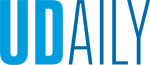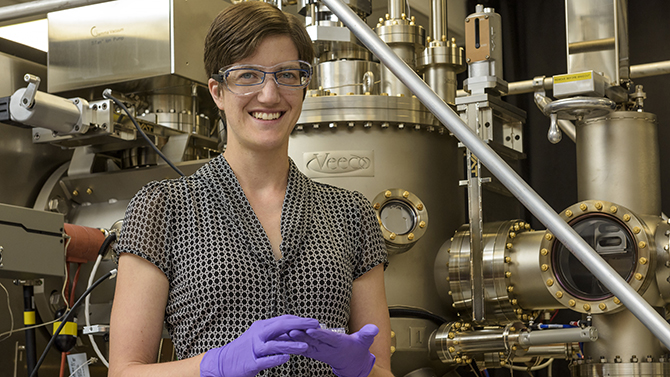 Young Investigator Award
Article by Diane Kukich Photo by Kathy F. Atkinson October 04, 2016
UD's Law recognized for contributions to molecular beam epitaxy
Stephanie Law, Clare Boothe Luce Assistant Professor of Materials Science and Engineering at the University of Delaware, has been selected to receive the North America Molecular Beam Epitaxy (NAMBE) Young Investigator Award.
She was recognized for "contributions to the MBE growth of materials and devices that harness emerging physical phenomena, including topological insulators and plasmonics."
Molecular beam epitaxy is a technique in which a material is deposited one atomic layer at a time. This growth method results in highly ordered crystals with atomically sharp boundaries between materials, as well as complete control over the material thickness and doping density — a measure of the impurities added to a semiconductor to modulate its electrical properties.
The work in Law's lab focuses on controlling the way light behaves in these materials for application in such devices as enhanced infrared detectors, which are useful for monitoring biological or chemical processes, and superlenses, which allow the viewing of structures at length scales below the diffraction limit of light.
Law is the first woman to win the award since its establishment in 2006, and UD is the only school that currently has two winners. Joshua Zide, associate professor of materials science and engineering, was the 2011 recipient.
"Prof. Law's award is a testament to both the high quality of her research and the commitment that UD has made to excellence in electronic materials research," Zide says.
"Her research is creative and will likely have important impacts on wide-ranging fields. This award, which recognizes her as a rising star in the field, is very well deserved, and I think UD should also be especially proud of her as the first woman to win this award in its 10-year history."
After earning her doctorate in physics at the University of Illinois at Urbana-Champaign in 2012, Law stayed on for more than two years to do postdoctoral research under professor Dan Wasserman.
"Stephanie's research during that time was focused on developing new materials for nanophotonic and plasmonic applications in the mid-infrared region of the electromagnetic spectrum," Wasserman says. "Her productivity in her short time in my group was nothing short of exceptional, forming the foundation of the field of epitaxial plasmonic materials."
Plasmons are density waves of electrons that are created when light hits the surface of a metal under very specific conditions. These waves can theoretically encode more information than is possible with conventional electronics.
"Basically what we're doing is harnessing the new physics that develops when you put two materials together to create new devices," Law says.
Law joined UD as the Clare Boothe Luce Assistant Professor of Materials Science and Engineering in September 2014.
The Clare Boothe Luce Program, which began giving grants in 1989, is now the single most significant source of private support for women in science, mathematics and engineering. The widow of Henry R. Luce, Clare Boothe Luce was a playwright, journalist, ambassador, and member of Congress. In her bequest establishing this program, she sought "to encourage women to enter, study, graduate, and teach" in science, mathematics and engineering.
The NAMBE Young Investigator Award recognizes individuals who have made "significant contributions to the science and technology of MBE or enabled by MBE by the age of 35 and show promise of future leadership in the field. The awardee should have presented the cited work at one or more NAMBE conferences."