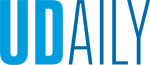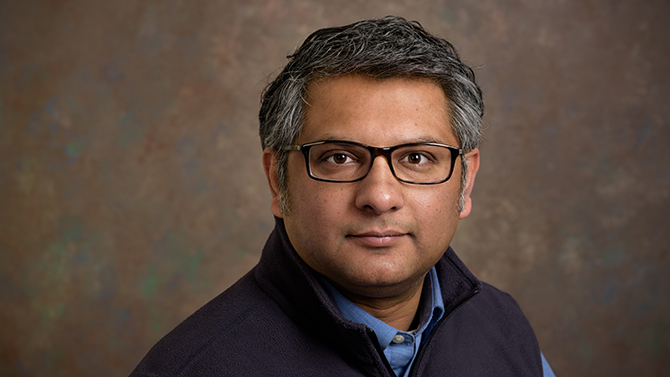 Mangone Young Scholars Award
Article by Ann Manser Photo by Kathy F. Atkinson October 12, 2016
Salil Lachke honored by Francis Alison Society
Salil Lachke, assistant professor of biological sciences at the University of Delaware, has been selected by the University's Francis Alison Society to receive the 2016 Gerard J. Mangone Young Scholars Award.
The award recognizes promising and accomplished young faculty. The recipient is chosen by fellow faculty members who have received the Francis Alison Award, the University's highest competitive faculty honor.
Lachke, who conducts extensive research related to cataract — the world's leading cause of blindness — and other eye disorders, was nominated by Department of Biological Sciences chair Robin Morgan.
Morgan described Lachke as "a truly outstanding member of the University community as a researcher, teacher, collaborator and mentor." She cited his influence on the future of ophthalmology research as well as on the general field of developmental biology.
Lachke has had a particular impact on the understanding of congenital cataracts, Morgan wrote, adding that he has published 32 peer-reviewed articles. Among those articles was a 2011 publication in the journal Science that was also highlighted in eight other journals and was recommended as a new finding by the Faculty of 1000, a publisher of research in the life sciences.
Morgan also noted Lachke's role "as an outstanding mentor" whose graduate and undergraduate students frequently win research awards and opportunities to present their work at national conferences.
"Even in his relatively short career, Dr. Lachke has demonstrated that he is truly an outstanding scientist and teacher," Morgan wrote.
Lachke earned bachelor's and master's degrees at the University of Pune, India, and his doctorate at the University of Iowa. He did postdoctoral work at Harvard Medical School and Brigham and Women's Hospital and worked as an instructor in medicine at Harvard before joining the UD faculty in 2011.
His innovative research has been recognized with awards from many groups and foundations, including the Pew Charitable Trusts, which named him a Pew Scholar in Biomedical Sciences in 2012.
In an ongoing research project that recently won $1.95 million in support from the National Institutes of Health, Lachke is studying the cellular and molecular processes that keep the lens of an eye transparent.
About the Mangone Award
The Mangone Young Scholars Award is named in honor of the late Gerard J. Mangone, who joined the UD faculty in 1972 and created the UD Center for the Study of Marine Policy, renamed in his honor in 2003.
Dr. Mangone, University Research Professor in the College of Earth, Ocean, and Environment, received the Francis Alison Award in 1983. In 2010, he received an honorary degree from UD. He died on July 27, 2011.