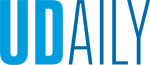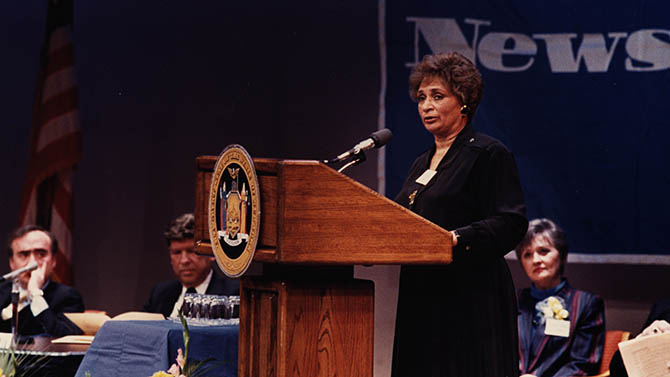 Library acquires Pettigrew papers
Article by UDaily staff October 14, 2016
Announcement comes in conjunction with Oct. 17 documentary to be shown in UD Library
The University of Delaware Library has announced its acquisition of the papers of L. Eudora Pettigrew (b. 1928), the first African American to hold a position in central administration at the University of Delaware. Pettigrew was appointed associate provost for instruction in 1981.
Pettigrew is the recipient of many honors, including three honorary doctorates and the 1991 Distinguished Black Women in Education award, the National Council of Negro Women's highest citation.
"I expect that there will be institutional interest in her history with UD as well as broader interest from researchers in women and gender studies, education, and political science and international affairs. We are delighted to have received these papers," said Trevor A. Dawes, vice provost for libraries and museums and May Morris University Librarian.
Prior to her arrival at UD's College of Urban Affairs and Public Policy in 1980, Pettigrew was professor and chair of metropolitan studies at Michigan State University, the first African American to chair a department at that institution. She left Delaware in 1986 to become the first African American president in the SUNY system at the helm of the State University of New York at Old Westbury, where she served until her retirement in 1999.
The L. Eudora Pettigrew papers document her academic and professional career, spanning the dates 1900 to 2012 (bulk dates 1965-2005). A large and central part of the collection consists of her academic writing and speeches on topics of agricultural systems, urban environments, race and class, higher education administration, and international disarmament and peace education.
The professional scope of the collection reflects Pettigrew's work in the International Association of University Presidents (IAUP), an organization that promotes global awareness and competence as well as peace and international understanding through education.
Pettigrew served as chair of the IAUP/United Nations Commission on Disarmament Education, Conflict Resolution, and Peace, and represented IAUP on the executive committee of the UN/Non-Governmental Organization. With funding received from UNESCO and IAUP, she organized and conducted conferences in the United States, Egypt, the Republic of South Africa, Denmark, Belgium, the People's Republic of China, Norway, Mexico and France.
From 1996 until 2002, she represented IAUP on the UNESCO Peace Programme in Palestine and the European Centre's chairs program in Austria on Human Rights, Democracy, Peace and Tolerance.
"Announcement of this new collection is especially timely as it coincides with other University celebrations of Women of the Color in the Academy," continued Dawes.
Morris Library is hosting a showing of the documentary Living Thinkers: An Autobiography of Black Women in the Ivory Tower on Monday, Oct. 17, at 4 p.m. in the Class of 1941 Lecture Room. Information may be found in this UDaily article.
Also on display in the Morris Library is the first floor exhibition, Two Steps Forward, One Step Back? Women of Color and the Dance of Academe, curated by Librarian Carol Rudisell. Information may be found at this library website.
The Pettigrew papers are available for research in Special Collections in the University of Delaware Library. Library Assistant Dustin Frohlich from the Manuscripts and Archives Department processed the collection, which was a gift of Peter W. Woodard, Pettigrew's son.