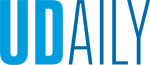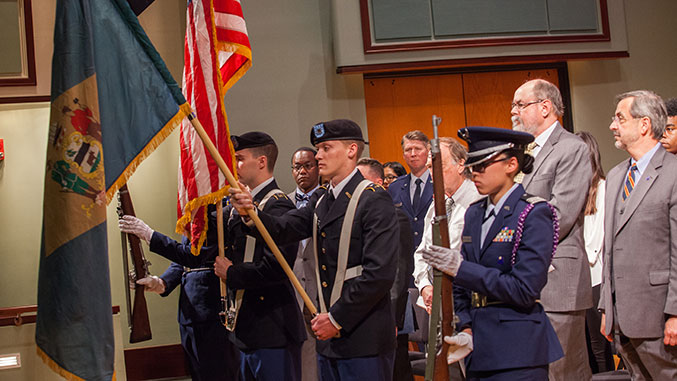 Remembering veterans
Article by Jerry Rhodes Photo by Ambre Alexander Payne May 16, 2016
Ceremony honors Delawareans who died in World War I
On the bronze markers in the University of Delaware's Memorial Hall are the names of the 270 Delawareans who lost their lives in World War I.
During a ceremony held Tuesday, May 10, in the Gore Recital Hall of the Roselle Center for the Arts, students in the Department of English's capstone Literary Studies Seminar shared the personal stories of some of the First State veterans who died in the conflict that began on July 28, 1914, and ended Nov. 11, 1918.
The ceremony began with a presentation by the Army and Air Force ROTC Joint Color Guard, and the playing of the national anthem.
Introduced by Sara Sajer, a senior in the College of Arts and Sciences, University Provost Domenico Grasso welcomed the audience, dignitaries and honored guests, including Maj. Gen. Francis Vavala, adjutant general of the Delaware National Guard, and representatives of U.S. Sens. Chris Coons and Thomas R. Carper.
Veterans seated onstage who represented various military branches were Thomas Pauly, U.S. Marine Corps, Don Mell, U.S. Army; Phil Flynn, U.S. Navy; and Dom Gonzon, Delaware National Guard.
Grasso, who served four years on active duty as an engineer at Fort McPherson, Georgia, and six years in the Army Reserve Special Operations Command, noted that two special reasons stood out among the many to hold the ceremony.
"First, it serves as a reminder that the roots of the University run deep and stretch back into the earliest history of our state, prior to World War I, before the Civil War, all the way back to our earliest struggles for independence," Grasso said. "The second reason that today's ceremony is important is because it connects narratives to names."
While symbolic commemorations, such as the Book of the Dead that resides in Memorial Hall, provide a daily reminder of the sacrifices made, there also is a need to dive deeper into the story, Grasso noted.
Grasso lauded the efforts of the student presenters for bringing the personal stories of the conflict that began more than a century ago to light.
"They worked the farms of Sussex County and the shipyards along the Christina River, and they were students here at the University of Delaware," Grasso said of the service members. "They enjoyed fishing along the banks of the Appoquinimink River and playing baseball on the corner of Front and Union Streets in Wilmington."
Those who gave their lives served as Harlem Hell Fighters, buffalo soldiers, nurses and combat engineers, Grasso said.
And they never made it home.
"We need to be reminded that many in our community – students, faculty and staff – served in harm's way before they came to UD, and that some of our Blue Hens will go on to serve when they leave the safety of our campus," Grasso said. "It's good just to remember that every name on a monument is simply a title to a life story."
Those names, Grasso said, represent someone's child or parent, spouse, friend, people who held jobs, owned businesses, raised families and served in the community, and were an important part of the First State's history.
"Their sacrifice was great, and we all are in their debt," Grasso said. "In this day and age after decades of war, we can't let the frequency of fatalities desensitize us to loss and its significance."
Vavala also took the opportunity to thank the both students and guests for honoring the service of veterans throughout American history.
"It's not only important to know the historical significance, but it seems proper that we honor those men and women who have served and do serve our great country in uniform," Vavala said. "Their sacrifices and their selfless service purchase for us the privileges of our freedom and democracy."
Vavala said the presenting of colors by the ROTC honor guard at the opening of the ceremony gave attendees the opportunity to witness the newest generation of service members.
"The honor to serve one's state and country goes way back to the beginnings of our nation, and we know that," Vavala said. "Last August, we of the Delaware National Guard celebrated our 360th anniversary of service to the great state of Delaware. The Delaware National Guard has participated in every conflict that our nation has faced. Since 9/11, 95 percent of our Delaware National Guard has deployed to support what we call our overseas' contingency operations."
The fact that the state's flagship University built and dedicated Memorial Hall to the 270 Delawareans lost in World War I remains significant, Vavala said.
"Veterans were and are the instruments in keeping our great nation the land of the free and the home of the brave," Vavala said. "May God bless our veterans in service and may God bless those serving and their families today, and finally, may God bless our great United States of America."
Presenting dignitaries also included Brendan Mackie, representing Sen. Coons, and Larence Kirby, executive director of the Delaware Commission of Veterans Affairs.
"It's important to know that 15 million service members, women and civilians lost their lives in the Great War," Mackie said. "I'm sure many of us in this room had a relative who served, whose family was effected by the conflict."
"I am inspired by the University of Delaware's undergraduate, graduate and continuing education programs that reach out to veterans," Kirby said. "They not only provide higher learning instruction, they also share the commemoration highlighting veteran's sacrifices associated with America's April 1917 entry into World War I."
George Miller, associate chair of the Department of English, presented a history of Memorial Hall, dedicated to the memory of those who died in the First World War, and department chair John Ernest thanked student presenters for their dedication in bringing to life the personal stories of those who fought and died in the war to end all wars.
Student presenters and the veterans whose personal histories they documented include:
Nicole Lund, who discussed Lawrence Witsil, an electrical engineering major at UD from Wilmington.
Linda Ellis, on Thomas Amory, lieutenant, 26th Infantry Division, from Wilmington, who died Oct. 2, 1918.
Jennifer Guerrero, on Davis Manlove of Appoquinimink, who died in April 23, 1919, and Adam Pacelli, who was born in New York but moved to Wilmington with his father and sister. He registered June 5, 1917, and died Oct 16, 1918.
Kylie Ruber, on Norman Scott.
R.J. Popio, on Andrew Conlin, a memer of the 325th Infantry Regiment, 82nd Division, killed in action during the Meuse-Argonne Offensive in France on Oct. 13, 1918.
Tricia Pennington, on John Stewart, who lived at 2308 Monroe Street, Wilmington, and died Dec. 4, 1918, in France.
Joseph McCole, on Ruth MacGregor.
Victoria Snare, on Maj. Rupert Mandel Burstan, who died in France on Sept. 18, 1918.
Xin Li, on Lewis A. Taylor, one of the first African American soldiers to cross the ocean and the first African American from Delaware to die in action, killed near Brau, France, on May 31, 1918.
Michael Jones, on Louis Thorpe.
Barbara Morris, who recalled that James Tull Reed had just married her grandmother Dorothy before he died at Fort George G. Meade in Maryland.
At the close of the ceremony, George Miller asked the attendees to observe a moment of silence in memory of all veterans, especially those who gave their lives during World War I. A reception followed the ceremony and additional readings took place in Memorial Hall.