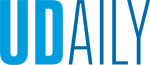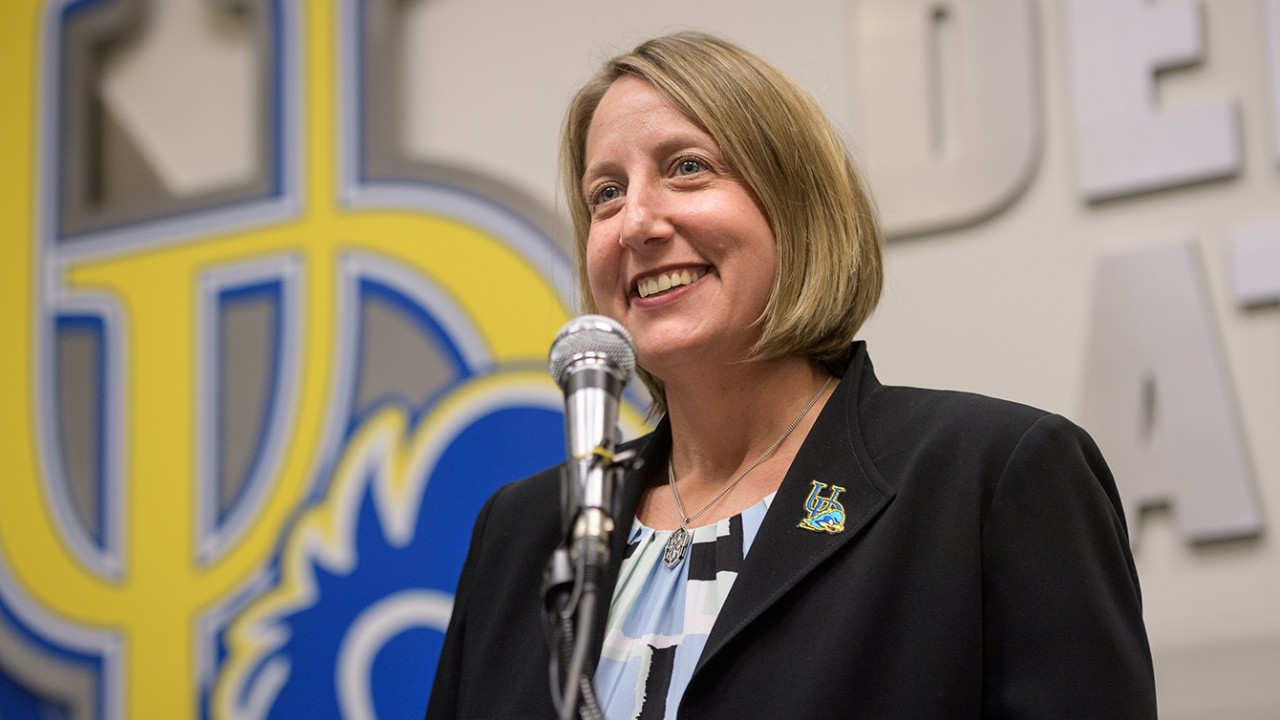 NEW ATHLETIC DIRECTOR
Article by UDaily staff Photo by Evan Krape May 13, 2016
Christine Rawak of University of Michigan named UD athletic director
Incoming University of Delaware President Dennis Assanis announced today that Christine Rawak, executive senior associate athletic director at the University of Michigan, will become the University of Delaware's new director of Intercollegiate Athletics and Recreation Services.
Her appointment is effective June 5.
"I am pleased to announce the appointment of Chrissi Rawak today as the University of Delaware's new athletic director," Assanis said. "Chrissi is an outstanding leader with a long history in athletics, development and alumni relations. She has a true commitment to both the student-athlete experience and inclusive excellence – and these are commitments that we both share. Athletics strengthens the University's connection with our students, alumni, faculty, staff and the greater community, and I'm confident that she will be able to work with the excellent team already in place here to build on our past successes and lead the program to even greater achievements."
Rawak has spent more than a decade in athletics at Michigan, where she currently oversees external relations and strategic initiatives. In Ann Arbor, she launched the first comprehensive athletics fundraising campaign raising more than $316 million to date. She personally raised more than $170 million, including securing an unprecedented $100 million gift. Her oversight responsibilities include fundraising, ticket sales, brand management, external communications, public relations, marketing, advertising, community relations, graphic design and creative, research, analytics and database management, digital and social media, constituent engagement, radio and television, corporate sponsorship, trademarks and licensing, events and game day experiences.
"I am truly honored and humbled for the opportunity to join the Delaware family," said Rawak, "and I am grateful for the trust that President Assanis has in me and in my abilities to lead this department. The University is a world-class institution with a community with a clear passion and pride for athletics and for the state of Delaware. My family and I cannot wait to become Blue Hens."
Rawak will become the sixth director of Athletics at Delaware since the position was established in 1940. She is the first woman to hold the position on a permanent basis. The director of Intercollegiate Athletics and Recreation Services reports directly to the president and is a member of the University's senior staff. The position leads the University of Delaware's intercollegiate athletics program consisting of 21 Division I men's and women's sports and the University's recreation services, which offers intramural sports, club sports and fitness opportunities to all students.
As a student at the University of Michigan, Rawak was a member of the varsity swim team and student government president before earning her bachelor's degree in sports management and communications in 1992. After graduation, she joined the athletics department as an assistant swim coach.
Prior to assuming her current position at Michigan, Rawak spent seven years in Michigan's Office of University Development as the assistant vice president of talent management and development operations. From 1998-2004, she worked as director of personnel and business resources in the Office of Alumni Relations and Development at Northwestern University while earning a master's degree in communication from Northwestern.
A native of Newtown, Pennsylvania, she is married to Glenn Hill, a former gymnast at the University of Michigan, and they are the parents of Blake, Evelyn and Grace.
The appointment has been well-received. For comments, see the related article.
About the search
The University conducted a national search for the position with the assistance of Parker Executive Search. Alan Brangman, interim executive vice president and treasurer, chaired the search committee.
"We conducted a comprehensive and rigorous search for this important position, and there were a number of talented individuals interested in this post," Brangman said. "Christine Rawak quickly emerged as an individual who could lead our athletics program to the next level. I know she will be a great Blue Hen."
Also serving on the search committee were Tony Allen, trustee and alumnus; Dennis Assanis; incoming president; David Brock, head football coach; John Cochran, chairman of the Board of Trustees; Dawn Elliott, director of the Biomedical Engineering Program; Jeff Garland, vice president and University secretary; Stuart Grant, trustee; Sue Groff Costa, director of the Office of Equity and Inclusion; Barnett Harris, a member of the men's basketball team; Carol Henderson, vice provost for diversity; Frank Newton, acting vice president and chief of staff; Joe Purzycki, alumnus and donor; Lynn Snyder-Mackler, professor of physical therapy; Wendy McFarlane-Smith, head cross country, track and field coach; Darelle Riabov, alumna and donor; José-Luis Riera, dean of students; Monica Taylor Lotty, vice president for development and alumni relations; and Meghan Winesett, a member of the field hockey team.
Matthew Robinson, professor and director of the Sport Management Program in UD's Alfred Lerner College of Business and Economics, has served as interim director since January. He will return to his faculty position.
"My thanks to Alan Brangman and the members of the search committee and to Matt Robinson for steering us through this time of change in Athletics," Assanis said. "His deep knowledge of athletics issues and his personal leadership were invaluable to the department and to the University."
About University of Delaware Athletics
University of Delaware Athletics sponsors 21 NCAA Division I intercollegiate varsity sports that compete in the Colonial Athletic Association.
Located in Newark, Delaware, UD has a rich tradition of excellence in men's and women's athletics. The Fightin' Blue Hens football team, which competes in the NCAA Division I Football Championship Subdivision, has won six national championships. The women's lacrosse team has won three national championships and in 2013 the women's basketball team, led by WNBA MVP Elena Delle Donne, reached the NCAA championship tournament's Sweet 16.
Delaware Stadium, which seats 21,000 fans, is one of the finest NCAA Division I FCS facilities in the nation and will host the 2017 NCAA Division I men's lacrosse championship tournament quarterfinals.
The Recreation Services program serves the entire UD student body and focuses on student wellness, leadership development and healthy engagement. Students can participate in 33 club sport teams and more than 30 intramural leagues and tournaments. Recreation facilities include the Carpenter Sports Building, Rawstrom Natatorium, four fitness centers for student and staff use, various upgraded playing fields and courts.
In recent years, the University of Delaware has invested heavily to improve athletic facilities for both varsity athletes and the general student body, with major upgrades to the Carpenter Sports Building, the Bob Carpenter Center, Bob Hannah Stadium and the Delaware Field House. In addition, the soccer and track and field teams now compete in a vastly improved facility, the 1,400-seat Stuart and Suzanne Grant Stadium.
With national exposure in multiple sports, a student-athlete body with a cumulative grade-point average of 3.0 and commitment to service in the community, and exceptional revenue generation and fundraising efforts, the University of Delaware stands as one of the premier athletic programs in the Mid-Atlantic among all public research universities.
Blue Hens by the numbers
UD ranked 29th among all national public universities and 75th among all national universities in U.S. News and World Report's Best Colleges 2016 edition, with the physical therapy graduate program rated No. 1 in the 2017 edition of its Best Graduate Schools publication.
The University of Delaware traces its roots to a private academy founded in 1743 by the Rev. Francis Alison, whose first class included three signers of the Declaration of Independence and one of the Constitution. Today, the University remains at the epicenter of national politics with alumnus Joe Biden, once a member of the Fightin' Blue Hens football team, serving two terms as vice president of the United States.
21 varsity athletics programs, with 11 achieving perfect NCAA Academic Performance Rates for 2013-14.
Competes in NCAA Division I, with football in the Football Championship Subdivision.
Overall student-athlete GPA is above 3.0.
Major athletic facility growth since 2012: $25 million addition and renovation, Carpenter Sports Building; $1.5 million renovation, Stuart and Suzanne Grant Stadium; a 45,000-square-foot addition to the 5,000-seat Bob Carpenter Center, which houses the basketball and volleyball teams; renovations to Bob Hannah Stadium, with new turf playing surface, heated dugouts, a new scoreboard and improved bullpens.
Milestone athletic accomplishments
Elena Delle Donne, in 2012-13 led the University of Delaware women's basketball team to a 32-4 record and a spot in the NCAA Division I championship tournament's Sweet 16, where the Fightin' Blue Hens lost 69-62 to the University of Kentucky. First team Associated Press All-American and John Wooden All-American, 2012 and 2013. USA Basketball World University Games gold medalist in 2011 and USA Basketball Olympian in 2016.
Joe Flacco, in 2007 led the University of Delaware football team to an 11-4 record and the NCAA Division I Football Championship Subdivision championship game, where the Fightin' Blue Hens fell 49-21 to Appalachian State University. Flacco threw for 4,263 yards and 23 touchdowns that season and was selected in the first round of the NFL draft by the Baltimore Ravens.
Three University of Delaware football coaches have been inducted into the College Football Hall of Fame – Bill Murray, Dave Nelson and Tubby Raymond.
Hosted NCAA Division I Football Championship Subdivision championship tournament games in 2003 and 2010.
Hosted NCAA Division I men's lacrosse championship game in 1984, the Final Four in 1986, a first round game in 2002, and quarterfinals in 2014. UD also will host the quarterfinals again in 2017.
Hosted two NCAA Division I women's basketball championship games in 2013 and will host the 2019 Colonial Athletic Association women's basketball championship tournament.
Top pro athlete alums
Elena Delle Donne (Chicago Sky, 2015 WNBA MVP, and 2016 U.S. Olympic Team member)
Joe Flacco (Baltimore Ravens, 2013 Super Bowl MVP)
Rich Gannon (CBS Sports, Oakland Raiders, 2002 NFL MVP)
Dallas Green (Former MLB player, manager of 1980 World Series champion Philadelphia Phillies)
Mike Adams (Indianapolis Colts, played in Super Bowl XLVIII for the Denver Broncos)
Vic Willis (13-year professional baseball career from 1898 to 1910, inducted into the Baseball Hall of Fame in 1995)
John Grant Jr. (professional lacrosse player, MVP of the MLL, gold medal winner with Team Canada in the 2006 world championship and the 2007 and 2011 world indoor championships)