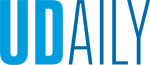 Food justice
Article by Laura Bilash Photo by Wenbo Fan May 31, 2016
Undergraduates discuss food justice over 'Potluck with the President'
On most Tuesday afternoons, Lindsay Naylor's food justice class is settled in Alison Hall, ready to listen to a lecture or work on group projects. But on Tuesday, May 10, the undergraduate students walked over to 47 Kent Way, prepared meals in tow, to host a "Potluck with the President" event with University of Delaware Acting President Nancy Targett.
Naylor, an assistant professor of geography, which is housed in the College of Earth, Ocean, and Environment, explained that the potluck was a way for students in her food justice course to share food as a community while discussing how politics, economics and demographics can influence food equity, availability and sustainability in a given region, locally and globally, and even in Newark, Delaware.
Students used what they learned in class to decide what recipe to prepare, with careful consideration of the ingredients and where they came from, an important concept of food justice.
Over a delicious spread of homemade quiche, salad, sandwiches and dessert from UDairy Creamery, Targett and Frank Newton, acting vice president and chief of staff, heard how the students have become active participants in promoting food equity and diversity in the area.
"Having an intellectual conversation about controversial issues and being able to respect other's opinions is an important aspect of college," Targett said to the students.
Food justice, or the belief that having access to fresh, healthy food is a human right, also takes into account who grows the food and how and where it's grown with concern for the well-being of the land, workers and animals.
Throughout the semester, students learned that many people, in Newark and throughout the country, rely on fast food chains or local convenience stores because of the uneven distribution of healthy foods, especially in lower class neighborhoods.
Project work and research with the Food Bank of Delaware (FBD) helped students develop their own ideas to combat such inequalities in the Newark food system.
During the potluck, student representatives from each group explained their class projects, which included researching demographics and poverty rates to define FBD's main consumers, creating a survey to assess and improve their community incentive program, and analyzing the UD food system to develop a potential partnership with FBD, among others.
Julia Conrad, a senior environmental studies major, was surprised to learn how few people in Newark are aware of the Supplemental Nutrition Assistance Program (SNAP), a food supplemental program similar to food stamps that provides low-income families with funds to buy nutritious foods.
To increase awareness and promote access to this community resource, Conrad and her group created flyers for the FBD that can be used at the Newark Farmers Market and elsewhere in the Newark community.
"Working with the FBD to promote the use of SNAP at the Newark Farmers Market has fostered a stronger sense of community and has motivated me to address similar issues in my own backyard," Conrad said.
In addition to making tangible differences in the community, the goal of Naylor's course was to spark conversation about food justice and diversity and to encourage students to participate in this important dialogue, she explained at the potluck.
Many students said they had developed a conscience about the food they eat that now makes them think critically about the food production process. Dynamic class discussions and interactive field trips also helped students, like Conrad, to understand how politics, economics and demographics contribute to the uneven distribution of food in communities like Newark.
"Drawing together issues of justice around race, economic class, gender and the body helps students understand how people are situated differently in the food system. Understanding this is the first step toward change," Naylor said.
Earlier this spring, Naylor received a research grant from the Center for the Study of Diversity to work with FBD to complete research and fieldwork on hunger-relief in the area for a project titled "Food Geographies and Food Justice: Diversity, Inclusion and Equity in the Newark Food System."