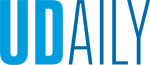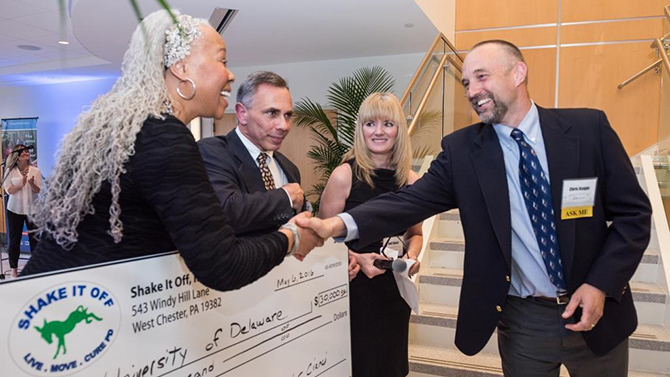 AN EXERCISE IN PARKINSON'S
Article by Dante LaPenta Photo by Kathy F. Atkinson May 23, 2016
Knight, Shake It Off help people with Parkinson's through exercise
For the majority of people, finding the motivation to consistently exercise is tough — even when there is nothing really wrong. Now imagine whether you would feel like exercising if you had slowed movement, impaired balance, tremors and perhaps symptoms of depression.
Those are just a few of the symptoms of Parkinson's disease (PD), and for many people the natural reaction is, "People with Parkinson's can't really exercise, can they?" They can, and PD patients are often found doing their own Tour de France impression on the stationary bicycles inside the University of Delaware's Exercise Neuroscience Laboratory.
Chris Knight, associate professor in the Department of Kinesiology and Applied Physiology, is leading studies into the role of the nervous system in fast movements. He is designing optimal exercise strategies for older adults, including a special focus on people with PD.
Research participants take part in six-week workout regimens that include interval bike workouts — and that is not just taking a leisurely ride around the block, as the men and women participating are working hard. Results indicate the intense exercise regimens are actually alleviating the degree of ailments.
"It can help with all aspects of mobility — walking, balance, hand function and cognition," explained Knight. "We don't think of these people as our 'patients;' we think of them as our athletes."
A local group shares Knight's passion for exercise in the Parkinson's community. With headquarters in West Chester, Pennsylvania, Shake It Off serendipitously discovered UD's research via a former graduate student.
Not only has Shake It Off provided many research participants for UD studies, the group is actively raising money for the Exercise Neuroscience Lab. The organization had already given a great deal of money to fund research over the past half-decade, and earlier this month at the College of Health Sciences Gala its representatives surprised Knight with a check for $30,000.
"What a fantastic, generous surprise," said Knight. "Now we'll be able to bring more people with Parkinson's into our exercise programs and the lab."
The donation will also be used to pay for new equipment, additional people to oversee the exercise programs and conference travel for students. Shake It Off's leadership includes passionate exercise advocates for people with PD, so the connection to UD's research was a natural fit.
"Chris' research on exercise and Parkinson's is so important in improving the lives of those affected by the disease," said Jodi Cianci, who lives with PD.
The nonprofit hosts fundraising events throughout the year. Knight, an avid cyclist, will be staffing an aid station for his fellow Parkinson's advocates this fall during the PD 500: Shake Off the Hills Challenge, held annually in Glenmoore, Pennsylvania.
"The work with Shake It Off is just such a cool, community-driven partnership," said Knight. "To honor their organization, we want the results applied quickly. We can't just publish the work and have it buried in a library. We take the results to Parkinson's support group meetings across Delaware and the region."
Eventually, Knight hopes to plant exercise interventions in fitness and community centers so those with PD can better sustain their workouts beyond the lab.