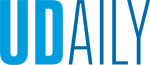 OLD SWEDES
Article by Adam Thomas Photo by Wenbo Fan May 31, 2016
UD assists historic Old Swedes with landscape design, preservation
University of Delaware professors and students are partnering with Old Swedes Foundation in Wilmington to assist in determining the best way to manage storm water runoff, preserve its historical record, artifacts and buildings, and explore ways to transform the National Historic Landmark into a gathering space for the surrounding community.
Students in Anna Wik's Advanced Landscape Design Course worked this semester to design landscape architecture plans for the site, which dates to the late 17th century.
"One of the primary issues identified for this site was the need for improved storm water management. In the cemetery, there are areas that are washed out, graves that are collapsed because of water, and a lack of vegetation as a result of erosion and aging tree roots. Rebecca Wilson, the executive director of the Old Swedes Foundation, really wanted to get some solutions in place for these issues," said Wik, assistant professor of landscape design in the Department of Plant and Soil Sciences (PLSC) in UD's College of Agriculture and Natural Resources.
The students' ideas for addressing these issues and transforming the space were on display at the annual SpringFest event on April 17, celebrating the rich historical heritage of Wilmington's 7th Street Peninsula, which includes Old Swedes Historic Site, Fort Christina Park, the Kalmar Nyckel Shipyard and the Copeland Maritime Center. Students set up posters of their work and collected surveys to find out what people in the neighborhood, parishioners and others at the event were looking for in the space.
With that feedback, the students selected a specific area they wanted to focus on for their final project and came up with more detailed plans for that area, which were displayed on Tuesday, May 24, at a public presentation held at the Old Swedes Historic Site.
Student solutions
Hunter Perry, a senior majoring in landscape horticulture and design, said the class visited sites around Wilmington to get a sense of the different issues affecting the urban environment. Understanding the challenges and opportunities present in Wilmington helped the students come up with new ideas for the Old Swedes site.
His poster showed plantings right against the church and large beds of ground cover, such as perennial flowers and annual plantings, that would look attractive as well as manage storm water.
"Right now, storm water is just running along the existing surface, and there's not much to catch it. I used a number of planting barriers that will allow water to infiltrate and potentially alleviate some of the issues caused by the run off. These plantings could put the water to use and cut down on a significant number of the problems," said Perry.
Perry said that a great learning experience with the project was being realistic in his plans.
"The foundation has a budget, and obviously isn't going to be able to put in Belgian block pathways that are a half million dollars. They also don't want to remove all of the existing trees; many of them are attractive and have historical interest, so I elected to keep all the trees and do minimal site impact," said Perry.
Another portion of the project was the assessment of existing trees and creation of a conceptual tree succession plan. Tara Trammell, the John Bartram Assistant Professor of Urban Forestry in the plant and soil sciences department, helped the landscape design students measure and record data about the existing trees and gave them tips on preparing a succession plan.
Olivia Kirkpatrick, a sophomore majoring in landscape horticulture and design, said the class researched the history of the site and let that inform what they were doing as they came up with their conceptual designs.
Kirkpatrick said she believes the biggest issue facing the site, other than the physical issues with runoff, is improving its ability to serve the surrounding community.
"In my design, one of the things I added was a larger entryway so that when people are looking in, it seems more inviting," said Kirkpatrick, who enjoyed the semester long focus of the project because it allowed her and her classmates time to explore a topic that interested them.
"You'll always find something that interests you and you want to pursue it, but with a lot of shorter term projects, you don't have that opportunity. With this, we started broad and then we were zeroing in. Having the whole semester to do that research to focus on is just incredible," said Kirkpatrick.
Old Swedes Foundation
Wilson, executive director of the Old Swedes Historic Site and Foundation, said that the foundation was thrilled to be able to partner with UD on the project.
"They have some wonderful designs. I wish we could afford to do everything that they're all saying but we'll at least start with the things that we have to have for the water issues, and they're coming up with some really good ideas. I've always enjoyed working with students and I like the relationship that I have with the University of Delaware. It helps them but it helps me too," said Wilson.
Wilson said that there is the possibility to incorporate bits and pieces of the students' ideas and was pleased with the designs to improve the amphitheater.
"It's not being utilized as much as we would like but we're planning to do more with it. The city offers some concerts there in the summer. We'd like to do a whole outdoor concert series in the fall with different musicians for the community and we also have a labyrinth out there, so a lot of people come and walk that," said Wilson.
Project origins
The project came about when Wik met with Lu Ann De Cunzo, chair and professor in the Department of Anthropology, at a 2015 Summer Faculty Institute session where faculty members from diverse backgrounds were paired to come up with projects that would incorporate their work.
De Cunzo had worked in the spring of 2015 at the Old Swedes site doing an archaeological investigation for the group.
"When the church realized they were having serious drainage problems, they decided they would probably have to install an underground drainage system right outside the foundation of the church but they didn't know if there were any archaeological remains from earlier in the history of the church, or if there were burials that went right up to the church walls, so we decided to do a course here," said De Cunzo.
With the 15 students in her Introduction to Archaeological Field Methods class, De Cunzo tested four locations around the church where they were having problems with water penetration. When they did a ground penetrating radar survey to try to see below the bricks, there were several places that showed graves going right up to the walls of the church.
"We tested one area where it showed graves and one area where it didn't, and we found graveshafts in both locations," said De Cunzo, who added that they were careful to stop excavation before reaching any human remains. They wanted to give the foundation information that would help them plan to preserve the church but also preserve the landscape and the burial ground.
"Based on the information we found, Anna's class is trying to provide some design solutions that would not further damage the archaeological record or the cultural landscape of the burial ground, so it's looking at the whole property as an artifact and not just the building itself," said De Cunzo.
Ana Ambriz, a junior double majoring in Latin American studies and anthropology, worked on the project with De Cunzo and said that during the dig, they uncovered artifacts from the Lenape Native Americans.
"We thought since it's a Swedish settlement, we were going to find Swedish artifacts. Turns out, we didn't just find Swedish artifacts, we actually found a lot of Lenape artifacts in addition to pipe stems and tea cups," said Ambriz.
Using characteristics and category technique checkpoints, the earliest artifact that they found could date back to 12,000 B.C., a fact that Ambriz thought was particularly interesting.
"I remember the best part was coming home and being like, 'I found this artifact that's from 12,000 B.C.' It was awesome," said Ambriz.