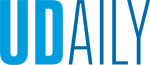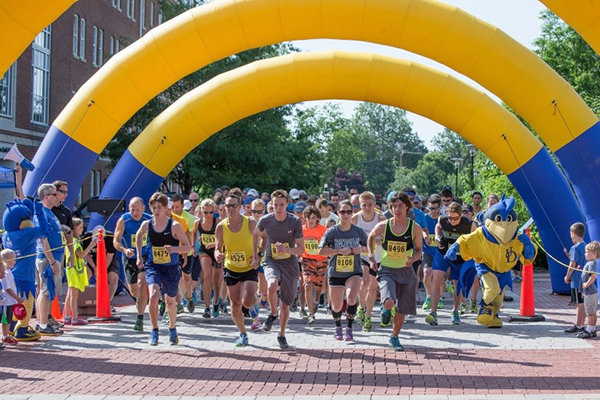 June 5: Blue Hen 5K
Article by Nadine Sabater May 17, 2016
Alumni Weekend guests encouraged to register for annual Blue Hen 5K walk and run
Racers will take their marks as the Blue Hen 5K is returning to the University of Delaware's Alumni Weekend.
The Blue Hen 5K will take place on Sunday morning, June 5, on the University's Laird Campus. Runners and walkers should plan to arrive bright and early as registration opens at 8 a.m.
"The Blue Hen 5K is our way of closing out the weekend in a fun and active way," said Justine Talley-Beck, director of alumni engagement. "Alumni Weekend wouldn't be complete without it."
The 5K's format is similar to previous years. Future Blue Hens will kick off the morning with the Kids Fun Run, open to children age 11 and under, starting at 9 a.m. Blue Hen 5K racers will take off next at 9:30 a.m. Both runners and walkers are invited to join.
Participants are encouraged to deck themselves out in blue and gold, earning a chance to win a special prize awarded to those who show the most UD spirit.
Additionally, the top male and female finishers will win the coveted title of fastest alumnus and alumna. Last year, Mark Hannagan of the Class of 2013 and Meredith Chapla of the Class of 2010 crossed the finish line first. No word yet on if they will return to defend their titles.
Finally, the President's Cup will go to the college with the highest percentage of participants based on their current number of alumni. Every college has an equal chance to win, and participants are invited to come out and represent their school. The College of Arts and Sciences (CAS) is on a four-year winning streak, having captured the cup every year since 2012.
All those interested in registering for the Blue Hen 5K can do so here.
About Alumni Weekend 2016
Taking place the first weekend in June (Friday, June 3, to Sunday, June 5) and hosted by the Office of Development and Alumni Relations, this year's Alumni Weekend will return with a lineup of many crowd-favorites like Friday night's Dela-bration bash that floods the entire North Green with music, food and classmates; and Sunday's Blue Hen 5K Walk/Run starting with the Kids Fun Run.
Blue Hens can also pay tribute to outstanding alumni during this year's UD Alumni Wall of Fame ceremony, have brunch with their entire family – and YoUDee and Baby Blue – at the new Caesar Rodney Dining Hall, or catch up with fellow classmates during one of the many Class Reunions.
Alumni are also encouraged to reacquaint themselves with Delaware by taking a Student Alumni Ambassador led tour of main campus, grabbing a scoop of ice cream at the UDairy Creamery, visiting an exhibit at Morris Library or one of the three campus museums, taking a scenic stroll through UD's Botanic Gardens or visiting the Science, Technology and Advanced Research (STAR) Campus.