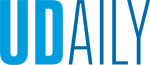 Paving a path to partnerships
Article by Diane Kukich Photos by Evan Krape June 13, 2016
Sen. Carper tours state-of-the-art research and education facilities at UD
Cloaked from her head to her feet in white clean-room garb, Tess Ginley looked up from her work in the University of Delaware's Nanofabrication Facility (UDNF) on Tuesday, May 31, and ended up waving through the window at U.S. Senator Tom Carper (D-Del.).
Later that morning, Ginley, a materials science doctoral student, tweeted, "Thanks for visiting, senator," and he tweeted back, "I hope you have a nano-fabulous day."
Carper himself had a nano-fabulous hour touring not only the UDNF but also the Design Studio in Spencer Laboratory and the Center for Biomedical and Brain Imaging.
"The visit afforded Delaware's senior senator the opportunity to see the investments UD is making in STEM (science, technology, engineering and mathematics) facilities providing first-class research and educational opportunities for UD students and faculty," said Charlie Riordan, deputy provost for research and scholarship.
UDNF co-director Matt Doty told Carper that the facility has had a significant impact on UD's ability to recruit high-quality faculty and students. He also explained the potential for the UDNF to play a role in workforce development and entrepreneurship.
"We have the infrastructure that startups need to get their ideas from concept to reality but that they can't afford to buy," he said. "Now they have the opportunity to pay user fees here and take advantage of UD's capabilities without making a major capital investment themselves."
Doty explained that nanotechnology has applications in agriculture, environmental science and health care, including the potential for a "lab-on-a-chip" that would enable physicians to make diagnoses in the field or in an office.
Following a quick trip up Academy Street on one of UD's fuel cell buses, Carper met with Jenni Buckley, assistant professor of mechanical engineering, who led him through the Design Studio, a 3,500-square-foot "hacker-space" that includes facilities for group projects, computer-aided design, prototyping and design validation.
"It's really important that we teach our students not only how to design but also how to build," she said. "This space is a great engine for entrepreneurship."
Showcased projects ranged from kids' toys to an instrumented ski helmet that texts a designated friend or family member if the wearer suffers an impact above a certain level.
The senator's last stop was the newest of UD's state-of-the-art research and education facilities, the Center for Biomedical and Brain Imaging (CBBI), which features the state's first functional magnetic resonance imaging capability.
The facility enables researchers to see which areas of the brain "light up" when we see a familiar face, move our fingers, or bring up a happy memory. CBBI interim director Jim Hoffman explained that the facility can also provide extremely detailed images of muscles, discs, bones and organs.
In addition to the tours, Starnes Walker, director of UD's Cybersecurity Initiative, provided Carper with an update on the current status of the University's programs and plans in this area.
The senator left impressed with the University's "tremendous strides in innovation and research."
"Today I was able to see firsthand what the students are learning from UD's top-notch faculty," he said. "I was especially impressed by all of the technology that's available to students as they learn. From a real, state-of-the-art MRI machine to examine the brain's responses, to the nanotechnology in UD's lab that helps students understand nanoparticles, UD's recent engineering expansion is already a great asset for students and researchers alike."
Kristi Kiick, deputy dean in the College of Engineering, emphasizes that the University is open to collaborative arrangements with companies and other regional partners.
"Our three focal areas in the College of Engineering are research, education, and entrepreneurship," she says. "Efforts in all three of these areas are broadened and enriched when we carry them out in partnership with industry, government, and other academic institutions whose expertise complements ours."