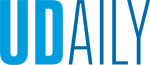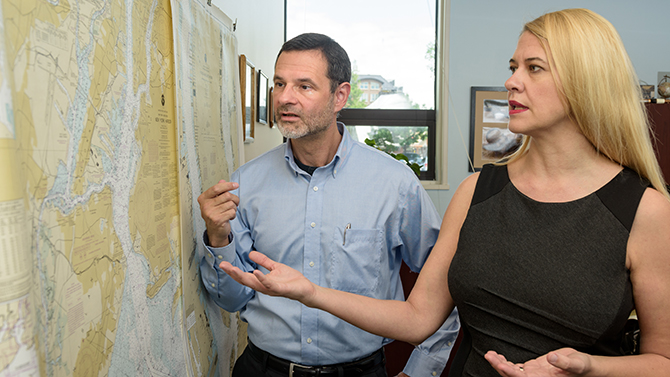 ON 9/11, AMERICA'S DUNKIRK
Article by Ann Manser Photo by Evan Krape June 20, 2016
Disaster researchers chronicle largest water evacuation in history
Fifteen years ago on 9/11 — when New York's twin towers came down in a cataclysm of mangled metal and concrete, smoke and ash — the World Trade Center office workers who escaped the wreckage of the initial attacks fled in desperation.
Choking in the thick black air, injured and supporting the injured, dust-covered survivors ran for their lives, all while wondering if another attack was imminent. But leaving lower Manhattan by familiar routes proved all but impossible, as subway and train traffic was immediately shut down and bridges and tunnels were closed.
And yet, within just nine hours, half a million people had been evacuated from the island of Manhattan thanks to a spontaneous volunteer effort. The unexpected rescuers? Hundreds of boat operators and their crews.
"People ran in all directions," says James Kendra, professor of public policy and administration and director of the Disaster Research Center (DRC) at the University of Delaware. "Those who ran south were stuck at the water. But then the boats started coming, and the operation became so large that it covered New York Harbor."
How that happened, and what planners can learn from it, is the subject of American Dunkirk: The Waterborne Evacuation of Manhattan on 9/11, a new book by Kendra and Tricia Wachtendorf, associate professor of sociology and director of the DRC. The two social scientists arrived in New York on Sept. 13, 2001, and ended up staying two months as they conducted interviews and delved into various aspects of the response to the terrorist attacks. They returned about a year later for follow-up research.
The marine operation was just part of the complex story of the 9/11 tragedy in which first responders, policy makers and average citizens all played major roles in the disaster response and recovery. But the boat evacuation was unique in many respects, and its importance has been overlooked in numerous accounts of the day's events, Wachtendorf and Kendra say.
"It was a fascinating story, and we wanted to tell it," Wachtendorf says. "The individual stories of people who decided at that moment to use their boats to help are compelling, but it's also interesting to us as researchers. This was an emergent response — totally unplanned but remarkably effective."
Images from 9/11
A disaster like 9/11 is a huge, complex event, but people on the scene break it down into manageable tasks

Director, Disaster Research Center
The maritime response shows how people pull together, she and Kendra say, using their own creativity and the power of community-based resources.
Boat operators generally didn't know exactly what had occurred in the minutes immediately after the attacks, but they could see the smoke. And later, when they looked at the dock areas around Battery Park, they could see masses of people who needed help.
Ferryboats that had dropped off morning commuters from Staten Island just minutes earlier turned around and came back to Manhattan to pick up those same passengers or others.
Tugboats, tour boats, private party boats, fishing boats and Coast Guard vessels all joined in as the word went out, first informally and then through a Coast Guard broadcast. Crewmembers spray-painted signs with "Hoboken" or other destinations so that the passengers hurriedly boarding would know where they were going to land. Most made multiple round trips throughout the day.
A retired New York Fire Department fireboat, the John J. Harvey, that had been restored as an antique was spotted in the water and called into service. "It had been retired because it was considered to be obsolete, but it got a second life," Kendra says.
By the end of the day, it would be the largest water evacuation in history, surpassing the World War II rescue of some 340,000 stranded Allied soldiers from the harbor of Dunkirk, France, over a period of nine days.
"A disaster like 9/11 is a huge, complex event, but people on the scene break it down into manageable tasks," Wachtendorf says. "Over and over again in our interviews with people who volunteered in the evacuation, we heard the same thing: 'We just did what we had to do.'"
People also "found their niche," Kendra says. The boats evacuating survivors from Manhattan carried firefighters, paramedics and supplies on their return trips. Smaller vessels that could travel farther up the river began ferrying medical personnel to St. Vincent's Hospital, where they anticipated that the injured would be taken from Ground Zero.
"One person couldn't have managed this kind of response," Kendra says. "Much of it just sprang up. It demonstrates that a lot of disaster management can't be commanded or controlled."
Meanwhile, the story of the evacuation hasn't been ignored. A short documentary, titled Boatlift and narrated by Tom Hanks, was produced and can be viewed here on YouTube. The Sept. 11 Museum and New York's South Street Seaport Museum, among others, have exhibitions about the water rescue effort.
But the evacuation isn't in the forefront of most Americans' memories of the terrorist attacks and their aftermath. The authors of American Dunkirk say they wanted the book to present scientifically important research, "but we also wanted to show what happened on the waterfront on 9/11, which at some points is just 350 yards away from the World Trade Center but was a different world in terms of disaster response."
More about the authors and the Disaster Research Center
In September 2001, Kendra was a postdoctoral researcher with an undergraduate degree in marine transportation and a career that included several years at sea, and Wachtendorf was a doctoral student. They were part of a team from UD that was led by then-DRC Director Kathleen Tierney.
The research was initially supported by the University of Delaware Research Foundation and later by the National Science Foundation. American Dunkirk will be published June 24 by Temple University Press.
The DRC, founded in 1963, is the nation's first center devoted to the social scientific study of disasters.
Today, the DRC is part of the University of Delaware's College of Arts and Sciences, with core faculty members from the School of Public Policy and Administration and the departments of Sociology and Criminal Justice and of Civil and Environmental Engineering. Affiliated faculty from UD and other institutions represent the fields of history, English, environmental policy and political science.