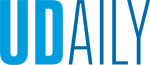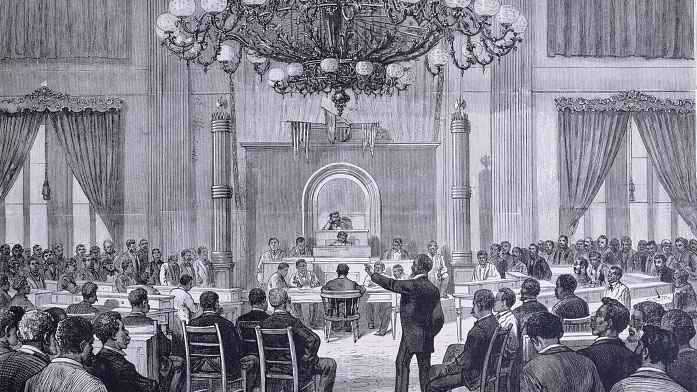 MLA prize
Article by UDaily staff December 12, 2016
UD team working on Colored Conventions Project wins national award
The Modern Language Association of America (MLA) has announced that a University of Delaware team has won the 10th Modern Language Association Prize for a Bibliography, Archive, or Digital Project.
The prize will be presented to the University's P. Gabrielle Foreman, Jim Casey and Sarah Lynn Patterson on behalf of the Colored Conventions Project team for its work on the Colored Conventions Project, which brings 19th century black organizing to life in a digital setting.
"I am thrilled that the collective organizing efforts of so many 19th-century black leaders who came together to advocate for educational, legal and work-place access and equality in the face of state-sponsored apathy and violence is being recognized in this way," Foreman said.
"The Colored Conventions Project is a team-based digital project that engages the way thousands of students across the country learn about racial justice efforts and what tens of thousands of people know about the long history of civil rights organizing," she added. "This award acknowledges the collective efforts of scores of UD project participants, national teaching partners, and hundreds upon hundreds of volunteers, as well as the enthusiastic support of the College of Arts and Sciences, UD's dedicated library professionals and leadership, and the Department of English. We accept this award for this entire community."
Awarded each even-numbered year, the MLA prize is one of 17 awards that will be presented on Jan. 7, 2017, during the association's annual convention to be held in Philadelphia.
The members of the selection committee were Alexander Gil of Columbia University, Laura C. Mandell of Texas A&M University College Station, and Elaine Treharne of Stanford University, who served as chair.
The committee's citation for the winning book reads: "The Colored Conventions Project, a superbly innovative and significant project that deserves to be widely known, brings into the public domain documents that attest to 19th-century African Americans' efforts to organize, seek legal rights, and effect change. With a clear and engaging construction, the project — founded by P. Gabrielle Foreman, Jim Casey and Sarah Lynn Patterson and with the participation of many team members — has been developed with the user at the forefront of its design. It is original in its concept and content, broad in its range and in its reach, timely and thoughtfully conceived and has significant potential for expansion and further development. The project eschews canonical concerns and blasts open generic practices by introducing conventions as a subject of bibliographical interest."
Foreman is the Ned B. Allen Professor of English at UD, with appointments in history and Black American studies. She also is a senior library research fellow at the University of Delaware Library.
Foreman is an award-winning teacher and scholar of African American studies and 19th-century literary history and culture. She is the author of Activist Sentiments: Reading Black Women Writers and of a score of highly regarded articles and book chapters. She is known for her collaborative work including an edition of Harriet Wilson's Our Nig as well as dance and poetry performance pieces on Wilson and on David Drake, known as Dave the Potter.
Her current project is The Art of DisMemory: Historicizing Slavery in Poetry, Performance and Material Culture. She is the founding faculty director of the Colored Conventions Project and works closely with the graduate student co-coordinators to facilitate the entire project.
Casey is a doctoral candidate in English at UD with research interests in antebellum American culture and the digital humanities. His dissertation, "Editing Forms: The Emergence of Editorship in 19th-Century U.S. Periodicals," charts the development of editorship and editorial practice in antebellum metropolitan and African American newspapers.
Casey was part of the group that launched the Colored Conventions Project and has been deeply involved in all aspects of the project, including Transcribe Minutes, the Convention Name Index, social network analysis, grants, and social media outreach.
Patterson is a doctoral candidate in English at UD. She specializes in 19th-century African American (women's) literature, print culture, and black histodigital studies in the digital humanities.
Patterson's dissertation examines black intellectual cultures and ideals, particularly through the lens of black women's educational philosophies in literature from 1856 to 1910. Her project specialties include undergraduate research, exhibits, curriculum development, and assessment.
Foreman, Casey, and Patterson are coediting the forthcoming volume Colored Conventions in the Nineteenth Century and the Digital Age.
About the award
The MLA Prize for a Bibliography, Archive, or Digital Project was established by the MLA Executive Council in 1997 in response to a proposal from the association's Advisory Committee on the MLA International Bibliography. It was known as the MLA Prize for a Distinguished Bibliography until 2013, when the prize was expanded to recognize the growing use of digital tools in preparing scholarly bibliographies.
The inaugural prize was presented in 1998 to Kathleen L. Scott. Since then the prize has been awarded to David W. Forbes; Hamdi el- Sakkout; Bege K. Bowers and Mark Allen; Patrick Spedding; Eleanor Selfridge-Field; Anatoly Liberman; Phyllis S. Morgan; Roger E. Stoddard and David R. Whitesell; and Thomas J. Hinnebusch, Arturo Díaz, and Barbara Blankenship. Honorable mention has gone to James L. Harner.
The Modern Language Association of America and its 25,000 members in 100 countries work to strengthen the study and teaching of languages and literature. Founded in 1883, the MLA provides opportunities for its members to share their scholarly findings and teaching experiences with colleagues and to discuss trends in the academy.
The MLA sustains one of the finest publication programs in the humanities, producing a variety of publications for language and literature professionals and for the general public. The association publishes the MLA International Bibliography, the only comprehensive bibliography in language and literature, available online.
The MLA Annual Convention features meetings on a wide variety of subjects; this year's convention in Philadelphia is expected to draw 8,000 attendees.
The MLA Prize for a Bibliography, Archive, or Digital Project is awarded under the auspices of the MLA's Committee on Honors and Awards.