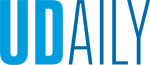 Avkin 'Best University Startup'
Article by UDaily staff Photo by Kathy F. Atkinson August 29, 2016
UD-fostered health care simulation part of 'Demo Day' in Washington
Avkin, a health care simulation technology company spun out of the University of Delaware by researchers and students, has been selected as a "Best University Startup" for 2016 by the National Council of Entrepreneurial Tech Transfer (NCET2).
The company will be showcased at the first University Startups Demo Day at Congress on Sept. 20 in Washington, D.C.
Avkin offers improved training opportunities for health care providers with an expanding line of wearable technology designed to maximize realism in simulation while putting the patient at the center of care. Avtrach, for example, gives students realistic ways to practice working with patients that have tracheostomies. A volunteer "patient" wears the device as a trainee practices the procedure on the device.
From the drawing board, the idea morphed into a collaboration between UD's College of Health Sciences, College of Engineering and the Department of Theatre in the College of Arts and Sciences.
Amy Cowperthwait, nursing faculty member at UD and founder/CEO of Avkin, will attend Demo Day with Joy Goswami, assistant director of UD's Office of Economic Innovation and Partnerships (OEIP). OEIP's team is focused on Delaware's entrepreneurial, technology and business community and worked with Avkin to protect the technology, assist with grant opportunities, and guide the fledgling startup through proof of concept through beta testing.
Universities create over 800 startups each year around the country, and applications from 200 companies were submitted and screened to find the 36 "Best University Startups 2016," according to a news release issued by NCET2.
"To lead the world in the 21st century, our nation must have a sustained commitment to education, scientific research and startups," said Tony Stanco, NCET2 executive director, "and American universities are uniquely positioned to deliver on all three to ensure the U.S. continues to lead socially and economically in this century, as it did in the last."
The National Council of Entrepreneurial Tech Transfer (NCET2) is an organization of university startup officers from the top research universities in the United States. NCET2's mission is to strengthen the innovation and entrepreneurial network by bringing together Fortune/Global 1,000 companies, angel investors, venture capitalists, economic development organizations, state and federal agencies, universities and entrepreneurs.