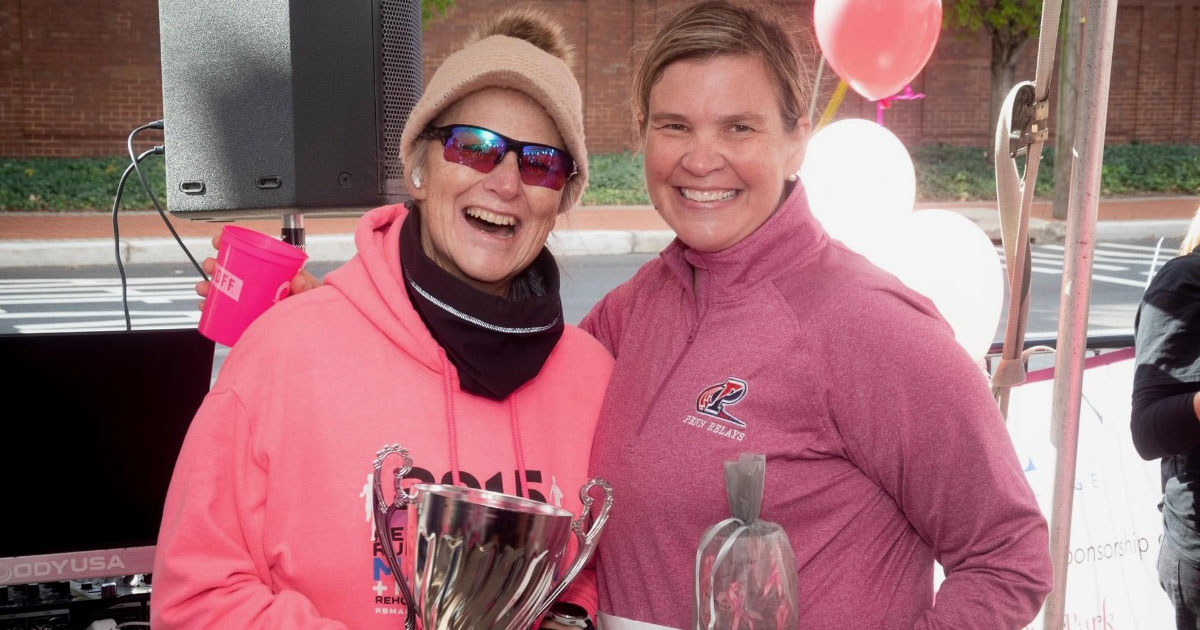 Student Health Services Raises Money for Breast Cancer Research
November 01, 2023 Written by Jessica Downey | Photo provided by Janet Reid
Student Health Services (SHS) staff set out to raise as much money as possible for the Deer Park Goes Pink 5K on Sunday, October 22. But they didn't expect their group—the Wellbeing Blue Hens—to be named the top fundraising team.
"When we heard that we had won at the 5K on Sunday morning, we were stunned," said Janet Reid, SHS nurse practitioner. "We had not expected it at all."
The Deer Park Goes Pink 5K benefitted the Delaware Breast Cancer Coalition, a 501 (c)(3) nonprofit organization that helps raise money for breast cancer research and awareness, while supporting low-income families and patients without insurance to receive free or reduced-cost care. The 5K event raised $13,140 in total from individual and team contributors, with Wellbeing Blue Hens raising $1,200.
Reid said SHS has always prioritized donating to breast cancer research. In 2008, they participated in Denim Days, a national initiative to raise awareness of breast cancer.
"When we started the first year, we originally raised around $200 which we donated to the Susan G. Komen Foundation," said Reid. "After the first year, our event grew to include a Pink Day brunch and raffles. We eventually decided to keep the money in our state and donate to the Delaware Breast Cancer Coalition."
This year, SHS decided to bring back Pink Day festivities and expand it to Pink Week for Breast Cancer with an ice cream day, bake sale, door-decorating contest and a 50/50 raffle. The week concluded with a luncheon and raffles donated by staff members.
As a prize for being the top fundraising team, SHS received the Ashby Cup, which is now on display in Laurel Hall.
Reid said these fundraising efforts are important because they united the staff and helped give back to an important organization.
"Events like this are good for team building and bonding," she said. "We feel like we are helping on a larger scale to support a good cause in our local community."