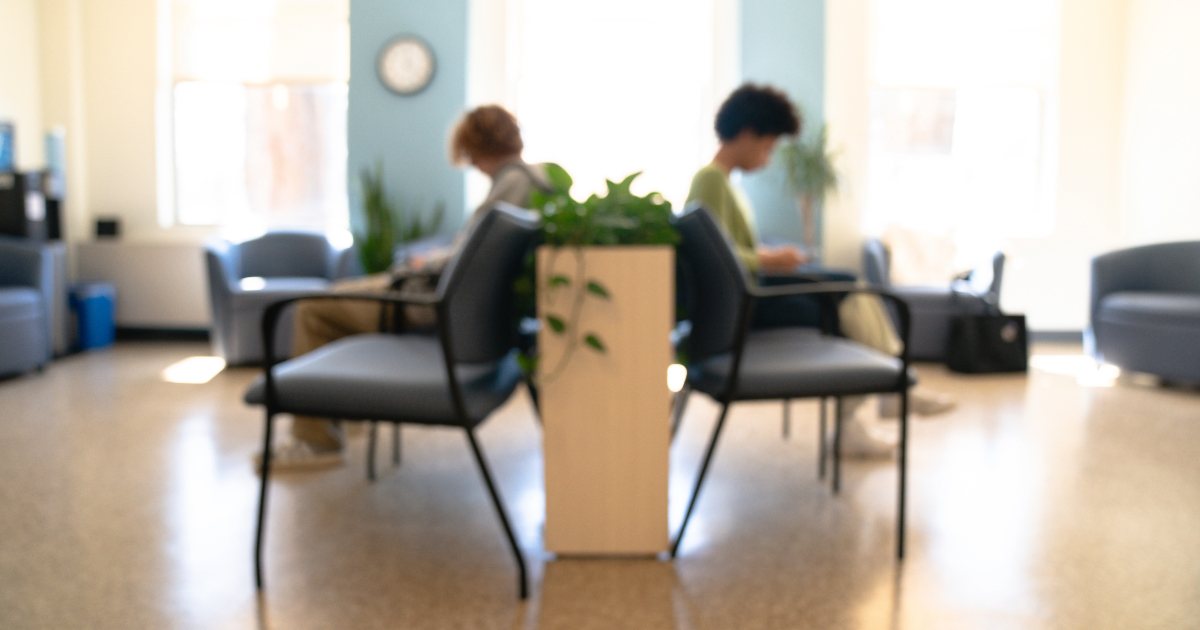 10 Questions About STI Testing
March 24, 2023 Written by Jessica Downey | Photo by Jessica Downey
Student Health Services (SHS) offers STI screening year-round to students who have paid the wellbeing fee. But during the month of April, SHS will waive the wellbeing fee for screening in honor of STI Awareness Month.

Who should get tested?
"One in five people have an STI in the U.S.," said SHS nurse practitioner Janet Reid. "If a person is sexually active, they should have STI screening."
SHS offers STI screening for gonorrhea, chlamydia, syphilis and HIV. According to the CDC's 2021 STI guidelines, everyone between ages 16–65 should be tested for HIV at least once. All sexually active women age 25 and below should be tested at least yearly for gonorrhea and chlamydia; all sexually active women age 26 and above should be tested if they have new partners or multiple partners.
All sexually active gay, bisexual, gender fluid and other men who have sex with men should best tested at least once a year for syphilis, chlamydia, gonorrhea and HIV; those who have multiple or anonymous partners should test more frequently (every three to six months). Anyone who engages in sexual behaviors that put them at risk for infection or share injection drug equipment should get tested for HIV at least yearly.

How do I make an appointment?
Log into the UD Health Portal, click "schedule an appointment" and choose "Talk. Test. Treat. — STI Screening" to pick a date and time that works for you, or call Student Health Services at 302-831-2226.

Where do I go for testing?
All STI testing is done at SHS in Laurel Hall at 282 The Green.

When should I get tested?
The free month-long testing will be offered Monday through Friday, 8:45 a.m. to 5 p.m., starting on Monday, April 3. For students who are seeking testing for any incidents that may occur during Spring Break, Reid cautions that a two-week waiting period may yield more accurate results, but don't wait if you're experiencing symptoms.
"For syphilis, gonorrhea and chlamydia testing, the best time for accuracy for the testing that we do here at UD is two weeks after an encounter," said Reid. "But we would never want someone who is having symptoms or someone who is told they have had an exposure to wait two weeks. [They] should be seen as an earlier appointment."

Why should I get tested?
Even if you aren't experiencing symptoms, there's a still a chance you could have an STI if you're sexually active.
"STIs like chlamydia can have no symptoms for 70 percent of cases," said Reid. "Long term effects of STIs can be things like infertility and chronic pelvic pain."
Reid wants students to know that some questions asked by SHS practitioners may make them uncomfortable, but that it's important to be honest; nobody is being judged.
"When scheduling an STI screening appointment, students should know that we usually will start off by just asking some questions that can feel intrusive at first," said Reid. "We're not asking the questions 'just because.' We are asking them to be sure that we assess their risks for proper testing. We're used to asking them all the time and there is no judgment on your behavior. We ask the same questions to every person, regardless of their gender identity, their sexual partners or practices."

How is testing done?
"The testing for HIV here at SHS is done as a finger stick and we will tell you the results in 15 minutes," said Reid.
The syphilis testing is a blood test and the gonorrhea and chlamydia testing can be done by urine (that has been held for at least one hour) or by vaginal, rectal, oral or cervical Q-tip. You can conduct the Q-tip test yourself if you prefer not to have the exam.

What happens if I test positive?
"If you are positive for gonorrhea, chlamydia or syphilis, we will treat you with an antibiotic," said Reid. "We then recommend that you have a repeat test three months later."
If you test positive for HIV, the first thing SHS will do is repeat the test to confirm a true positive. They will then connect you to a local clinic to start treatment.
"There are good treatments now for HIV that can control the virus and significantly reduce transmission," said Reid.
It's important to note that while all testing listed above is free, there may be additional costs associated with prescriptions or follow-up appointments if necessary.

What about HPV or herpes?
SHS does not include HPV (human papillomavirus) or herpes among their free testing because there are not currently screening options for those STIs.
"If you were to have symptoms of herpes or HPV, we would then be able to do a culture or biopsy," said Reid. "HPV can be prevented by having the HPV vaccine Gardasil. Most people receive these in their teens, but if you did not get them, our immunization clinic offers the HPV series and most insurance plans offer coverage."

How do I prevent STIs or unwanted pregnancy?
SHS provides free internal and external condoms throughout Laurel Hall. Outside of the month of April, STI services are offered year-round at the primary care and women's health clinic as part of the wellbeing fee.
"You can purchase emergency contraception at our dispensary at a significantly lower cost than the local pharmacies," said Reid. "We also offer HIV PrEP treatment options for those who are risk. The women's health clinic also offers routine yearly exams, pap smears and contraceptive options like IUDs and the Nexplanon implant."

What if I'm still unsure about testing?
"STI testing is confidential and private at Student Health Services," said Reid. "We do not bill your insurance. If you're still really scared, you can just come in and talk with us first. We will never force someone to have a test."
For more information, visit sites.udel.edu/studenthealth/sti-screening