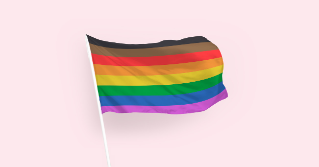 How to Celebrate Pride Month and Explore LGBTQ+ History
June 01, 2023 Written by Jessica Downey | Photo by E. Vitka
June is Pride Month! Did you know that the first Pride march in New York City was held on June 28, 1970 on the one-year anniversary of the Stonewall Uprising? We encourage you to stay engaged around the injustices facing the LGBTQ+ community and the community's resistance.
Below are some ways to educate yourself on LGBTQ+ history and news with recommendations to read, watch, listen to and attend this month!

Read This:
This article from Smithsonian Sparks explores the start of the first Pride month and parades and chronicles the lives of Marsha P. Johnson, a drag queen and gay liberation activist, and Sylvia Rivera, a transgender Latina. The two activists co-founded the Street Transvestite* Action Revolutionaries (STAR) in 1970 and campaigned with the Gay Liberation Front, ACT UP and Gay Activist Alliance (GAA).
Bayard Rustin was a human rights activist, advisor to Martin Luther King, Jr. and instrumental in the Civil Rights Movement. Once outed as a gay man, he unabashedly became a prominent figure in the LGBTQ+ movement and an advocate for AIDS education.
NBC Out is a resource rounding up all current news stories to inform the LGBTQ+ community and allies, including updates on anti-LGBTQ+ legislation and harmful incidents across the country.
This USA Today article highlights the staggering amount of anti-LGBTQ+ bills introduced in 46 states this year, in particular those that target young transgender people, and the impact of these legislative efforts on LGBTQ+ communities.
Listen to This:
Tune into this Smithsonian podcast episode chronicling the life of Prohibition-era socialite Lucy Hicks Anderson, one of the first documented Black transgender figures in American history, who was convicted of perjury in 1945 for "impersonating a woman" on her marriage license.
This nonprofit podcast's mission is to highlight the history of the LGBTQ+ civil rights movement through the heroes, champions and pioneers who lived it.
Bloggers and best friends Kid Fury and Crissle West host this weekly podcast covering hip-hop and pop culture stars, while taking questions from listeners and each offering their own read of the week.
Listen every Wednesday for mental health, wellness, relationship and fitness advice from hosts Francheska Medina (founder of website Hey Fran Hey), Dustin Ross and Assanté.
Watch This:
Hear from Grammy, Emmy and Tony award-winning actor and singer Billy Porter as he outlines the key moments throughout LGBTQ+ history and the fight for queer and trans liberation.
This PBS video explores how corporations are profiting off Pride Month and the LGBTQ+ community as a form of "slacktivism" without taking any real political action or impact.
Recently, items from Target's Pride Month collection are being removed from stores due to employees receiving threats. Learn more in this NBC News video.
The New York Times explores the truth behind the Stonewall Riots of 1969 and challenges the age-old question of "Who threw the first brick at Stonewall?" by countering "Were bricks thrown at all?"

Attend This:
The Philadelphia Pride March and Festival on Sunday, June 4 will bring together speakers in the community and unfurl a 200-foot-long rainbow flag, the largest in the city's history. The festival in the Gayborhood will include artists, entertainers, food trucks, local bars and community vendors, as well as a Bailar con Amor section celebrating queer Afro-Latinx culture and a Decompression Zone for those who might need a quiet spot to chill and celebrate.
Show your support locally at these events, including the Delaware Pride Festival on Saturday, June 10 in Dover. This family-friendly festival is the largest Pride Month gathering in Delaware. Additionally, you can attend recurring Conversations with Caffeine events to socialize with the nonprofit Delaware Pride organization.