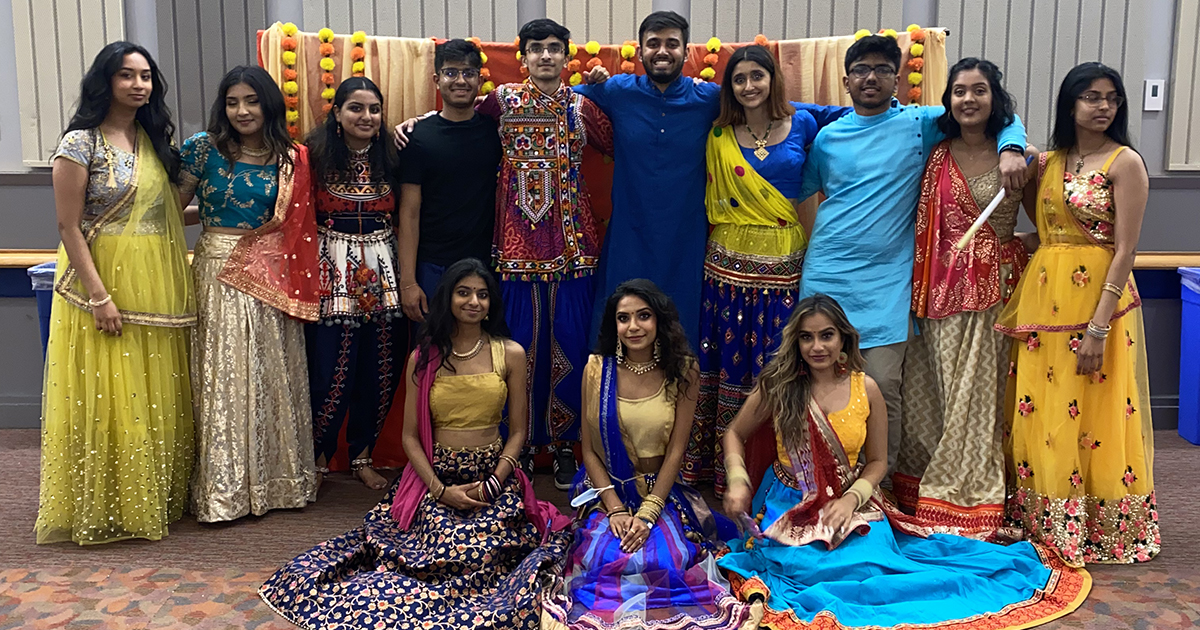 GSUD Offers Cultural Experiences to Eat, Dance and Meet New People
September 19, 2022 Written by Esha Shah | Photo provided by Esha Shah
With more than 350 clubs and organizations on campus, you might be having trouble finding your home. I suggest looking to the University's multicultural groups on campus, specifically the Gujarati Samaj of the University of Delaware (GSUD). After all, you can't spell "cultured" without "UD."
GSUD was founded in Fall 2021 by two enthusiastic seniors at the time, Parth Patel and Jay Patel, who were looking to share their culture through exciting programming for all UD students, regardless of their cultural or religious backgrounds. Officially, their mission is to educate and preserve the Gujarati culture by connecting individuals on campus and creating a network of culture and traditions.
GSUD is led by executive board members: president Disha Thakar, vice president Shubh Desai, events coordinator Sara Noor, treasurer Esha Shah, co-founder and chairman Parth Patel and public relations chair Asad Shehzad.
"Many multicultural organizations did not have the specific cultural diversity that we were trying to promote," Patel said. "GSUD's greater purpose is to be more diverse and open up our culture to everyone through planning exciting events. The best thing is when someone comes up to you and is genuinely happy because of an event we programmed."
GSUD is starting off the semester strong with one of their annual cultural events to commemorate Navratri.
"Navratri Garba celebrates the triumph of good over evil through energetic dancing, and this dancing and culture is meant to be shared and appreciated," Thakar said.
This year, the organization will be holding their Garba event on Friday, September 23 at 7 p.m. in the Trabant Multipurpose Rooms (MPRs).
"All people, regardless of their ethnic background, should come to Garba," Thakar said. "It's a great way to meet new people, dance, have food and experience a culture you might not have experienced before."
Personally, as someone who has traveled abroad several times through the University, I find that fully immersing yourself in a culture that you are not familiar with is the most rewarding way to truly experience and accept cultures that make our University and our everyday lives unique. No two cultures are alike, just as no two individuals are. We have the opportunity through multicultural groups at UD—like GSUD—to make our mark through inclusivity.
"Garba is not only a cultural event but it is also a great opportunity to get to meet new people and make new friends," Desai said. "It's the first event of the school year, making it even more exciting."
GSUD takes their mission of being open and inclusive to any and all students regardless of religious or cultural background very seriously.
"As a member of the e-board who herself is not even Gujarati, or even Indian, I have always felt welcomed and wanted," Noor said. "I am constantly encouraged by my friends in this group to experience new parts of their culture and they embrace anyone who comes. I have met some of my best friends here and I'm sure anyone who gives our club a chance will find the same."
Garba is not the only event that GSUD has lined up. They have a full calendar of future events throughout the semester including GSUD Assassins, a newly planned trip to Oak Tree Road in Edison, New Jersey. Desai said they are especially looking forward to the Gujju Get Down toward the end of the semester, which they describe as a "formal event with a Desi twist."
For now, GSUD looks forward to hosting all students at Garba on September 23. Look out for more events by following @_gsud_ on Instagram.
This blog post is written by our Division of Student Life student intern Esha Shah.