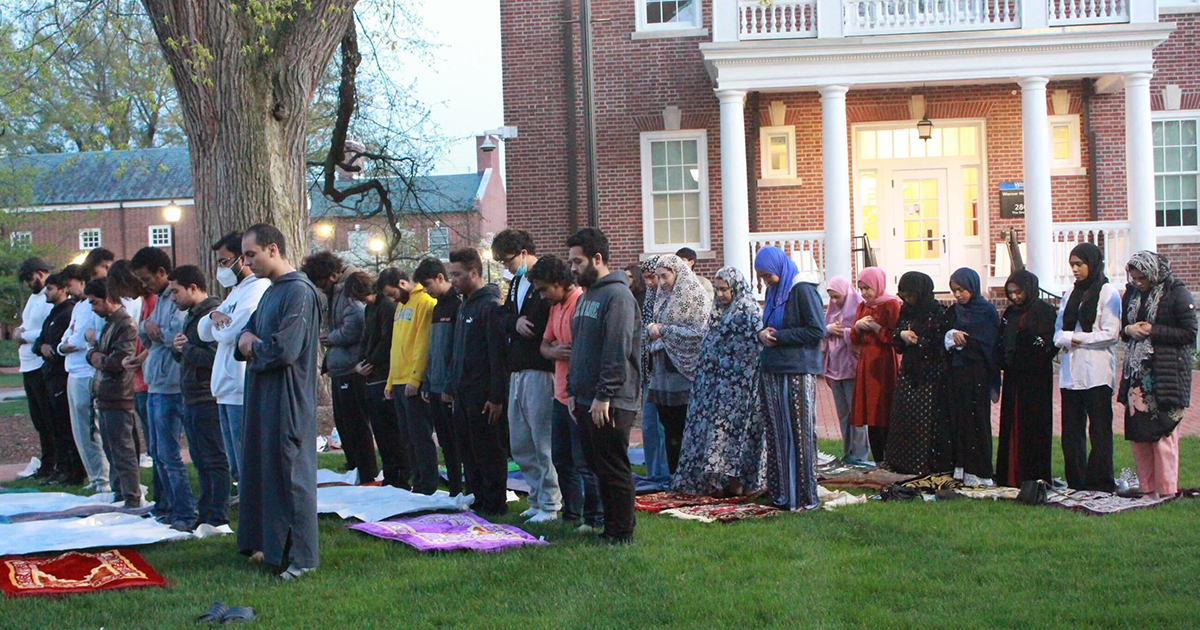 The Muslim Student Association Always Leaves Their Doors Open
January 05, 2023 Written by Jessica Downey | Photo provided by Kamal Muhanna
When senior chemical engineering major Kamal Muhanna first came to UD in February 2020, he didn't know anything about the Muslim Student Association (MSA). But if he had, he might not have joined.
"As an international student from Saudi Arabia and the Gulf in general, we are warned to stay away from organizations that are too religious for security reasons," said Muhanna. "Shortly after I arrived at the University, COVID-19 hit us, and I didn't have any people of my own faith background in my circle. For a year and a half, I hadn't become friends with a single Muslim on campus."
Muhanna's interest was piqued when he received an email from a fellow student who had the MSA vice president title in their email signature.
"I contacted them, met them and realized I could have been friends with some of the best people I've met at the University," he said.
MSA aims to be a home away from home for Muslim students and their 100-plus members. "We host events, advocate for issues that affect us, raise awareness of our presence and organize philanthropic efforts for local charities and the surrounding community," said Muhanna. "As Muslims, we talk about and start conversations about our religion and how we can stay spiritually connected and faithful away from the comfort of our homes."
MSA will occasionally host guest speakers, field trips and events like Shai vs. Chai, a regional tea competition. Most importantly, every Friday at 1:20 p.m. in the Perkins Rodney Room, MSA hosts a Friday sermon and Friday prayer that typically concludes at 1:45 p.m.
"These sermons are open to everyone of all faiths and backgrounds," Muhanna said. "Attendees come in and observe the sermon and prayer deep in reflection. If they have any questions, they are free to ask them after the service. Every week, a sermon is given about a different topic regarding our beliefs, practical lessons we can learn from the Quran and the traditions of our Prophet Muhammed, peace be upon him. [We discuss] how to maintain our faith in times of stress and the importance of gratitude in times of contentment or excess."
Since at least 1976, Friday prayer has been a tradition at UD from when the local Muslim community did not have a mosque. "One of the founding members of the Islamic Society of Delaware—which now has a mosque on Salem Church Road—managed to secure a spot to pray on Fridays," said Muhanna. "In addition, during the month of Ramadan, Iftars—collective dinners after the sun has gone down—were regularly held at the University."
Muhanna said including non-Muslim students has served as an educational opportunity and eliminated some of the barriers of ignorance.
"Non-Muslims are always welcome to our events and we even have some who regularly attend Friday service," he said. "We always have some Islamic education at our events and people are always interested to know more about a religion they know so little about—or a lot from the wrong sources. If I had a dollar for every time someone said, 'I never knew Islam was like this,' I'd pay off my college tuition."
Muhanna said he believes MSA provides a welcoming space for practicing Muslim students to practice their faith freely without risk of judgment and build a community around those with the same values and traditions.
"Being able to hang out with people who will pray with you five times a day on time when the time comes, instead of having to look for an awkward excuse to leave for 10 minutes, is priceless," said Muhanna. "Having friends that share the same spiritual goals that can hold you accountable and keep you in line is priceless. Having friends that are sober in a culture where drinking is one of the main forms of entertainment is priceless."
However, Muhanna made it clear that just as the MSA welcomes non-Muslim students, it also is open to non-practicing Muslim students. "Not every Muslim in our organization is currently practicing, and that's okay," he said. "We open our doors to everyone of all faiths and stages of religiosity without question. We encourage everyone to come and see us and we almost guarantee we'll be amazing friends.
"We're a humble organization," continued Muhanna. "We strive to be better and we are far from perfect, but we're a family—a weird, mixed family of all colors and backgrounds, one that's always giving rise to new members. Like all families, we sometimes fight and bicker, but then we all pour ourselves some tea, get some ice cream and sit down and have a great laugh with enough time to remind ourselves that life is short and we have a purpose: to spread the word of God and to follow in the footsteps of our Prophet Muhammed, peace be upon him."
Follow MSA on Instagram at @MSADelaware and join their GroupMe to stay updated on the latest information and events.