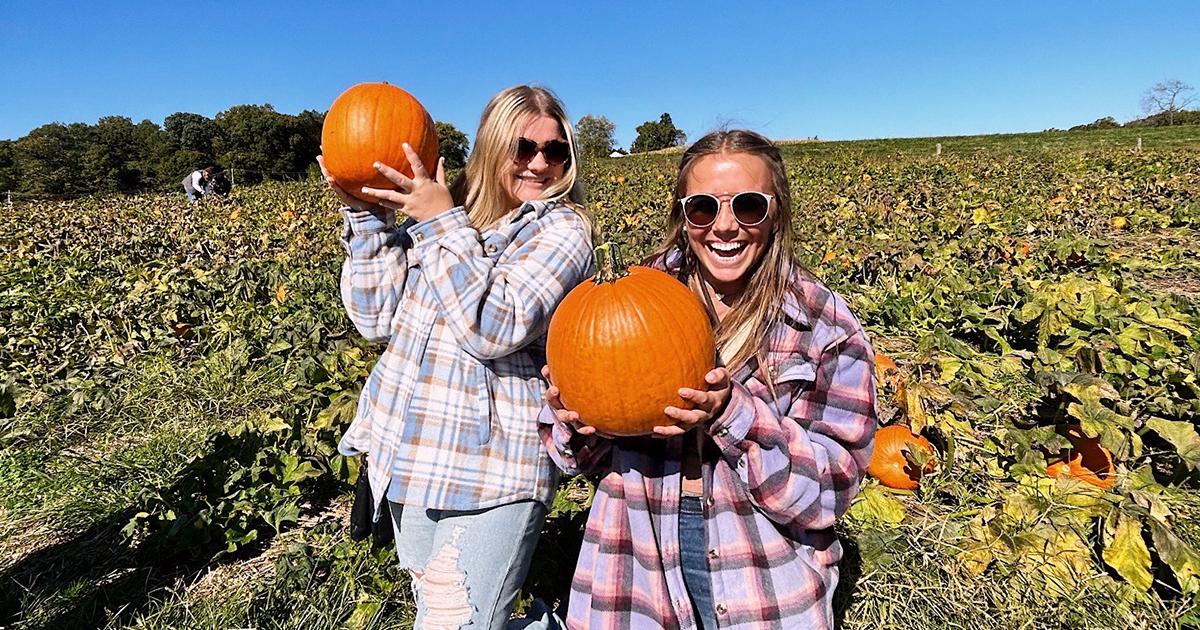 7 Fun Things to Do This Fall
October 13, 2022 Written by Elliana Olivo | Photo provided by Lindsey McLaughlin
Fall is officially here! How are you celebrating autumn? Below are some fun ideas for you to try this season both on and off campus.
Hike the trails in White Clay Creek State Park
Take a hike! Grab a few friends and visit the creek just down the road near North Campus. Here you can find the beautiful waterfalls, as well as different hiking trails to try out and perfect places to picnic.
Join an intramural sports team
Whether it be soccer, football or volleyball, you can grab a few friends, lace up your cleats and head out onto the turf once a week for some fun-filled games. Learn more about what's available on the UD recreation site.
Shop locally at the farmer's market
Every Sunday, Newark Natural Foods in the Newark Shopping Center hosts a co-op farmer's market with different small businesses selling fares like fresh bread, fruit and vegetables, homemade candles and jewelry. Look out for the white tents near the Dollar Tree.
Go apple picking at Milburn Orchards
Cross state lines into Maryland just off campus by making an online reservation for apple picking at Milburn Orchards. Every weekend through November 6, they host their fall festival with hayrides, pony rides and a paint ball shooting gallery. Stop by the Farm Market Bake Shoppe filled with produce, baked goods and apple cider for a tasty treat to take home.
Get spooked at Frightland
Grab tickets for Frightland in Middletown, an annual attraction featuring carnival rides and fear-themed areas including a haunted barn, horror hayride and zombie prison. FrightPass tickets are $40 six days per week and $50 on Saturdays; get a group together of 15 friends or more and you can save $4 each. Splurge on VIP passes for $75 to get to the front of the line at all eight attractions.
Pump up the pumpkin
On Wednesday, October 26, don't miss the Pumpkin Bash event on the Harrington Turf from 12 to 4 p.m. hosted by Zeta Beta Tau and Phi Sigma Sigma. Buy your own pumpkin with proceeds going to UDance. Milburn also sells pumpkins for you and your friends to paint or carve!
Stock up at Trader Joe's
Try all the pumpkin and fall flavored snacks galore at Trader Joe's! Some of my favorites include their pumpkin bread mix, honey roasted pumpkin ravioli, butternut squash macaroni and cheese and new crumb cake pumpkin muffins. The closest store to campus is in Christiana on Fashion Boulevard.
This blog post was written by our Division of Student Life student intern Elliana Olivo.