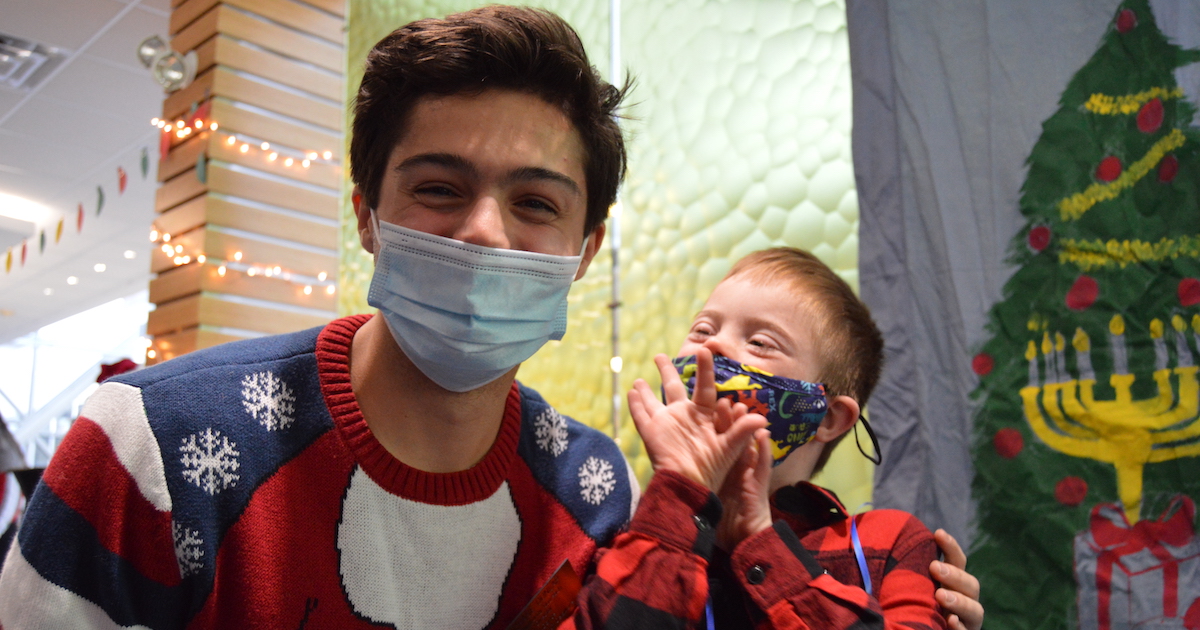 Celebrate the Season at the UDance B+ Hero Holiday Party
December 01, 2022 Written by Lindsey McLaughlin | Photo by Kerry Shevlin
The beginning of December is definitely a stress-inducing time of the year with papers, projects and final exams stacking up. In the midst of class and studying, it is easy to forget that the holiday season is upon us. This Sunday, take a break from the library and head to a holiday party for a good cause!
UDance is hosting its annual B+ Hero Holiday Party this Sunday, December 4 from 1 to 3 p.m. in the Perkins West Lounge. Complete with sugar cookies to decorate, puppies to pet and crafts to make, this event will certainly get you in the holiday spirit. In addition to the fun activities available, the party is an amazing opportunity to connect with this year's 15 B+ Heroes—children who have fought or are currently fighting cancer and are paired with UD organizations such as RSOs, Greek Life chapters and athletic teams.
"My first B+ Hero Holiday Party freshman year was actually a turning point for me in understanding what makes UDance so worth it," said Family Relations Director Maddie Lennon. "I went to the party just to help out and ended up spending the day with B+ Hero Braden and his brothers. Seeing their smiles at the party and getting to know each of them helped me understand why UDance is so special."
As a current senior, Lennon serves as the UDance Family Relations Director and oversees all communication and relationships between organizations and their B+ Hero's family. But her journey with the Andrew McDonough B+ Foundation started long ago.
"I went to the same grade school as Andrew McDonough and while I never had the opportunity to know him, the B+ Foundation has had a place in my life from a very young age," said Lennon. "From school fundraisers, to walking at the B+ 5K and having [Andrew's father] Joe speak at our school, I felt strongly connected to the cause and wanted to take on a bigger role through UDance."
Lennon strongly encourages students to get involved in UDance because it is a great way to make new friends and has been a rewarding experience to help others. Not only does UDance provide financial relief for families, but also emotional support.
Lennon is deeply touched when B+ Heroes make remarks at the end of events such as, "Do we have to leave?" or "This is the best day ever!" and "I don't want to leave my best friends" referring to their paired organization.

"I hope students in our community come out to the B+ Hero Holiday Party," said Lennon. "Not only to help provide a fun end of the year holiday experience for our B+ Heroes, but to also meet and see our B+ Heroes. They are the reasons why we do what we do!"

This blog post was written by our Division of Student Life student intern Lindsey McLaughlin.