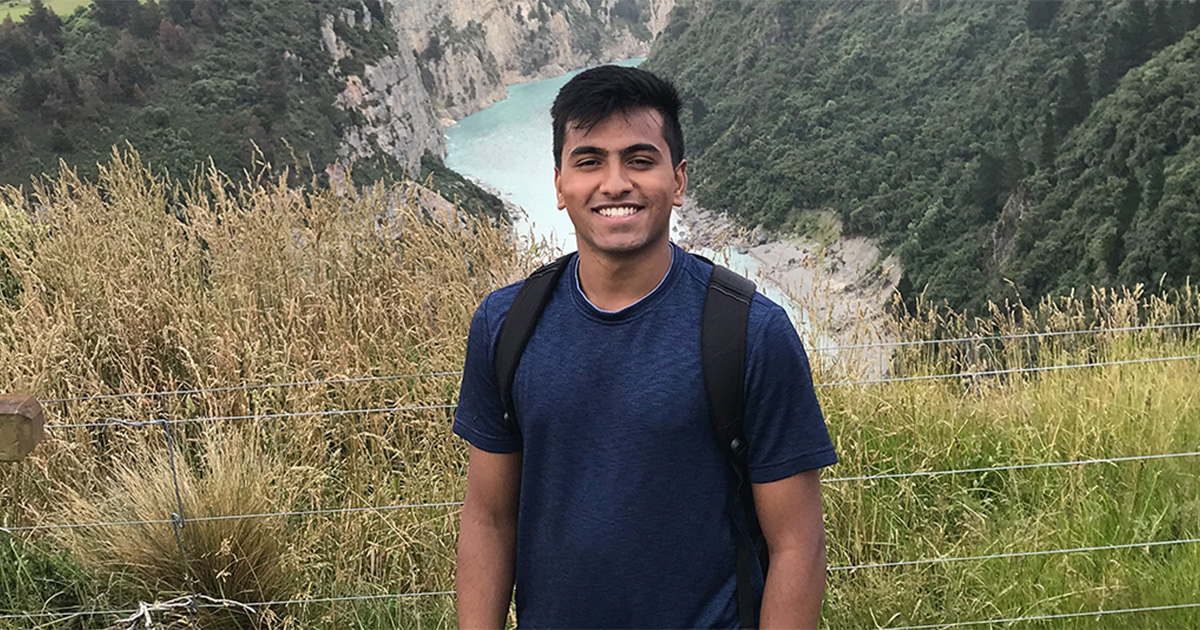 Blue Hen Spotlight: Nishant Chintala
December 14, 2020 Written by Ariana Pelosci | Photos courtesy of Nishant Chintala
Nishant Chintala has used the Blue Hen Leadership Program (BHLP) in many different aspects of his life. As a current senior, earning an Honors Degree in Finance and a degree in Computer Science, he has learned how to balance work and giving back to his community. Nishant has been apart of BHLP since the summer before his freshman year.
How did you decide to come to UD?
I chose to come to UD because of different reasons. I knew that I wanted to pursue a degree in both computer science and finance. UD presented me with the opportunity to complete those degrees within 4 years, with all the winter and summer sessions that they offer. In addition, I had the opportunity to tour the campus before making a decision, and I absolutely loved it. Everything about it felt open and welcoming. I realized that this was an environment that I could totally see myself in for the next 4 years.
Were you immediately drawn to BHLP?
I began my journey in BHLP as a student in Quest, a weeklong leadership workshop that BHLP hosts prior to the start of freshman year. I remember hearing about Quest at NSO when I met soon-to-be BHLP office assistant Julie Millisky who described Quest as one of "the best weeks of her college career." Initially, I applied to Quest for the sole reason of wanting to move in early. All of my friends from home would have probably moved in already so I was just excited to begin college as soon as possible. However, that week-long experience proved to be life changing.
I had the opportunity to meet and develop relationships with 70 other college freshmen before anyone else even moved on to campus. Right off the bat, I was able to get involved in an organization. I was already getting acquainted to the campus layout and making incredible friendships and memories. My transition to college was a lot easier due to Quest, and I was able to become a leader on campus right away.
What other RSO's are you a part of?
I am a sector head of communication services for the Blue Hen Investment Club, a brother of Alpha Kappa Psi, a tour guide, a finance tutor, and an avid intramural sports enthusiast.
What are some values that you've gained from BHLP?
Through BHLP, I have developed my core values of creativity, trust, and perseverance. BHLP always encouraged me to think outside the box. Through each of the projects and the activities I was involved in, I was able to develop my ability to innovate. In addition, working in teams throughout my college career, I was able to develop my ability to trust in my teammates. Often times, especially as a Peer Mentor for Quest, I had to help my Questers sort out difficult situations. Sometimes, I wouldn't know what to do. I had to trust in my fellow Peer Mentors to help me figure out a way to assist my Quester. Finally, BHLP has taught me perseverance. College definitely gave me both highs and lows, but in the end it came down to persevering and enjoying your growth, even in the most difficult situations.
What is your Tier 4 project that you are working on for BHLP?
In Tier 4, I am currently developing an e-portfolio that captures my experiences from all the other tiers of BHLP. In Tier 1, I spent a lot of time attending workshops and learning valuable leadership skills. These workshops allowed me to build the foundation for my leadership journey.
In Tier 2, I had the opportunity to use the skills that I developed in Tier 1. I worked in a group of six students, and we were partnered with Wilmington Green Box, a local non-profit organization that strives to provide entrepreneurial opportunities for at-risk teens in Wilmington while simultaneously providing fresh-pressed juices to the community. We were assigned a project involving marketing the products of the non-profit and researching a way to increase the shelf life of the juices without decreasing the nutritional value. We created a number of different advertisements for WGB to use. Our main accomplishment was being able to find a pulsed electric fields (PEF) processing plant that could process the juices and extend the shelf life without compromising the nutritional value. In the end, the PEF plant was about 50 minutes away from Wilmington, so it was a little too far for Jason, the head of the non-profit, to drive on a weekly basis. However, the process of researching and reporting our findings to Jason allowed us to learn about teamwork and project work in the real world.
In Tier 3, we took it one step further. I worked with WGB again. However, I was in a different group of 5 people, with only one other person returning from the past year. In this tier, we were tasked with doing a deep analysis of the non-profit and finding a problem. In doing our analysis, we found that WGB's juices are often too expensive for its target audience of low-income individuals in Wilmington. Initially, the juices were selling for $4 per 8 oz. drink, which is relatively expensive for that quantity of juice. Our project was centered around WGB applying for Electronic Benefits Transfer (EBT) through the Supplemental Nutrition Assistance Program (SNAP). In other words, with EBT, customers can use food stamps to purchase juices, making it more affordable. Along with that, WGB doesn't lose money because of the way the program is designed. All in all, this project was incredibly meaningful because we were able to impact the organization in a way that will allow them to achieve their mission for many years to come.
As a senior how do you think BHLP has prepared you for life after college?
For me, life after college will definitely revolve around teamwork and projects. When I first came to campus, group projects and assignments were the absolute worst. I would always be the one picking up others' work at the last minute in order to get a decent grade. However, BHLP was able to teach me valuable skills centered around project planning, group accountability, process management, and people skills, all of which will help me in the real world.
Along with these skills, BHLP has helped me develop my ability to be a strong leader. I would define a leader as someone who impacts others in a meaningful and positive way. It's a relatively simple definition, but that's what I intend it to be. I remember watching a Ted Talk in a BHLP workshop that explained how we have made "leadership" something completely beyond us, something large, something like changing the world. However, there is no such world. There are only 7 billion understandings of it. If I can just change one of them, I can change the whole thing.
How has BHLP influenced your career path? If it hasn't, why not?
BHLP has helped me realize how much I enjoy working with others. As I mentioned above, I hated group projects in high school because I would end up doing other people's work. However, BHLP gave me the skillset to hold others accountable and ensure an even workload. Now, I enjoy group projects more than individual ones. In my career, I hope to be able to work in teams to achieve projects and tasks because I think teams are where the best work gets done.
What are some wise words that you would like to impart on freshmen just starting their journey here at UD?
The biggest piece of advice I have for freshmen starting their journey is to just be open. College will be one of the most unique parts of your life and don't be afraid to try new things. In addition, try and meet new people and form relationships. Everyone is new for the most part, so chances are they are also looking for a friend. And, finally, challenge yourself. Whether its in your coursework or taking on a new extracurricular, don't be afraid to push yourself out of your comfort zone. Only when you push yourself, you will see yourself grow. If you were to tell me 4 years ago that I would be the person I am today, I honestly would not have believed you. But, in the last 4 years, I have never hesitated when it came to pushing myself and it has definitely paid off.
Do you have any advice for current UD students who are seeking jobs for the first time?
Be patient. Advocate for yourself. Ask for help and ask for informational interviews. Take rejection in stride and pivot to the next opportunity. Be kind to yourself.
If you're interested in joining BHLP, click the link below to find more information: https://sites.udel.edu/usc/bhlp/
To learn more about the Honors College, including curriculum and involvement opportunities, visit: https://sites.udel.edu/honors/
This blog post is written by our Division of Student Life student intern Ariana Pelosci.