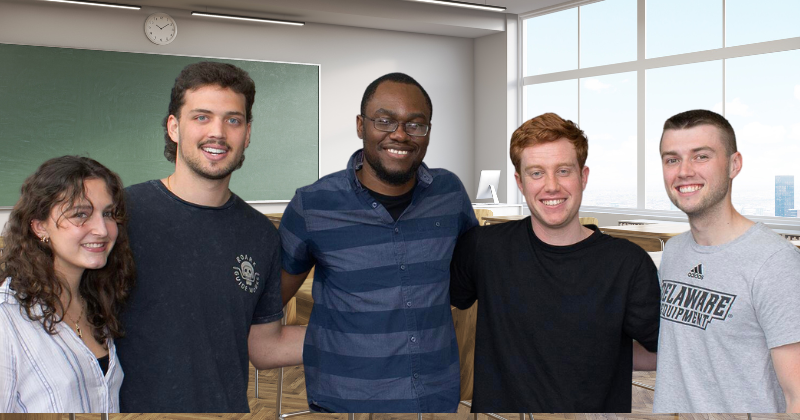 Mentoring 101: Looking for That Aha Moment!
May 17, 2023 Written by Vanessa Spence | Photo by Vanessa Spence
Spin In® Product Development Teams are an integral component of UD's Office of Economic Innovation and Partnerships (OEIP); in that they showcase the interdisciplinary approach for early startup ideas to grow. Essentially, the Spin In program builds a team based on the innovative ideas of an entrepreneur or research faculty and then adds graduate and undergraduate students, all eager to apply classroom knowledge in a real-world practicum. A third team component is a mentor who acts as a layer between the entrepreneur or research faculty and the students. The mentor is viewed by all as an essential part of the team.
Darius Browne, Graduate Assistant, Lerner College, has mentored Spin In since the fall semester of 2021. He has mentored three Spin In teams for the 2022-23 school year. Before returning to UD for his master's degree in international business, he was an auditor at Klynveld Peat Marwick Goerdeler International (KPMG), one of the top four accounting firms in the country. Browne spent seven years there working with several groups in different industries, including as a manager, before returning to UD full-time in 2021. Browne coached new hires and younger employees, all while communicating directly with the executive staff to meet rigorous audit deadlines for both public and private companies.
Browne also reflected on years of personal experience growing up in Antigua, part of the Leeward Islands in the West Indies, where he worked as a mentor with school-aged children through community activities.
"The liaison role at KPMG prepared me to be an effective mentor for any Spin In team." Browne then elaborated on the mentor role he has with Spin In. "Entrepreneurs or early innovators use their early innovation as the basis of the project. Entrepreneurs are then encouraged to guide the students in their assigned team roles to consider where or how the innovation may find market success. Sometimes that can get off course."
The Spin In program has two primary goals. First, the UD students learn how classroom knowledge translates to everyday working skills, and second, the early innovator or entrepreneur advances in their commercialization journey. "That balance needs attention," said Browne. He advises the entrepreneur with that younger student perspective and then supports the project's scope with the expected program outcomes with students.
Browne will be graduating from UD this spring, so we appreciate having him share his thoughts on the perspectives gathered on the three Spin In product development teams he mentored.
As Mentor, how do you establish the interdisciplinary interaction and the student experience?
I begin by working with the students, coaching them to own their assigned team role and encouraging them to contribute their knowledge. Spin In Teams are designed with students having assigned roles such as marketing, engineering, finance, and others. For me, the aha moments are when I see a switch in the control of the meeting from the entrepreneur to the students and then when students present findings, and I see it is not just the finance guy presenting, but I see echoes of the other team roles in the presentation.
Another change happens from the first meeting when students meet the entrepreneur and then several weeks later. You can tell there's a level of nervousness in the students at first and then when they start to ask the entrepreneur questions. That transition from just sitting back and receiving to being actively engaged in the conversation is the transitional moment that I value within each team.
Leading by example is something else I am mindful of, which builds trust. Relationship-building with each student and with the team is key. Without it, the process would head towards siloed work that would not come together as a team. As an auditor at KPMG, I found building relationships leads to better communication and productivity. As a result, I've been asked by students for help on a portfolio, resumes, and advice on post-graduation plans. All of it builds confidence in their thoughts on a matter.
How does innovative thinking start to happen?
One tactic I use is always to ask why? How did you discover that? Why do you think it would work? Why don't you agree? When entrepreneurs ask a question, I turn to the students and ask what are your thoughts on this? It begins to happen within the first meeting when one or two students start replying. Commonly, I will hear, "I researched it, and this is what I came up with." If there are options, I encourage discussion around why or why not. In future work situations, they will face multiple options based on the abundance of information available. So, the ability to critically assess all the facts and embrace different perspectives (within a team) to arrive at the final decision is an important skill to develop. Before the midpoint of the team's timeline, I see innovation and consensus happening among the team, with and without the entrepreneur present.
How do you bridge any gaps between the goals of the entrepreneur, the student, and the goals outlined for the project?
As a mentor, I seek to act as a place of convergence for these different yet equally important and interconnected perspectives at any start of a team; there is always a little wandering and research work that can quickly go down a path leading away from what makes sense. I have to help differentiate between wandering away and pivoting. That is what I meant about being at that place of convergence.
Most entrepreneurs appreciate the process students undertake and know they are sharing an entrepreneurial process, something students are learning. Entrepreneurs have a hunch on how things may turn out, but in the end, the detailed information the students deliver to entrepreneurs is so appreciative. There have been some total surprises for the entrepreneur too.
On student success, what do students gain beyond the Spin In experience?
Success, yes, can be measured on an individual level. The program talks about workforce development and experiential learning. That means knowing inherently how to define, manage, and report a project collaboratively. Sometimes it means knowing how to research, understand the terminology of another discipline, formalize a report, and then present it.
For success stories, one student came in as a marketing specialist and left with a desire for coding. We celebrated the success of finding a new interest and skill.
Another student was hired as a backend developer for software. However, as the project evolved and the team needed to be changed, he was able to learn skills such as website development and enhance his database management skills.
One student with a finance background worked closely with the entrepreneur and volunteered to write a grant for continued research and development. Grants require a creative writing style compared to financial reporting. Also, he had the unique opportunity to fill in for the entrepreneur at a corporate event.
So, success happens, but it is different for everyone. I can boldly say that Spin In enhances the student's resume as it highlights their ability to apply the knowledge learned in the classroom, therefore, more marketable for job opportunities upon graduation.
How do you recognize cultural differences in communication as you mentor teams?
[Spin In teams are typically diverse in disciplines, and cultural backgrounds. Another consideration is that teams are or will potentially have a global business component. This leads to how Spin In supports intercultural along with interdisciplinary learning experiences within every Spin In team.]
This program is of such value to international students. I relate it to my own experience while working on my bachelor's degree in accounting and economics in 2014. I first arrived at UD in 2010 from Antigua. I learned how to navigate the cultural differences of life in the US and, over time, became very strategic in my daily routine to excel as a student. Thankfully, English is my first language, so I had that bridge. Imagine learning a new language and then running against cultural differences; you are out of your comfort zone for years.
It has been helpful to recognize the nuances I experienced in the students I mentor in Spin In. I'm learning how to navigate that with them. These cultural differences are evidenced in how you manage your time, your preference for remote versus in-person meetings, your body language, and your response to different perspectives. This is further compounded by the technical terms and vocabulary around the various disciplines.
Spin In builds the product development team with student roles having overlapping responsibilities and combines it in a very forgiving learning environment. Intercultural teams might work more slowly to keep everyone on board, but eventually, the team works out communication and moves along faster.
International students bring an intercultural component to the team, which enriches everyone. Global workforce skills differ across the world, but entrepreneurs appreciate having all points of view.
Where do you go from here?
This program is awesome; the value is immense. It has been valuable to my development. I have participated in numerous projects; an app seeking to alleviate poverty through peer-to-peer micro-loans and a company seeking to do its part to provide healthy agricultural products by providing an alternative to pesticides. I have been involved in a partnership for the sustainability of fashion, an industry with a significant waste problem. And a company for sustainability using a waste product of the paper industry.
This generation of students is just behind me in time and is digging into social problems rather than purely focussing on big money. It is on the cusp of a possible cultural change, as well.
They understand how tied the economy is to everything, and their motivation to do goodwill is strong.
As for me, similar to many other recent and upcoming college graduates, I am actively on the job search. Thankfully, I have had a few very good recent interviews, so I am optimistic about life after walking across that stage.
Spin In is a unique UD offering funded by NSF EPSCoR and the U.S. Economic Development Administration to advance workforce development in the state and region.
Office of Economic Innovation & Partnerships (OEIP)
Office of Economic Innovation and Partnerships (OEIP) is an economic development portal that connects outside entities to university knowledge-based assets to stimulate a culture of innovation and entrepreneurship among UD students, faculty, and partners to contribute to the state and region's social and economic development. OEIP acts as a focal point for resources and advisory services to support the cultivation of early-stage companies and industry partnerships. With a focus on discovery, OEIP assists in the development and commercialization of intellectual property assets into marketable opportunities and/or new businesses. OEIP offers the Spin In® program that stimulates innovation and entrepreneurship and provides workforce development opportunities for qualified students. OEIP's units include the University's Technology Transfer Office (TTO), Delaware Small Business Development Center (DSBDC), and APEX Accelerator Delaware (formally PTAC). These units perform as an integrated ecosystem to meet the technology and business needs of the University, the state, and the region.