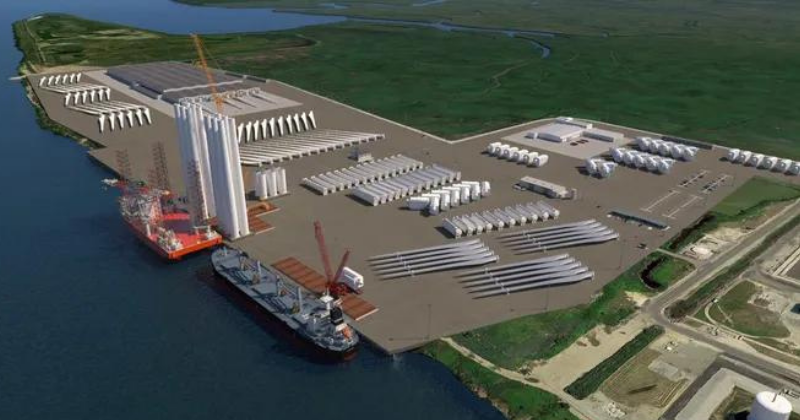 Where are they now- Sara Parkison
February 03, 2023 Written by Vanessa Manges-Spence | Sara Parkison
Spin In ® Helps Define a Solution Pathway to a Given Mandate
This article is a part of the series "Where are they now?" This article begins with a government mandate for wind energy, a necessary contribution to achieving net zero carbon emissions. The entrepreneurial approach puts a spin on "how" we get there. Nonetheless, the interdisciplinary team defined parameters for laying the groundwork along the east coast of the U.S.
In September of 1962, President Kennedy set a goal for the United States to put a man on the moon, not because it was easy but because it was hard. It was for the nation, in a turbulent time, and he needed to move the country forward. The results were scientific advances reaching beyond NASA while also achieving the goal and uniting the nation under the goal. President Kennedy's words are especially significant even today.
A new goal set by President Biden is to achieve his goal to reach 100% carbon-free emissions by 2035; President Biden set a goal of harvesting 30 gigawatts of offshore wind energy from the east coast waters of the U.S. by 2030. It would bring energy independence, scientific advances, reduced CO2 emissions, and thousands of jobs throughout the new industry's supply chain.
Putting Words into Motion
Dr. Willett Kempton, UD School of Marine Science and Policy and the co-founder of the Center for Research in Wind (CReW) asked Sara Parkison, a Ph.D. candidate with a great deal of interest in sustainable wind power, to oversee a group of students with this question: What infrastructure is needed to produce 30 gigawatts of power along the east coastline by 2030? Here is where the assembly of an interdisciplinary team of engineering, public policy, and communication students came together under the Office of Economic Development and Partnerships, Spin In® program.
The student development team consisted of nine students: Emma House, environmental engineering, '20, M'22; Zach Roy, energy & environmental policy, political science, '20; Sarra Sundstrom, environmental studies, English, '20; Emily Tulsky, environmental engineering, '20 M'20; Renee Hedrick; Emily Tino, environmental engineering, '20; Delaney Crosley, environmental studies, political science, '21; Christian Clark, marketing, '19; and Andrew Ames, public policy,'19 and Parkison who took the project manager and mentor role, but she admits they also taught her. The detail of the diverse engineering thinking and policy brought expertise into the interdisciplinary team she would not have considered herself. At times she guided the group in thinking through the research approach and how to contextualize it within the larger picture of the industry, but shortly into the first semester, the weekly meeting quickly became a collaborative space. Parkison said, "It was an amazing experience to see them come together and innovatively collaborate. Each team member started to build off of one another's expertise in a way that led to new discoveries and the eventual production of a well-rounded, in-depth, and valuable report."
The team began with a review of current state wind power procurement requirements to understand the demands on the supply chain for offshore wind generation, as well as a review of turbine technologies to understand the infrastructure required to deploy offshore wind. By examining turbine specifications and talking to industry experts, the team began to identify requirements for the construction of marshaling ports capable of efficient and cost-effective offshore wind deployment.
They needed a better understanding of state requirements, policies, and even soil types where geological surveys were examined. A marshaling port needs an ideal shoreline location with access to open water free of bridges and overhead obstacles that allow the pre-assembled turbine towers to reach their destination offshore.
Future of the Spin In Findings
Kempton recalls the student team to have taken the project into areas not considered. "Spin In helped us to create a detailed analysis of two potential sites for marshaling ports that are used for assembling and installing offshore wind turbines. What the interdisciplinary Spin In team found was a justification for both sites but went further to identify a unique industry-standard accounting for economies of scale or when a marshaling port would be efficient and profitable. Kempton explains, "Marshaling ports must be a minimum of 54 acres to deploy a one-gigawatt offshore wind project over two years efficiently. Most existing and planned US ports have been designed to provide less space." The estimate of 54 acres includes many considerations in the calculation, from construction time, cost, and effort to operating capacity and spatial considerations. Kempton and Parkison feel it can be used broadly to gauge economies of scale of marshaling port size.
The student development team identified two sites along the Delaware shore and New Jersey with promising characteristics and evaluated each site based on engineering and policy needs to support the development of a marshaling port. Shortly after the publication of the Spin-In report, the State of New Jersey announced plans to establish an offshore wind marshaling port at the identified NJ site. To date, Delaware has not initiated a marshaling port site location. More details of the team's research were published in Assembling Offshore Wind Turbines (2020).
The team's results were used for further analysis by Parkison and Kempton in research conducted under CReW at UD. Using the marshaling area measure in their paper, Marshaling ports required to meet US policy targets for offshore wind power and were able to predict a significant deployment bottleneck in the mid-2020s in achieving the Biden Administration's mandate for the east coast.
After Spin In
Parkison started a fellowship in early 2022, working with the Bureau of Ocean Energy Management on improving engagement with environmental justice and underserved communities, a new area within the sustainable energy space for her. "I've been able to expand my understanding of this growing industry and branch out into new aspects of energy policy and development. This has led to unique learning opportunities and great conversations with colleagues in this space. My confidence has also grown thanks to the opportunity to help guide the Spin-In team, whose curiosity and interdisciplinarity guided me as well. . Working with the students was an opportunity that I am so grateful for.
Spin In is a unique UD offering funded by NSF EPSCoR and the U.S. Economic Development Administration to advance workforce development in the state and region.
Office of Economic Innovation & Partnerships (OEIP)
Office of Economic Innovation and Partnerships (OEIP) is an economic development portal that connects outside entities to university knowledge-based assets to stimulate a culture of innovation and entrepreneurship among UD students, faculty, and partners to contribute to the state and region's social and economic development. OEIP acts as a focal point for resources and advisory services to support the cultivation of early-stage companies and industry partnerships. With a focus on discovery, OEIP assists in the development and commercialization of intellectual property assets into marketable opportunities and/or new businesses. OEIP offers the Spin In® program that stimulates innovation and entrepreneurship and provides workforce development opportunities for qualified students. OEIP's units include the University's Technology Transfer Office (TTO), Delaware Small Business Development Center (DSBDC), and APEX Accelerator Delaware (formally PTAC). These units perform as an integrated ecosystem to meet the technology and business needs of the University, the state, and the region.