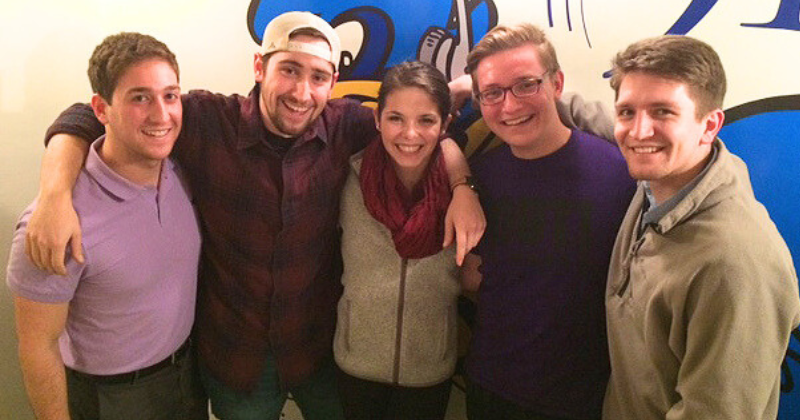 Six Students; Two Founders Equals a New Company
January 05, 2023 Written by Vanessa Spence | photo provided by OEIP staff
This article is a part of the series "Where are they now?" After a Spin In experience, what lessons carry over to a career? This article shows how the team starts with an idea and creates a product with career-launching opportunities for the student team members.
Sometimes experiences lead to places you never imagined going at all. At least that's how it worked out for Amy Lalime, who holds two roles, a product and marketing manager at mTrigger®, LLC, a company that makes biofeedback devices for physical therapy.
As a marketing major at Lerner College at the University of Delaware, Lalime curated her own experience, seeking out opportunities to broaden her skills, including minors outside of her major. To sharpen her writing skills, she added an advertising major to allow classes in communication in the UD College of Arts and Sciences and family members involved in physical therapy and the health industry were an inspiration for her to pursue a marketing role in the industry, so she also added phycology and cognitive science minors from the UD College of Health Sciences.
In 2015, her senior year, she stumbled upon a University of Delaware position that promised a step into a real-world opportunity, Spin In, a program offered through the Office of Economic Innovation & Partnerships (OEIP) at UD that pairs university student teams with entrepreneurs who provides a concept or idea and mentor the student Spin In team to assess, evaluate, offer solutions and next steps for moving an idea forward.
She recalls, "It all happened so quickly. I was swept right into a student team that was already amid product development and market positioning." She remembers a moment when she thought, "What did I get myself into?" It was not like a prior internship because it came with true impacts. It was about a new product, answering a real need and the work had a real purpose.
Spin In develops mTrigger®, LLC
mTrigger® was just a concept that began in September 2014 when Entrepreneurs Brian Pryor, Founder and CEO of LyteCure, and Russ Paine, Director of Rehabilitation and Sports Medicine at The University of Texas Health Science Center, who as co-founders of mTrigger brought a simple idea to OEIP: improve the physical therapy experience for patients and therapists using a new biofeedback approach. Biofeedback, in this case, uses electronic monitoring of muscle function during physical therapy exercises to help patients learn to acquire voluntary control of that muscle function.
Pryor and Paine proposed that patients use the new device to complete home exercises; the mTrigger® app would record the intensity, speed, and range of muscle motion, tracking the patient's progress and displaying data in a game environment that motivates patients to continue.
The student product development team consisted of six students: Adam Engelson, electrical engineering; Matthew Spicer, iOS development; Gabriel Szczepanek, biomedical engineering, marketing, and policy; Amy Lalime, business development; Abagail Scout, policy and regulation; and Jack Sherry, graphic design. Lalime quickly organized the team to respond to market analysis and customer interviews in their refining product development and learned the engineering language to understand the collaborative discussions. She laughs now, but they had five prototypes in a short time. and it continues to modify even now as technology advances. It uses a headphone port to accommodate multiple devices to view the app.
She also played a key role in the name mTrigger, with the word trigger indicating a quick response and quick recovery for patients who use the device.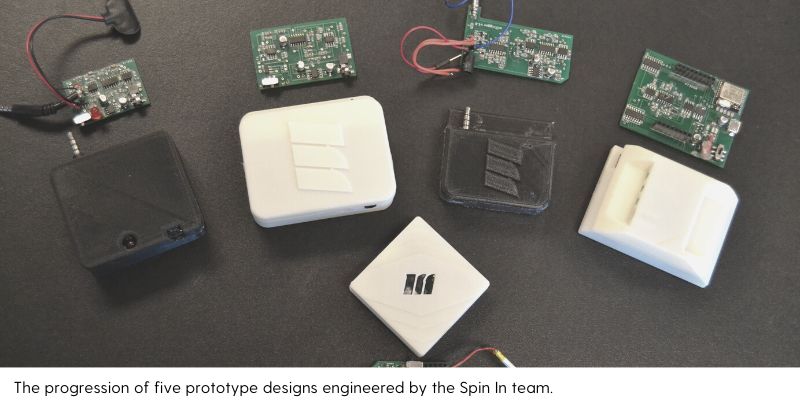 As the Spin In project concluded in December 2015, Lalime transitioned into a full-time role with the company as product and marketing manager at mTrigger. It was a continuation of her role on the student product development team, just in a new location.
"I kept doing what I did during Spin In, and I naturally adapted to new roles in aspects of marketing, including market adaptability, customer growth and sales," said Lalime. "I attribute my confidence to how Spin In is designed to have the team work collaboratively, so everyone carries full knowledge, yet shares their skills and ideas."
Spin In provides more than an experience.
Adam Engelson was a junior majoring in electrical and computer engineering with a minor in computer and information sciences. He collaborated with a fellow member on the circuit design, signal processing, and building of the circuits to process the signal from the muscular contraction and send the reading to the person's device in game mode, and measure progress.
Engelson says he found the Spin In experience life-changing and he found his inner entrepreneur, something he said classroom projects or internships could not facilitate. In his senior year, Engleson led a startup called Agoge Automation, an automated silverware wrapping machine. Everyone at OEIP, he said, was eager to help in any way they could. Engelson felt well supported, "I got to meet with experienced business and legal professionals to learn how to start a company, research IP, and help with funding grant applications."
After graduating, Engleson's first position was with Delve. This company works to fast-track innovative medical devices, then SpaceX as an Avionics Integration Engineer with responsibilities including the Falcon 9 and Dragon spacecraft. For the past two years, Engleson has been with MOBILion Systems in Chadds Ford, PA. Engleson leads the engineering team on a diagnostic machine ready to launch called MOBIE. It is a powerful tool for predicting, diagnosing, and treating disease by recognizing biomarkers normally undetected. In Engelson's two years, the company doubled in size and secured 60 million series C funding.
Engleson had to add, "Spin In was the highlight of my undergraduate experience. It allowed me to build confidence, find my professional voice, explore my major, and fall in love with building upon Innovative ideas."
mTrigger Founder's View of Spin In
mTrigger Founder's Co-founder Brian Pryor has kept the company in Delaware and oversees the operations of mTrigger®, LLC. Pryor came to the University of Delaware's OEIP with a concept in early 2014 and ended up with a new company in January 2016. Pryor shares his experience with other entrepreneurs by saying, "Spin In includes access to new perspectives and talent, which create short and long-term opportunities for your company. Through mentorship, you also get the chance to reflect on your roles and experiences while helping students gain real-world skills."
When we ask where they are now, we find they are in places made possible by their individual experiences while a part of the Spin In student development team.
Spin In is a unique UD offering funded by NSF EPSCoR and the U.S. Economic Development Administration to advance workforce development in the state and region.
Office of Economic Innovation & Partnerships (OEIP)
Office of Economic Innovation and Partnerships (OEIP) is an economic development portal that connects outside entities to university knowledge-based assets to stimulate a culture of innovation and entrepreneurship among UD students, faculty, and partners to contribute to the state and region's social and economic development. OEIP acts as a focal point for resources and advisory services to support the cultivation of early-stage companies and industry partnerships. With a focus on discovery, OEIP assists in the development and commercialization of intellectual property assets into marketable opportunities and/or new businesses. OEIP offers the Spin In® program that stimulates innovation and entrepreneurship and provides workforce development opportunities for qualified students. OEIP's units include the University's Technology Transfer Office (TTO), Delaware Small Business Development Center (DSBDC), and APEX Accelerator Delaware (formally PTAC). These units perform as an integrated ecosystem to meet the technology and business needs of the University, the state, and the region.