Mapping Resources to Work Priorities
The Talent Share Program provides a solution to campus staffing gaps by matching up available employees impacted by a reduction in workload due to COVID-19, with other colleges or departments who have staffing needs. It also provides employees an opportunity to develop skills and experience through exposure to other areas of campus.
Supervisors and/or HR Managers will provide the Talent Acquisition Team with details of staffing needs, as well as share employees who have capacity to be part of the program. This is a time when employees can showcase their unmatched ability to come together and help support one another. We encourage employees of diverse experience to participate.
To date, more than 150 UD employees have SHARED TALENT; across campus.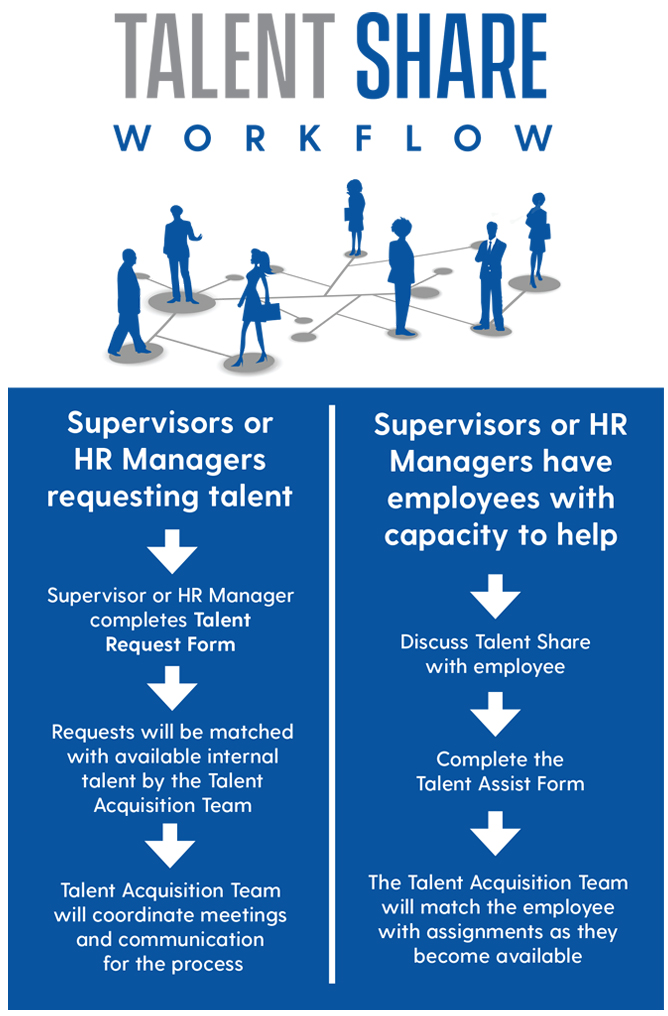 I love to help out other departments, even though my workflow has remained steady, I love to keep busy and be useful to other teams.

With Talent Share I have learned about different functions of the University while engaging with new people. 



Human Resources
To request support in filling a staffing need through the Talent Share program, a Supervisor or HR Manager should complete a Talent Request Form.
Prior to filling out the Talent Request Form, think about the following:
The importance of your role to your department and UD
An overview of the role responsibilities and necessary skills and experience needed to successfully complete the assignment
The preferred schedule you will need the employee to work and if you can be flexible
The duration of the assignment; is there an end date or indefinite
Understanding if the work can be done remotely, or if it needs to be on campus
The type of onboarding that will be needed (training, systems access, etc.)
Supervisors or HR Managers may encourage employees impacted by a reduction in work due to COVID-19 to participate in the Talent Share Program. Supervisors or HR Managers should complete a Talent Assist Form for each interested employee. Once completed, the Talent Acquisition Team will work to align an employee with an open work assignment.
Prior to sharing available employees, think about the following:
Determine the amount of time and schedule that the employee will have to lend to another department
Identify the skills, experience and strengths of the employee that can be utilized in various openings across campus 
How does the Talent Share Program work?
It works by identifying employees with capacity to be matched up with openings in departments where there is a staffing gap and/or where workloads or projects have increased. The Talent Share program provides employees with an opportunity for professional growth as well as a sense of satisfaction in helping out the university.
How does funding and processing work for the program?
There is no cost to the program. The department who has the assignment will not be charged for the Talent Share employee's time, unless it is a soft-funded role that needs to show allocation of resources per the grant. That means there are no JEDs or job cards to fill out. The only forms are the Talent Request and Talent Assist google forms, and the email confirmation that is provided to the employee, their manager, and the assignment manager confirming the details of the assignment.
Will the participating employee's salary or grade level change?
Employees will experience no changes in reporting structure, grade or salary.
What should I do if I know of an employee who I think has capacity?
Speak with the employee and discuss the details of the Talent Share program. Once the employee agrees, the Supervisor or HR Manager fills out the Talent Assist Form. A member of the Talent Acquisition Team will review the employee's information and look for a match. Once an opening is identified, a meeting will be set up between the employee, their manager, and the assignment manager to ensure everyone is on the same page regarding the assignment.                                                                                                                                                                               

What should I do if I have a staffing need in my area?
Please fill out the Talent Request Form, and a representative from Talent Acquisition will contact you to review the information. The Talent Acquisition Team will work to identify available employees who match the necessary skills of the opening. Once a potential match is determined, the Talent Acqusition Team will assist in coordinating a meeting between you, the employee and the employee's manager.
Will I be able to get an exception for my staffing request if I can't fill my need through  Talent Share?
Not necessarily. The intent of the program is to assist in reducing costs due to the financial impact of COVID-19. There will be a limited amount of exception approvals provided, so that is why we ask everyone to be as flexible and creative as possible in address staffing needs.
How do I choose who to provide to work on assignments through Talent Share?
By being open with teams and identifying individual strengths and capabilities as needed, it will allow us to address gaps in hiring and support the institution as a whole.
The Talent Share program has been set up to support our current workforce as best as possible. UD is known for its strong internal community and this is a time for everyone to come together and pitch in wherever possible.
Being part of the Talent Share program should be viewed as positive as you are helping to be part of the solution, and as an employee you are getting a unique opportunity to learn about another department or college. 
What if I ask an employee to participate in a Talent Share assignment and they respond "no"?
Employees are not required to participate in the program. The intent is that employees see the Talent Share program as an opportunity to learn about other departments and grow professionally. We understand that there may be discomfort for some people in doing work that they may not have done before, or working for a new area, but the key is to reiterate that we need to come together as one community for the greater good. Employees who refuse to accept assignments will be required to use paid leave.
Is there a follow-up process after a match has been made to ensure everything is working out?  
Within a week of a match being made, the Talent Acquisition Team will check-in with the employee and the assignment manager to see how things are going.
After the initial week, employees and hiring managers should reach out to the Talent Acquisition Team with any concerns.
If it is determined that the match is not going to work, the Talent Acquisition team will look for another employee. It is important to remember that this is a time when the focus needs to be on flexibility and collaboration.
Is the Talent Share program for full time or part time roles?
The program can satisfy each need. On the Talent Request Form you can indicate the expected schedule and duration of the assignment.
Who can I contact with questions about Talent Share?
Please contact Lori Koval at lorik@udel.edu with any questions about the program.
Thank you for your support in making this program a success for UD!