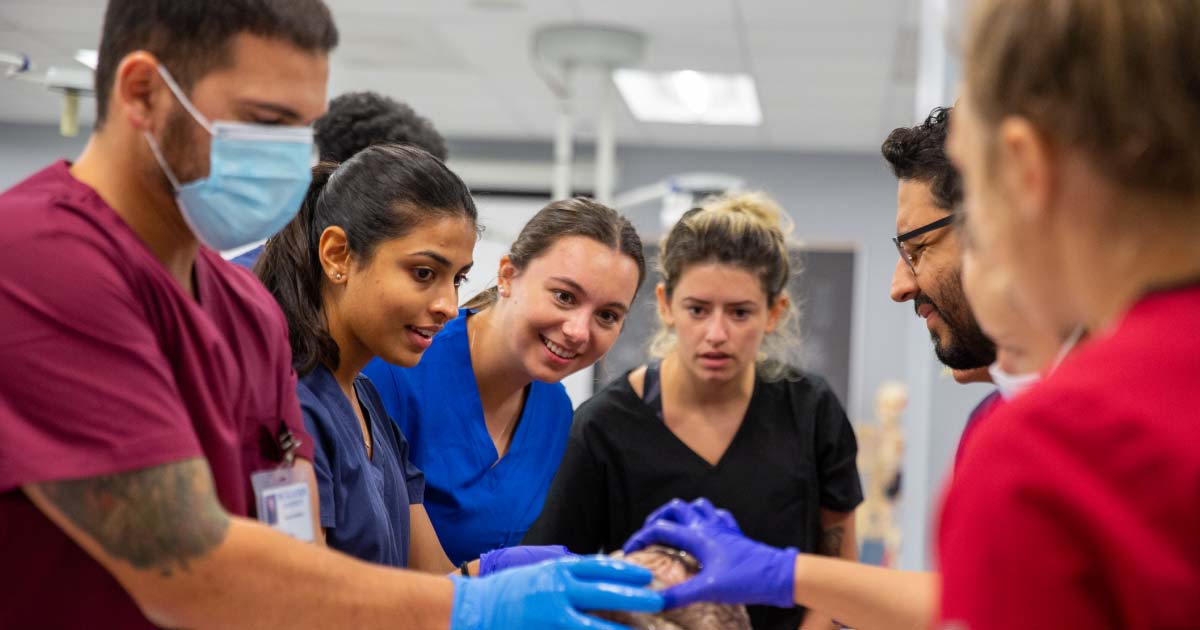 Hands-on examination through collaboration
September 06, 2022 Written by Colin Heffinger | Photos by Ashley Barnas
For physical therapy students across the nation, having access to an anatomical donor system can be an excellent benefit in career preparation. Though virtual reproductions improve accessibility and provide an array of opportunities to learn how parts of the human body function, directly examining a physical body creates further understanding into how each person differs internally and externally. A professor at the University of Delaware has been collaborating with colleges to make this possible for students throughout the surrounding region.
On Saturday August 6, David Ebaugh, professor in the Department of Physical Therapy and director of the Human Anatomy Lab, hosted a full-day lab session for students who traveled down from Moravian University in Bethlehem, Pennsylvania. The collaboration provided access to UD's anatomical donors, allowing students to build upon their prior classroom experience by studying various prossected human bodies.
Anatomical donors are often referred to as "silent teachers" because they chose to give the generous gift of having their bodies dedicated to scientific learning. This creates hands-on opportunities for students to explore the many differences in how muscles, organs, arteries, and bones look and feel across donors.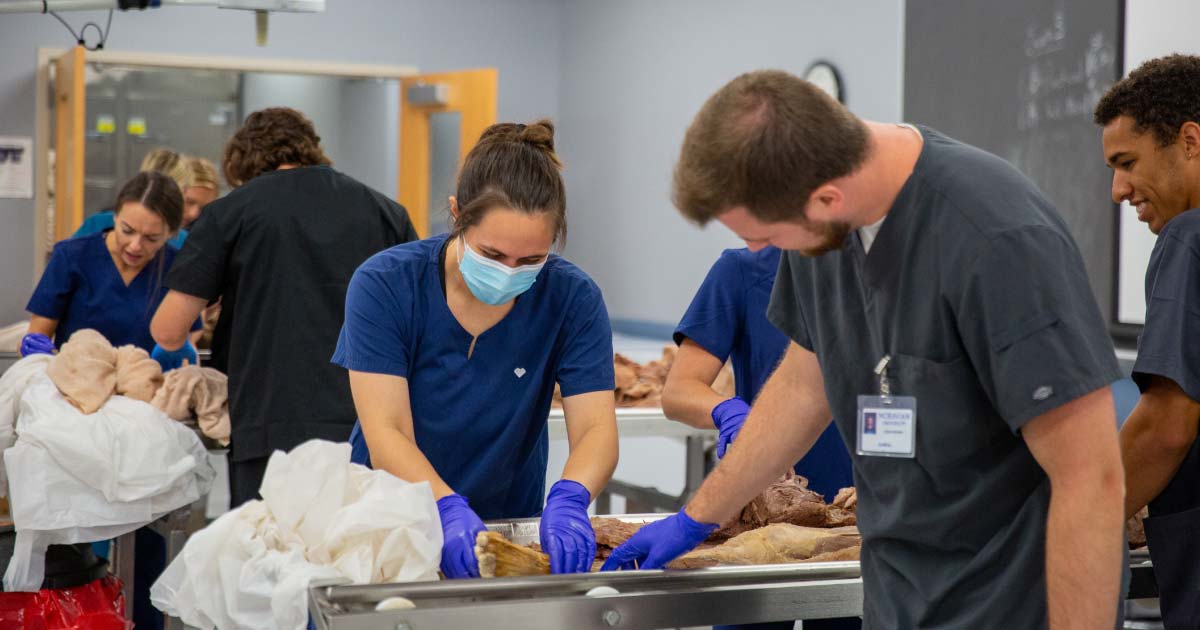 To guide the experience, students were separated into groups of three and given a list of specific structures to find on donor bodies.
"We provided support by having two first-year UD DPT students and a teaching assistant with me," Ebaugh said. "This allowed us to help answer questions and guide the Moravian students in finding structures as needed."
Along with bodies and organs, Ebaugh and his team placed out various specimens of different joints such as shoulders, elbows, and wrists during the morning. When the afternoon came around, they replaced these with specimens for hips, knees, and ankles. This provided an opportunity for students to study a wide array of components throughout the human body.
"Being in a lab with the donors lit a light bulb in anatomical understanding for students," Ebaugh said. "Examining the nerve pathways and differences in muscle sizes helps their understanding of human anatomy come into full perspective."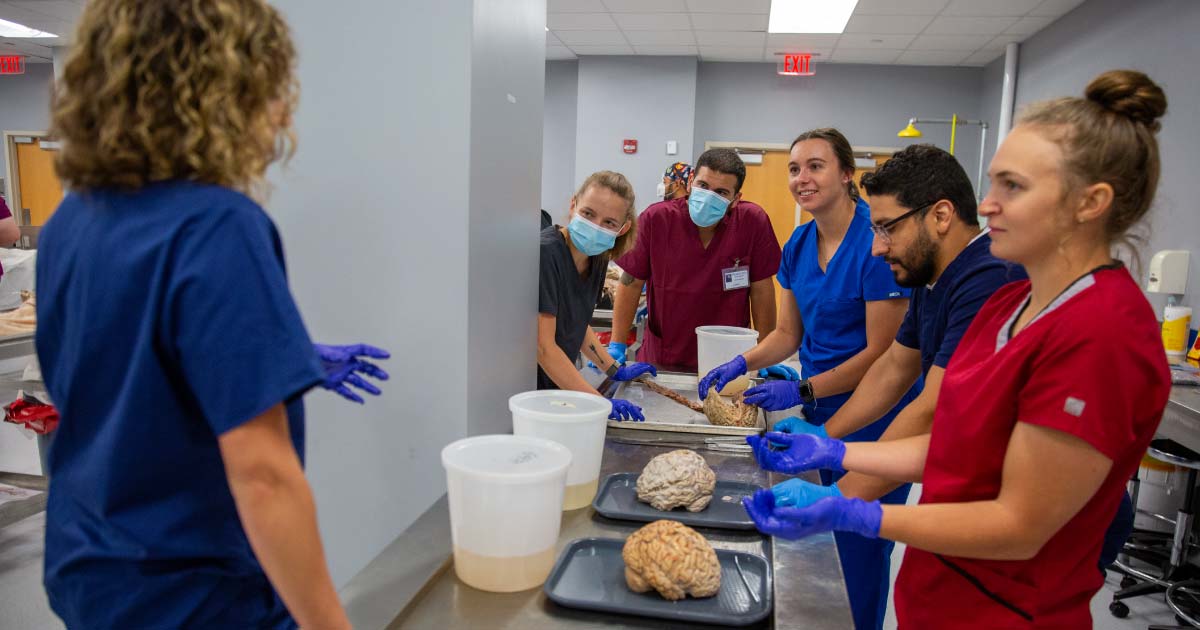 Krista Rompolski, associate professor in the Doctor of Physical Therapy program at Moravian University and former colleague and mentee of Ebaugh's at Drexel University, attended the lab with her students and provided additional feedback.
"We are a new program at Moravian University," Rompolski said. "UD has the prestige of being a #1 college for PT. Naturally, our students found value in understanding the similarities in their careers and abilities with students they worked with at UD. It boosted their confidence and sense of belonging to know they shared the same learning challenges."
Rompolski emphasized how Moravian's virtual labs "eliminate the intense work of dissecting a physical body" but there is value in students seeing and feeling the variety of tissues directly.
"So much of human anatomy can seem abstract until students actually touch and see the structures in their hands," Rompolski said. "Additionally, they were able to see how age and disease takes a toll on the body. This is a huge value-added experience for motivating students to learn beyond their grades."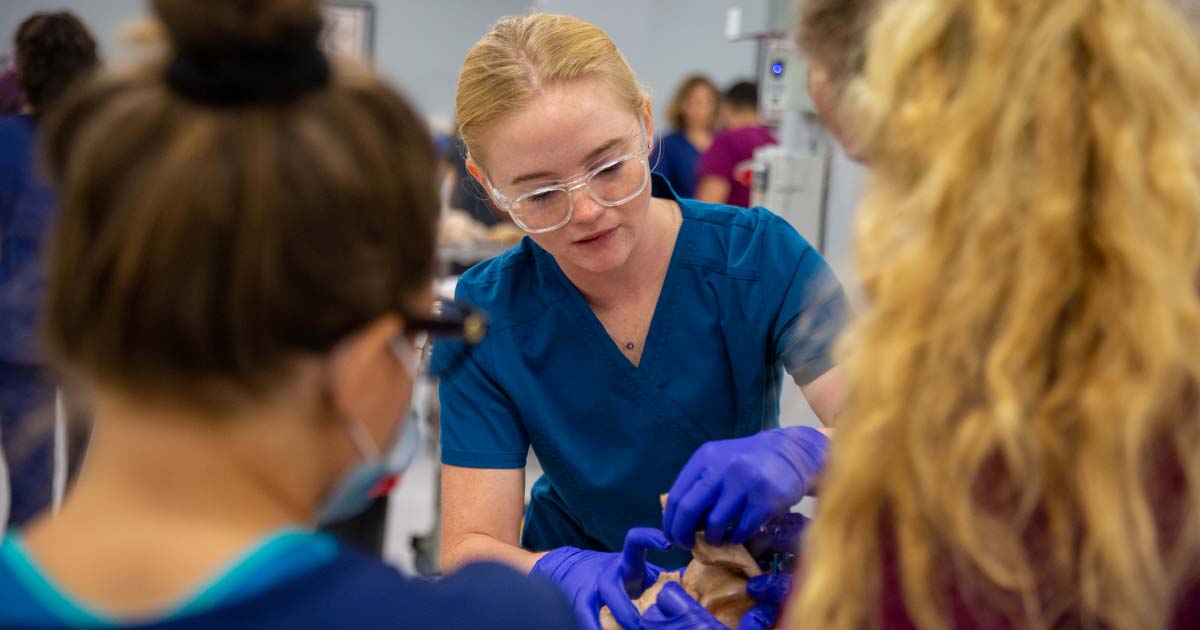 To help make this easier for students to appreciate, the lab was scheduled at the end of the summer after Moravian students had already learned anatomy through virtual programs. This way, they were able to attend and enjoy the learning experience without stress of specific exams while delivering that additional reinforcement to their knowledge.
Rompolski continued by highlighting the debate circling in the anatomy education world about contrasts between learning anatomy through a virtual lab versus hands-on dissection.
"Educators are nervous that the full experience will be lost as schools transition to virtual learning tools," Rompolski said. "Fortunately, there are many ways to be creative to get the best of both worlds."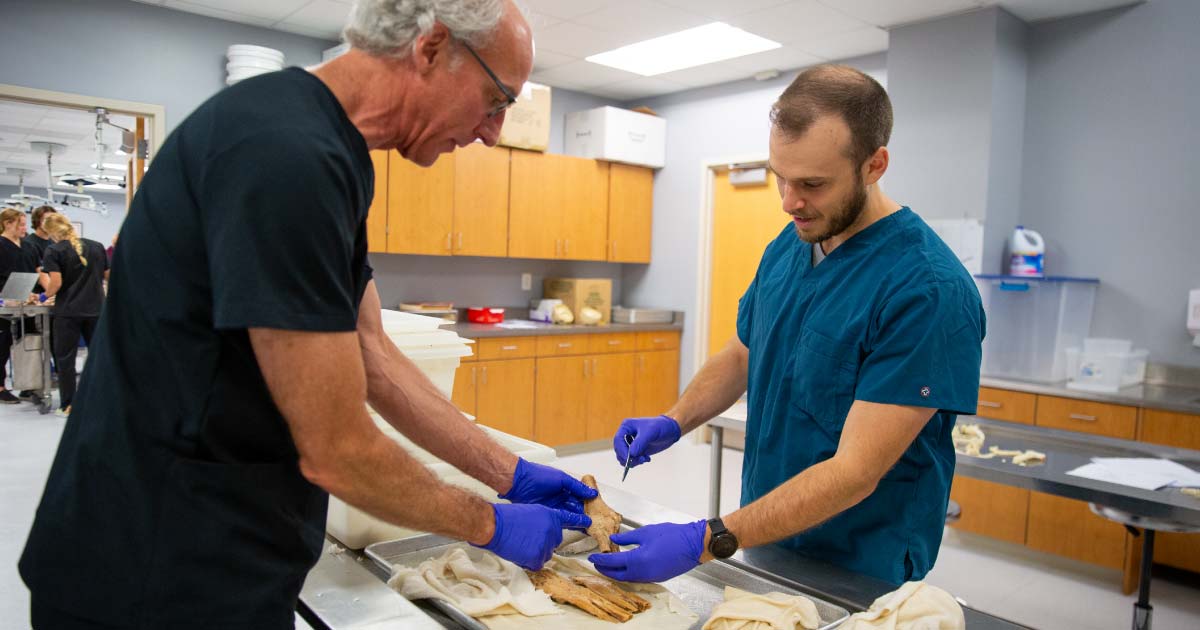 Looking ahead, Ebaugh sees potential in expanding the lab to other local colleges without access to anatomy donors. His goal is to present to these schools how this is truly a value-added experience for students and creates a larger impact on the field.
"Recently, I hosted a lab for Physical Therapy Assistant students at Cecil College," Ebaugh said. "We've collaborated to find the best timing for students to attend the lab and get the most value out of the experience. I'll be using what has been learned from this to help do the same with Delaware Technical Community College next year."
"I believe sharing the lab with other colleges is a powerful tribute to our donors," Ebaugh continued. "It shows that their selfless gift not only helped teach UD students, but also students at Moravian University, Cecil College, and soon Delaware Tech. We have done our part in honoring the donors' wishes of contributing to education across a variety of colleges and universities."