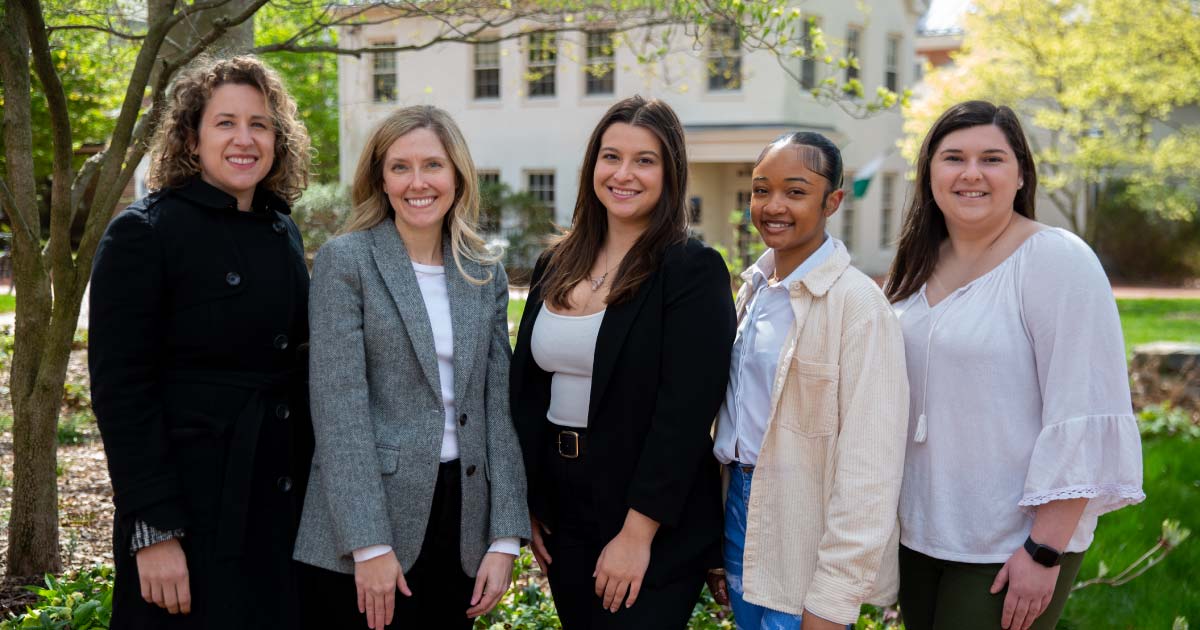 Confronting Misinformation about COVID-19 Vaccines
June 09, 2022 Written by Colin Heffinger | Photo by Ashley Barnas
Despite increased accessibility for the COVID-19 vaccine, low vaccination rates remain in long-term care workers. This important population consists of approximately 4.5 million Americans working in a variety of essential roles that directly impact patient care.
The Patient-Centered Outcomes Research Institute (PCORI) has funded an engagement award to the University of Delaware for its project titled: Building Capacity for PCOR about COVID-19 Vaccination in the Long-Term Care Workforce. This 18-month project aims to build partnerships across long-term care workers, technical schools that train these workers, medical experts, and researchers to create a community of skilled individuals knowledgeable in this topic.
From the foundation of collaborating with invested partners from different fields, the goal of the project is to develop creative solutions to increase decision-making and vaccine uptake. This will be completed by providing these essential workers with accurate, scientific information and resources from individuals with similar backgrounds through an intervention tool.
Christine Skubisz, assistant professor in the Department of Behavioral Health and Nutrition, is leading as principal investigator. Over the past seven months since project inception, she has guided her team to develop and recruit critical stakeholders for building the capacity to confront this issue.
Many long-term care workers are employed in private homes, food service, or drug administration and are lower paid, with education ending in high school or technical school. These workers are typically diverse women younger than 50 and may be undocumented. Often, they can be hesitant to get involved with COVID-19 vaccines and may not have health benefits or be able to afford to take a day off to recover from side effects.
"The direct interaction of these employees with patients puts them at a huge risk," Skubisz said. "Our long-term goal is to provide these workers with the right information to help increase vaccination rates and lower the spread of COVID-19."
By funding this project, PCORI is focused on building a diverse group to learn about the challenges of these long-term care workers.
Building a team of involved partners
Carly Pacanowski, assistant professor in the Department of Behavioral Health and Nutrition, has served as key personnel for Skubisz and reflected on the team's motivation for making a larger impact.
"PCORI is focused not just on researchers coming up with studies," Pacanowski said. "PCORI is working with patients and partners in a shared role. By doing this, beliefs, perspectives, and input are equally valuable. We're focused on giving our partners a voice where they may otherwise not have one."
To accomplish this goal, Skubisz's team is conducting interviews with stakeholders, such as hospital administrators and nurse technicians, to understand needs and concerns in confronting the low vaccination rates. In this way, the patients of the project itself are the partners, who are focused on serving their own patients – essentially, their long-term care workers – with information and resources to make an informed decision.
"We're pulling these representatives together and building engagement for the project," Pacanowski said. "Through these interviews, our current partners provide recommendations that help us find and recruit new partners and explore as many perspectives as possible."
The team at UD provides opportunities for student engagement. University of Delaware's Research Apprenticeship Work-Study (UDRAW) has provided two undergraduate students who are paid for their work and acquire important work experience early in their careers. There are currently six students involved in the project and it is aiming to grow.
From the partner interviews so far, Skubisz's team has learned about different challenges faced by these workers. Sometimes, the language used around vaccination can be confusing. Small changes around words and phrases can have a large impact on group perception. Employers may not be providing enough details.
An additional issue is some of these employees were nurses who shifted into long-term care roles during the pandemic, specifically to avoid vaccination. Since these roles may not require a vaccine mandate, shifted workers can contribute to vaccine hesitancy through the spread of misinformation. Even some doctors and employers are improperly discouraging vaccination in these groups, reducing confidence further.
Amy Nichols, a research associate for the project, has served a role in interviewing workers to learn about their experience and conversations concerning the vaccine.
"Misinformation is the biggest issue that comes up," Nichols said. "A lot of people don't know how to find scientific facts about the vaccine or understand the basics of the virus. The constant change in regulations pushes them to lose trust. Social media exacerbates this further."
An example of misinformation is how some groups have spread inaccurate information that the vaccine can negatively impact fertility in women. This is false, and scientific evidence even supports that the vaccine can help provide a level of protection to the child as well.
To confront these issues, Skubisz plans to develop an intervention that will be relatable and easily accessible to this employee group through the internet.
Creating a web-based intervention tool
"Our working goal is to develop this web-based intervention to help reduce vaccine uncertainty," Skubisz said. "The long-term care worker will answer questions and be walked through a decision-making process tailored to their concerns. For example, if they plan on having children, their narratives will be different from workers who do not."
The individual guiding through the process will be from the same demographic area, have a similar job or ethnic background to the workers. They may have lived through experiences of their own with the vaccine. This is essential to establishing trust and building further understanding from individuals who share similarities with the workers.
It's important that the long-term care workers have additional trustworthy sources of communication. Often, they may rely on Facebook and coworkers, which can be inaccurate and targeted to influence them negatively.
"We want to protect everyone we can," Nichols said. "And to help these workers be informed about true scientific data so they can make accurate decisions. Vaccine hesitancy is not a new problem, but it has grown a lot during the COVID-19 vaccine rollout. The more mandatory the vaccine feels, the more resistance grows."
Long-term project aspirations
Looking ahead, the team is focused on continuing to grow their group of partners and better understand the challenges faced by long-term care workers confronting a decision on COVID-19 vaccinations.
Additionally, the existing team will be working on submitting a grant proposal for future expansion of the project, after its initial completion in March 2023. There are plans to do a randomized control trial in 2023 to test the potential impacts of the intervention tool. The long-term goal is to engage this tool for long-term care workers throughout the country.
"We aim to give these workers in challenging roles a voice and help them make an effective, well-informed decision," Skubisz said. "This population has so many important things on their mind, like basic survival needs. We look forward to talking to people all over the country and making a larger impact."