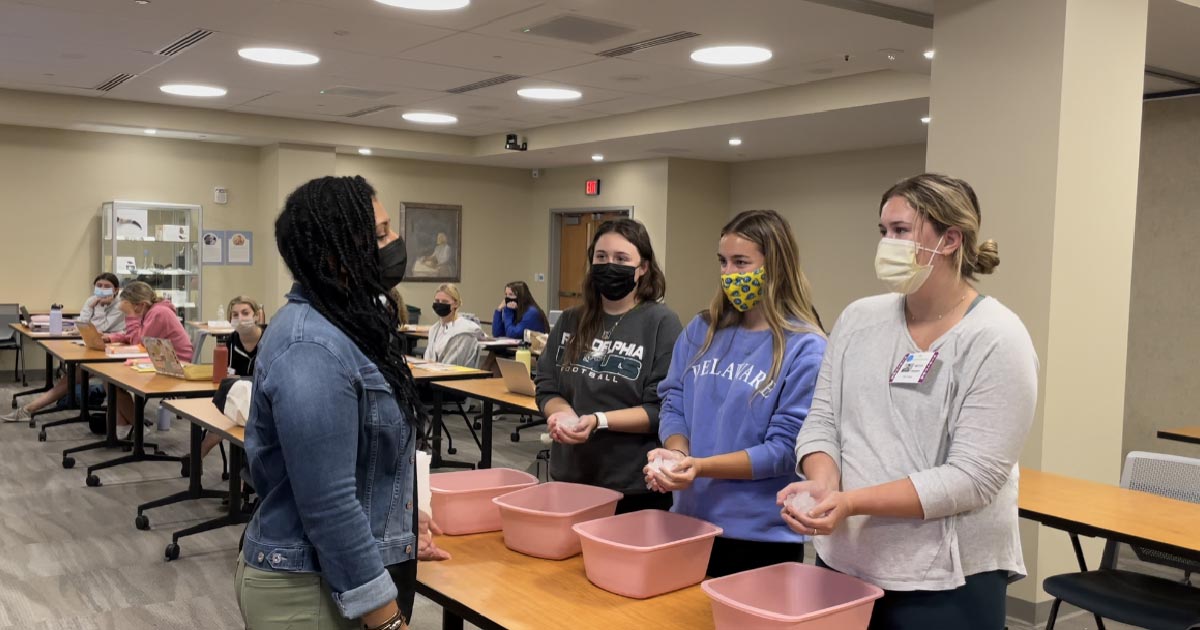 Birth Companion Certificate Program
November 15, 2021 Written by Colin Heffinger | Photo by Mona Liza Hamlin
The University of Delaware Division of Professional and Continuing Studies recently collaborated with the School of Nursing and ChristianaCare to create a Birthing Companion Certificate that will provide a repository of qualified volunteers to act in the role similar to a doula for ChristianaCare birth mothers.
A birth companion is a knowledgeable student providing physical and emotional support as a woman is going through the process of pregnancy and birth. Typically, a birth companion is an individual who has acquired the training and experience to be officially titled as a doula. Students participating in this non-credit course program develop the skills needed to pursue future requirements of becoming a doula.
Mona Liza Hamlin, Perinatal Resources and Community Programs Manager at ChristianaCare and lead for the program, explains that "the need of nursing students to receive in depth education that includes trauma informed care, healthcare equity, human lactation, and ways to communicate with birthing parents, along with their ongoing maternal child health education, is evident based on current maternal health disparities and outcomes in the US. This program is aimed at providing a holistic approach to care lens which enriches the student's skills needed to engage in this program and throughout their careers. We hope to see this work lead to increased self-efficacy for these future nurses and improved health outcomes for birthing parents."
Jennifer Korkosz, assistant professor in the School of Nursing and a large contributor to the program, operates as the touch point for women's health related courses and activities. She explained how the birth companion program is an "important resource" for expectant mothers. "In so many situations, expectant mothers would come into hospitals without a network or family and friends to provide support throughout pregnancy and birth. Birthing companions help to decrease anxiety and deliver much needed information even beyond birthing, such as for breast feeding and family adaptation."
"This program is a large enticement to students and perspective students," Korkosz continued. "It provides a hands-on opportunity to go beyond clinical experience. Students can observe nurses in this setting and acquire a different perspective. When completing the program, these students will be recognized as ChristianaCare Birth Companions. They can continue to provide these services and pursue further certification."
The birth companion typically meets with expectant mothers throughout pregnancy to discuss appointments, questions, and what's coming ahead. This is critical as it provides the expectant mother with preparatory information that medical professionals may not always have time to explain.
"Ultimately, the goal is to improve birth outcomes by providing the emotional, physical and informational support to fulfill the needs of underserved mothers who do not typically have access to this support through traditional certified Doulas," stated Diane Beatty, PCS program manager for the Birth Companion Certificate program. "Through this program we hope to provide qualified volunteer birth companions to support Christiana Care's bigger initiative to better serve their clients and improve outcomes."
"This is only our first group of students," Beatty stated. "Being that the cohort is made up of sophomores, juniors, and seniors, there's varied levels of education and experiences to adapt to. Students and expectant mothers will be able to review their experiences and provide necessary feedback for us to continue evolving the program. In the long-term, we want to expand this program beyond the School of Nursing to other students throughout the College of Health Sciences."
"I would love to see this become a self-sustaining resource for future birth companions," Korkosz reflected. "Prior birth companions and new participants will work together to provide the best resources and reach out to expectant mothers interested in their services. I am excited to light the fire in these students for their future careers."