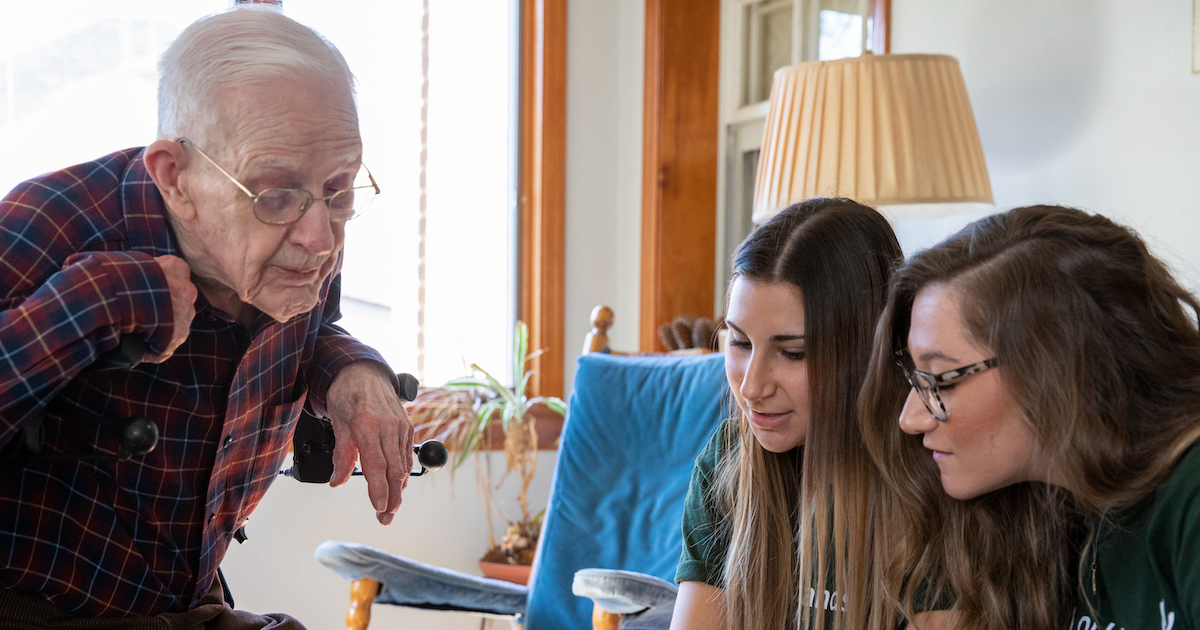 Lori's Hands launches podcast
May 26, 2021 Written by Kelly Bothum | Photo by Ashley Barnas
Jennifer McCord knows the history of Lori's Hands because she was there when it started. McCord, a University of Delaware alum, lived in the apartment with co-founders Sarah LaFave and Liz Bonomo where the idea for this intergenerational service learning organization first blossomed.
Now she's the creator and producer of a five-part podcast about Lori's Hands clients called "Community Voices." The series, which debuted May 14, spotlights not just clients but the way their surroundings and lives color their experiences. Clients talk about their professional life, their personal challenges and reflect on how their community has influenced their lives.
Michele Price is the subject of the first client episode. She loved a good story, whether it was the Knights of the Round Table, the old Perry Mason series or even the romance novels of bestselling author Danielle Steel.
Turns out, she was a pretty good story herself. During the episode, Michelle talks about running a successful cosmetology school, becoming a published author while confronting her own grief and her family's unusual sense of humor after she experienced a serious health scare.
The episode is bittersweet, as Michele passed away earlier this month, but her charming personality and funny stories are guaranteed to leave listeners with a smile.
In the second episode, McCord and University of Maryland Baltimore County student Emily Karbaum talk with Tom Brockenbrough, emeritus faculty in the College of Engineering, about his work on campus, in the community with the City of Newark and the 62 years he spent with the love of his life - his wife, Mary Lou, who died in 2016.
"We were in love from the very first to the very last," says Tom, who is 100.
For McCord, now an audio producer with an interest in telling place-based stories, the return has allowed her to use her professional skills to spotlight Lori's Hands and also to engage students – particularly students not pursuing a career in healthcare – to use their strengths in a way that contributes to the organization and its goals. "It's so fun to be able to contribute to Lori's Hands in a way that feels like it's in my wheelhouse," McCord says.
You can read an interview with McCord about the podcast project on the Lori's Hands blog.
You can hear episodes at https://www.lorishands.org/podcast. You can also find the podcast on Spotify, Apple Podcasts and Stitcher.