UD PT students virtually raise money for Marquette Challenge
March 18, 2021 Written by Kelly Bothum | Photo by UD PT Marquette Challenge students
Grad students in the University of Delaware physical therapy program know they have a charitable reputation to uphold when it comes to the annual Marquette Challenge. Over the years, students in the top-ranked UD DPT program have raised more than $100,000 for the challenge, which benefits the Foundation for Physical Therapy Research.
Like it has with just about everything else, the COVID-19 pandemic that began last year interrupted those stellar fundraising efforts. Previously popular moneymakers like Rent-a-PT student and UD Pie Time - in which the UD faculty, clinician or staff with the most money raised in their name received a pie to the face - no longer were opportunities to raise money for the challenge.
There have been some changes in this year's tactics, but first- and second-year students are continuing the strong tradition of fundraising. From continuing education courses and social media bingo to winter beanie hats and raffle ticket sales, UD PT students are finding unique ways to raise money and awareness for the Marquette Challenge.
Students have raised about $27,000 this year, which includes money raised last year before the challenge was paused.
"One of the biggest challenges I think we've had this year was finding that line between asking people for money during these difficult times and wanting to fundraise for the Marquette Challenge, which means so much to us," said DPT student Brittney Ploumitsakos. "A lot of clinicians that work in the UD PT program or teach our classes have received money from the foundation to fund their research, so it's something that definitely is near and dear to our hearts and really helps advance the profession in the long run."
The Marquette Challenge began in 1989 as a fundraising effort to support physical therapy research through the Foundation for Physical Therapy, which funds scholarships and researchers in the physical therapy field. Since then, more than 300 schools have participated.
UD also is among four higher education institutions earning a spot in the Marquette Challenge Philanthropy Circle Challenge Society for its fundraising prowess. Nearly 50 UD-affiliated faculty and clinicians have received funding through the Foundation for Physical Therapy.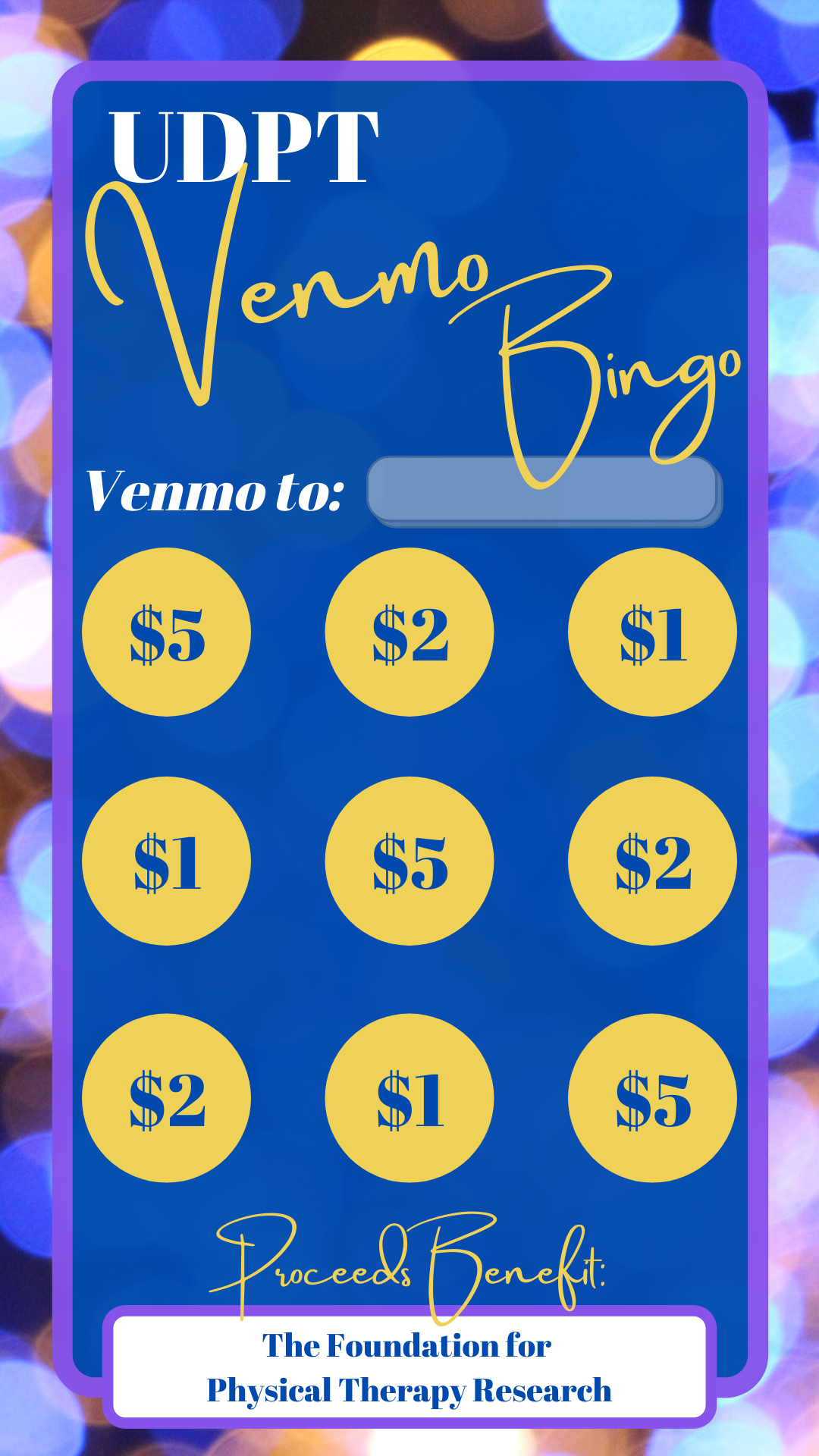 This year, students organized a social media bingo fundraiser, where participants posted a bingo card with donation amounts. The event, which reached people who hadn't previously donated to the challenge, brought in $711.
A winter hat sale also brought in several hundred dollars. Right now, students are selling raffle tickets and also helping with marketing and advertising for a continuing education course featuring UD faculty and clinicians being offered for free but asking for donations to the challenge.
First-year PT student Julia Solderitch said the challenge has been a good way to get involved and meet classmates, especially with the pandemic eliminating many of the usual student activities. However, navigating the differing schedules between the first- and second-year students sometimes makes planning a challenge, said Leah Colussi.
Despite the additional challenges brought on by the pandemic, this year's challenge is shaping up to be another strong showing by UD PT students. It's also strengthened the bond between many of the first- and second-year students who have worked together on the fundraisers.
"I think for me, personally, I felt kind of this pressure taking on all of the fundraising," Ploumitsakos said. "But I think going into this past COVID year, anything that we're doing has felt like a really big win."
To donate to the Marquette Challenge, visit here.