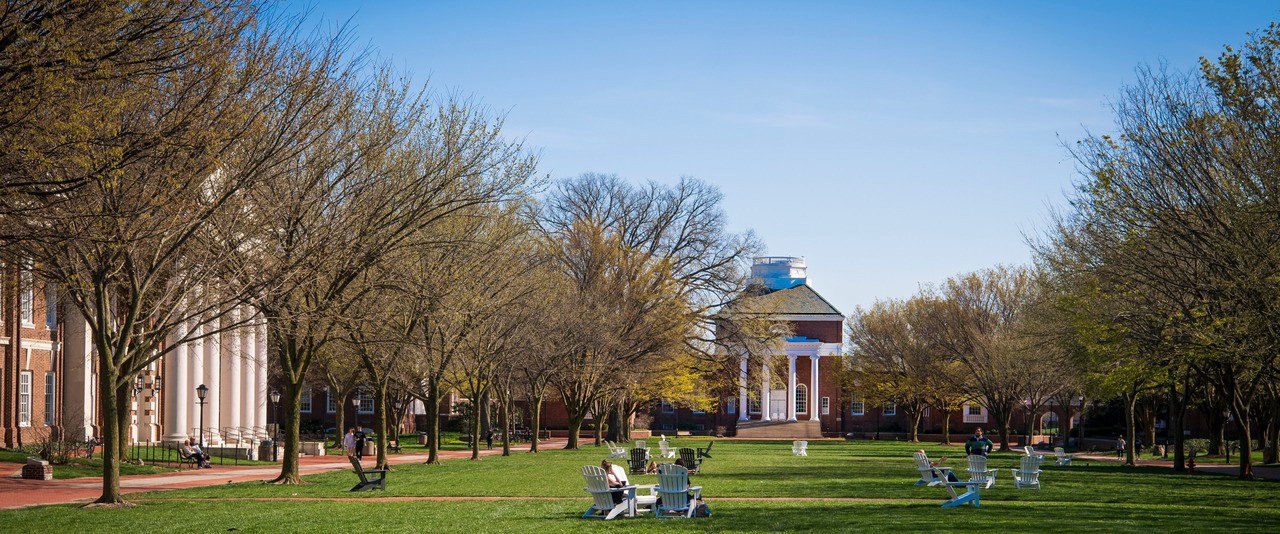 CEOE Honors Announced
May 26, 2021 Written by CEOE Staff
The University of Delaware's College of Earth, Ocean and Environment (CEOE) is proud to announce the recipients of college and departmental awards, fellowships and scholarships.
While the awards are usually presented to CEOE students during an annual, in-person event known as Honors Day, the COVID-19 pandemic canceled both the 2020 and 2021 ceremonies, but the college's students have continued to succeed and continued to be recognized with the annual awards.
Estella Atekwana, dean of CEOE, said that she is proud of all that the students accomplished this year, especially in light of the challenges they faced in the 2020/2021 academic school year.
"This has been such a difficult year for students at all levels," Atekwana said. "Undergraduate students have had to adjust to learning remotely. Some graduate students have had to adjust to teaching that way! And all of our graduate students have had to find ways to keep making progress on their research and advancing towards their own degrees. I am so impressed by all of our students and offer special congratulations to this year's winners of the CEOE Honors."
Many of the awards earned by CEOE students are fellowships created by philanthropic support. Alumni of the college, community members with an interest in marine and environmental sciences, and even some corporate partnerships have yielded endowments that provide ongoing support for graduate students within the college.
TJ Cournoyer, senior director of development for strategic initiatives for CEOE, added that these awards, fellowships and scholarships play an important role in attracting students to attend the University and advancing the academic careers of UD students.
"Donor support for graduate fellowships plays a crucial role in attracting driven and creative students to the University, and assures they have a dynamic and collaborative experience," said Cournoyer. "Whether attending a conference or funding field work, philanthropy empowers our students to become world changing scientists."
The full list of award winners is below:
E. Sam Fritz Award: Kyle Runion, School of Marine Science and Policy (SMSP)
Frances Severance Award: Haley Oleynik, SMSP
University Doctoral Fellowship Award (2020-2021): Nathan Thayer, Department of Geography and Spatial Sciences (Geography); Katherine Hudson, SMSP
University Graduate Scholars Award (2020–2021): Abigail Nalesnik, Department of Earth Sciences; Maria Sabando, SMSP
University Graduate Scholars Award Renewal (2020–2021): Hannah-Marie Garcia, SMSP; Austin Grant, SMSP
University Dissertation Fellows Award (2020-2021): Mehmet Altingoz, Water Science and Policy; Zhangxian Ouyang, SMSP; Sicheng Wu, SMSP
Unidel Distinguished Graduate Scholars Award (2020-2021): Ryan Frederiks, Earth Sciences; Mark Lundine, SMSP
Marian R. Okie Fellowship (2020-2021): Andrea Leontiou, SMSP; Grant Voirol, SMSP
Joanne Currier Daiber Fellowship (2020-2021): Nanqing Zhou, SMSP
School of Marine Science and Policy Program Fellowship (2020-2021): Jessica Capista, SMSP; Shannon Jones, SMSP; Grant Otto, SMSP
Knecht and Cicin-Sain Award in Marine Policy: Samantha Bingaman, SMSP; Aaron Russell, SMSP
Dean John A. Knauss Fellowship (2020): Jennifer Joseph, SMSP; Sam Fielding, SMSP
Magers Family Fellowship (2020-2021): Nicole Rucker, SMSP; Aaron Russell, SMSP
CEOE HUGS Fellowship: Desire Piphus, Earth Sciences
CEOE HUGS Fellowship: Nicholas Butler, Geography
Gerard J. Mangone Center for Marine Policy Award: Zhaojun Wang, SMSP
Carolyn Thompson Thoroughgood Graduate Research Award: Julia Fontana, SMSP
Department of Geography Teaching Assistant Award: Loonhiba Manandhar, Geography
Department of Geography Research Assistant Award: John Callahan, Geography
Outstanding Teaching Assistant Award in Geological Sciences: Neeshell Bradley- Lewis, Earth Sciences
Outstanding Teaching Assistant Award in Geological Sciences: Max Huffman, Earth Sciences; Kuan-Yu Lin, Earth Sciences
Outstanding Senior Award in Geological Sciences: Elizabeth Rodenbach, Earth Sciences
Excellence in Geoscience Award: Charlie Kimsal, Earth Sciences
Special Merit Award in Geological Sciences: Katie DeBois, Earth Sciences; Leanna Stackhouse, Earth Sciences
2020 Summer Doctoral Fellowship: Nari Kim, Geography