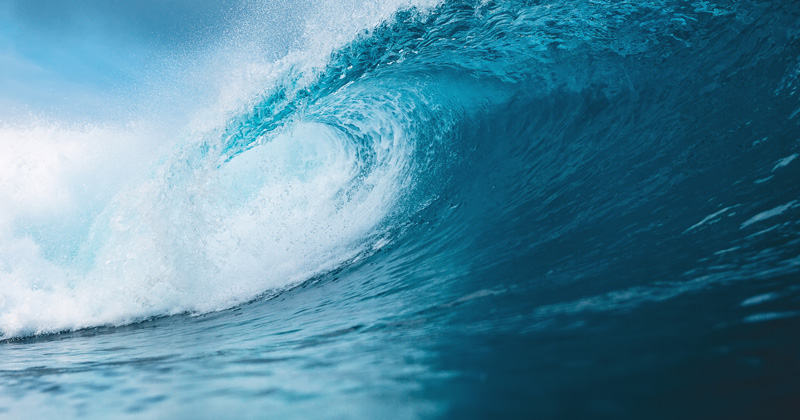 Measuring Ocean Salinity
December 02, 2020 Written by Adam Thomas | Photo by iStock
Measuring salinity in ocean water allows researchers to infer important information about climate change and variability, as sea surface salinity can act as a "rain gauge" and is used as an indicator for changes to the global water cycle. As salinity in the ocean changes, that information is used to infer changes in precipitation and evaporation, as well as freshwater glaciers melt due to rising temperatures.
In order to measure ocean salinity, researchers around the world utilize products from the Argo Program, an international program that collects information from inside the ocean using a fleet of thousands of robotic instruments that drift with the ocean currents and move up and down between the surface and the mid-water level, continuously providing huge numbers of measurements of temperature, salinity and other variables.
Because these floats are not evenly distributed, spatially and temporally, a number of institutions have developed gridded data products to put the Argo data into user-friendly, regular spatial and temporal grids. These gridded Argo products are widely used in ocean and climate studies. Earlier studies have shown, however, that discrepancies in salinity measurements exist among these gridded Argo products.
To help better understand and qualify these discrepancies, a University of Delaware study compared and evaluated the variability of ocean salinity from five objective ocean analyses that are based on Argo measurements in the ice-free open ocean from 2005 to 2015. In addition to the locations and time periods studied, the researchers also looked at the measurements at two different depth intervals: one ranging from zero to 700 meters below the surface and one ranging from 700 to 2,000 meters below the surface.
The results of their findings were published in the Journal for Climate. Xinfeng Liang, assistant professor in the School of Marine Science and Policy in UD's College of Earth, Ocean and Environment, was a co-author on the study along with Chao Liu, a graduate student in Liang's research group, who served as the paper's lead author.
Liang said that the researchers "looked carefully at the differences between different Argo products, particularly on the salinity part, and we found naturally there are quite significant differences."
The five Argo-based salinity products examined in the study include the EN4 ocean objective analysis from the UK Met Office, the Roemmich-Gilson Argo Climatology from the Scripps Institution of Oceanography, the Grid Point Value of the Monthly Objective Analysis using Argo data, the International Pacific Research Center Argo product and the Global Ocean Argo Gridded dataset.
The study revealed significant discrepancies among those products with regards to ocean salinity, which means that some features presented in previous studies could be product-dependent. Thus, researchers need to be careful when they pick a data product to address their specific scientific questions.
Liang said that while it would be nice to have a one-size-fits-all solution to the discrepancy problem, there wasn't one specific Argo product that performed particularly poorly in terms of presenting salinity variability. In addition, Liang pointed out that over the years, more Argo floats have been deployed in the ocean but that hasn't led to improved agreement among the examined products in every case.
"We couldn't really see which is the best or which is the worst," said Liang. "That totally depends on the question you want to ask and the region you want to ask it in. We found there were some regions that maybe they all performed really well. There are some regions where three performed pretty well and the other two really bad. And for different time scales, some performed pretty well, and some performed poorly."
Some of the uncertainty associated with these products derives from different center-specific processes, including mapping methods, data editing and the addition of non-Argo data. While three of the products utilize the temperature and salinity measurements solely from Argo, two of the centers include other data from mooring arrays and ship-based observations.
All of these factors make it difficult, if not impossible, to provide a simple, uniform solution to the problem.
"You can't simply invest money to put more Argo floats into the ocean in every situation. That won't automatically resolve this problem," said Liang. "You have to better design where to put them and then once you get the data, how can you better map them to the gridded product, which most people use because they're easy to use and they're easy to analyze."
The paper found that western boundary currents and the Southern Ocean are two regions that show quite significant differences between the gridded products. Because of this, and in contrast to the rest of the areas studied, they could be regions that actually benefit from having scientists deploy more floats to increase the agreement between different products.
Liang said that Argo floats are going to play an increased role in the future as people design the next decade of global observation systems. Because of this, the research community needs to face the question of how to utilize the Argo floats more efficiently.

"Globally, more attention and resources should be put into identifying the reasons for discrepancies between products," Liang said, "and then improving the products rather than simply increasing the number of floats, which is quite expensive."