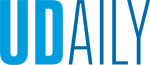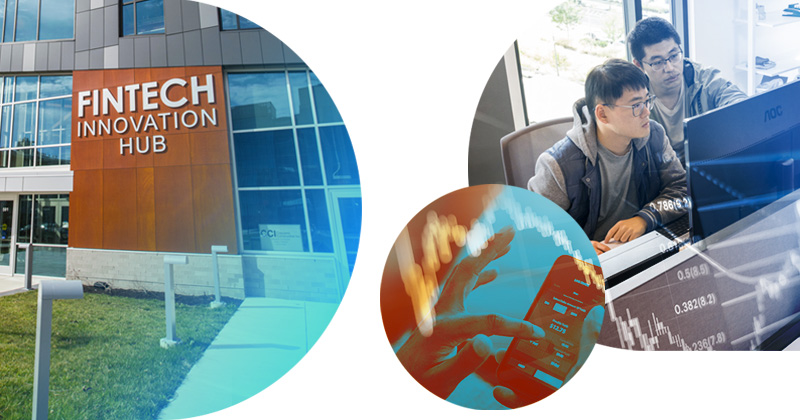 A new gem in UD's innovation neighborhood
Article by Beth Miller Photos by Kathy F. Atkinson | Photo illustration by Jeffrey C. Chase October 02, 2023
FinTech Innovation Hub offers new muscle for promoting financial and health equity
Ah, the good old days. You'd earn your pay, get a check from the boss, take it to the bank (between 10 a.m. and 3 p.m., please), deposit it, wait until it clears, write a check to the plumber, put it in the mail and wait until the plumber cashed it days or weeks later.
That's how personal finance worked not so long ago.
Financial technology — fintech for short — has changed a lot of things. In the world of Venmo and PayPal, writing a check or mailing a bill seems so quaint. Almost half of all Americans with bank accounts now use mobile devices to manage their finances, according to a 2021 survey by the Federal Deposit Insurance Corporation (FDIC). Just about everything moves much faster.
Fintech is an exploding industry, bringing the power of data science and computer engineering to bear on financial services in ways never before imagined. It offers new opportunities for those who have not had easy access to affordable financial services, and it presents new challenges for data security, regulation, policy development and computer engineering.
The University of Delaware has expansive new facilities to support the strategic work of its scholars and researchers in these fields at the six-story FinTech Innovation Hub, owned by Delaware Technology Park and located on UD's Science Technology and Advanced Research (STAR) Campus. UD will cut the ribbon on its space in the building on Wednesday, but teams from the Alfred Lerner College of Business and Economics and the College of Engineering already are in the building. More will arrive soon.
"The FinTech Innovation Hub adds another gem to UD's STAR Campus, where collaborative hubs in health and life sciences already are thriving and strengthening the economy of the whole region," said UD President Dennis Assanis.
"The research and innovation at this new hub will expand Delaware's legacy of national leadership in financial services, drawing on UD's top-shelf expertise in finance and technology. It also opens new space for education, giving our students access to a highly collaborative ecosystem and preparing them for great jobs and future success. And it puts UD and the state at the forefront of promoting equity in financial services and health — two serious problems facing our world."
It's important territory for the future, said Phil Goldfeder, executive director of the American Fintech Council.
"Fintech will be banking in 10 years," he told participants at UD's Data Science Symposium on Sept. 22.
The state of Delaware made an indelible mark in banking with its 1981 Financial Center Development Act, which was designed to allow market forces instead of regulators to determine interest rates. That decision brought many banks and jobs to the state — a 740% increase in banking and financial services jobs in the first 40 years of the Act, according to the Delaware Bankers Association.
Banking is changing a lot, though.
"And if you don't evolve, you will find yourself going the way of Blockbuster or BlackBerry," Goldfeder said. "What Delaware has done is to recognize the shift to technology in financial services."
The University is wise to help shape the future of the field.
"The University of Delaware has been on the forefront of cultivating the idea of a well-rounded fintech education — to bridge the gap between academia and real-world experience," Goldfeder said. "This new initiative will continue to elevate that program and idea and strengthen the bridge between the two systems."
A broad vision for equity in finances and health
Banking and other financial services are important to everyone who needs and uses money. But in 2021, almost 6 million households in the United States had no checking or savings account at a bank or credit union, according to a national survey by the FDIC. That's a significant improvement from the first FDIC survey in 2011, when almost 11 million had no such accounts.
The FDIC reported that the majority of those "unbanked" households were low-income, Black households, Hispanic households, households with disability factors and/or single-mother households — vulnerable populations.
Too often, living in a cash-based economy means paying the high fees associated with check-cashing services, payday loans and prepaid cards. And the disconnect from affordable, trustworthy financial systems often means people cannot get loans or insurance, cannot find employment and face other disadvantages in the effort to build financial security for themselves and their families.
In addition, research has shown that financial health is a key social determinant of physical and mental health. Financial struggles contribute to anxiety, depression and sleep disorders, for example, making everything more difficult.
For that reason, finding ways to help people improve their financial health is a key piece of the FinTech Innovation Hub's vision, said Mike Bowman, executive director of the Delaware Technology Park, which owns the FinTech building, and director of the Delaware Small Business Development Center, which has an office in the building, too.
"Financial health and wellness is the cornerstone of everything that makes your life go," Bowman said. "And it's the same population that cannot get health care or cannot get insurance or cannot get a loan. You can argue forever that the system has been biased — and we're trying to move forward to solutions. Each one of those that we can chip away at gets you to a better quality of life. I can go there now. I can do this. I will get preventative care. I will have some type of insurance. I will start saving."
This is of keen significance to Discover Bank, which is a sponsor of the FinTech Innovation Hub and recently launched its $36 million Discover Financial Health Improvement Fund to support startups and early-stage technology companies that are developing solutions for low- and moderate-income people, communities and small businesses.
"We have an obligation as a bank in Delaware to reinvest back in the community," said Matthew Parks, vice president for retail banking and director of its Community Reinvestment Act work. "So when the opportunity arises to look at financial technology as we're doing, given that we are a consumer-based organization, we felt it was a great match with the mission values of Discover, to help people build brighter financial futures."
The University's presence adds a lot to this work, he said.
"The University makes it a good transaction," he said. "They are willing to be a tenant in the building, they're collaborating and that makes the economics possible. It's their land and they have a direct role to play in the success of this." 
Fintech brings new tools, new approaches and new allies to the effort. And the FinTech Innovation Hub puts many experts under the same roof and in the same neighborhood.
"FinTech's location on STAR Campus puts it right next to the College of Health Sciences, enabling connections with faculty research and outreach in community health," said UD Provost Laura Carlson. "FinTech is also across the street from the College of Agriculture and Natural Resources, whose commitment to cooperative extension enables a direct means of bringing the hub to the community. The result is an incredible synergy of research, education, outreach and impact that fundamentally captures the design and purpose of the FinTech Innovation Hub."
The fit is perfect regionally, too.
"We're in the right location to do this," said Oliver Yao, new dean of the Alfred Lerner College of Business and Economics and an expert in financial services. "Delaware is the financial services center, and we're in the technology corridor from Washington, D.C., to Boston. Finance is a well-established discipline in areas such as corporate finance, investment banking, asset management and risk management. The tech is the evolving part, the data analytics and — in the next 10 years — artificial intelligence.
"How the technology should be connected with finance — that's fintech," he said. "And we have the expertise in this. The building offers a lot of opportunity. Faculty and students should not be siloed. They need to be working with industries and communities and make sure they disseminate their fintech research to the communities. It can help them as well, with experiential learning."
The College of Engineering is ready for these challenges, Dean Levi Thompson said.
"The discipline has just exploded," he said, "but we've been very deliberate about our growth. The FinTech Hub is part of that solution. Without it, we can't expand. But it should be well-managed growth. We have a responsibility to deliver excellence and diversity. So this is a great evolution. It's a great time to be an educator, and it's a great time to be at Delaware."
UD has appointed two co-directors for its fintech endeavors — Carlos Asarta, professor of economics in Lerner, who will oversee education and outreach, and Rudi Eigenmann, distinguished professor of electrical and computer engineering in the College of Engineering, who will oversee research.
"Interdisciplinary work leads to new ideas, research and innovations," Eigenmann said. "I have seen awesome projects come out of gatherings of people with initially quite different areas of interest. Traditionally, researchers in engineering and finance have not been strong collaborators. Maybe that is an actual opportunity to be seized, enabled by the FinTech Innovation Hub. To mention just one concrete project idea: To understand the financial health and its dynamics in the state of Delaware, one could develop a financial and economic model and simulator. It would take models developed by Lerner, coupled with simulation and data or AI techniques developed by Engineering. If successful, such technology could not only advance our knowledge in financial health but also become a tool for decision makers in the state and beyond."
Asarta said the work will open doors for many in need of financial services.
"The collaborations that are already taking place at the Hub have the potential to democratize access to financial services, improve financial inclusion and provide individuals with tools to make informed financial decisions," he said.
Evolution of fintech
Fintech means you can use your mobile phone to pay the power bill at 4 a.m., still in your pajamas, no stamp required.
You can use the same phone to invest in the stock market, accept instant payments for walking your clients' dogs, send donations to help with disaster relief, check out the deductible on your insurance policy and transfer credit card balances to an account offering zero percent financing.
Fintech has put the world of financial services in the palm of consumers' hands, with applications such as PayPal, Venmo, Cash App and trading platforms such as Robinhood.
And that's just scratching the surface.
Parks points to a fintech product that helps commuters track public transit purchases and realize the tax deductions available for those costs.
"There's no real place to efficiently and easily store all that information unless you keep every receipt for the bus tokens you bought," he said. "This application records all of those purchase orders and tells your employer that you bought these transactions. Then your employer can record that on your next paycheck as a pre-tax deduction."
That can add up to significant benefits for many workers.
Parks said other fintech products speed up payment processes that can make an enormous difference, especially in insurance claims. If a tree falls on your house, for example, you want to get the damage repaired as soon as possible.
New fintech products can streamline the payment process.
"You can get your money in days, not weeks, and go ahead and repair your home," he said.
That could mean the difference between having mold in your home and not having mold in your home, said Amy Walls, principal in community reinvestment at Discover.
"And you're less likely to be displaced," she said, "which can affect physical health and a child's performance in school. The more we can help families get the tools they need for success, the greater the benefit down the line."
Strange new currencies and markets have emerged in the fintech space. Fintech has introduced us to the bewildering concepts of cryptocurrency, blockchain systems and other digital-only mechanisms that still seem more like science fiction to most of us than "take-it-to-the-bank" secure. Security is a critical issue for all related systems, digital identities and service integrations.
Thousands of related jobs have opened up in this field, too. In mid-September, for example, the job-search website Indeed.com listed more than 1,900 available fintech engineering jobs, more than 22,000 cybersecurity-related jobs and more than 220,000 data engineering-related jobs.
There are bad actors in the mix, though, and Goldfeder said the American Fintech Council is working to shape regulations that will be both protective and beneficial.
"The whole concept is to embrace financial innovation without compromising on consumer protection, safety or regulatory compliance," he said. "The American Fintech Council wholeheartedly embraces and supports regulatory rules of the road to give entrepreneurs and innovators the guidance they need to build products to serve consumers in the safest way.
"Clarity is key, period. Tell us how to follow the rules and we'll build programs to fit those rules. You tell an engineer the parameters of his build and he'll build it that way."
Privacy, ethics and security are key, too, Lerner's Yao said.
"When we study fintech and educate our students, we won't forget privacy, ethics and security," he said. "If you don't pay attention to the ethics part, you can do more harm than good."
Expanding access and helping new businesses launch are goals of the Fintech CAFE (Center for Accelerating Financial Equity) — a nonprofit organization that launches in 2024 and will offer funding and connections for promising new startups.
"If our students in the Ph.D. program or master's or undergraduate programs have a brilliant idea, they can go to the CAFE and write a business plan," Yao said. "They can get connected with investors and set up their company in the Innovation Hub."
Students' access to industry insiders will provide many other insights, too, Thompson said.
"I'm pretty sure this will happen — one of the tenants on the other side of the building will come in and say, 'This is what a cyber breach looks like. It's an old one, from last year, but you heard about it in the news,'" he said. "Now you have somebody able to describe it, give you a firsthand view. Imagine that lecture. 'This is what I saw. You now know what the consequences were. Let's talk about what we can do to prevent that from happening again. Let's design fail-safes.'"
The ripple effects of such work can be truly transformative for many people who now struggle to keep their financial lives afloat.
"It's very exciting," said UD's Tracy Shickel, associate vice president for corporate engagement. "It's one of those things where every day you know that what you're doing matters. This is going to change people's lives in a good way … When you get all of these stakeholders aligned around the common mission of addressing the national financial health crisis, you know that no matter what you do it's going to make a difference in people's lives."
Diversity of FinTech Innovation Hub tenants
With six floors of space, The FinTech Innovation Hub has found a broad range of tenants, and the building already is 95% occupied, Bowman said.
About half the space is devoted to UD-based work, including teams from Lerner and the College of Engineering, plus the Office of Economic Innovation and Partnership (OEIP), Horn Entrepreneurship and Career Center Advisor and Community Outreach.
The other half is home to fintech-related startups and companies that draw on fintech or want to do so, including data analytics firms, software developers and financial services firms. A few examples include:
Innovative Precision Health, founded by UD alumnus Chai Gadde, develops data-based tools for doctors to address neurological health, including dementia, Parkinson's and other neurological conditions.
IPH is building artificial intelligence platforms and making use of large amounts of data and machine learning to improve patient outcomes.
The IPH platform delivers a snapshot of a patient's physical, social and psychological health, seamlessly integrated in real-time, said Sury Gupta, vice president of engineering for the firm and a UD alumnus about to complete his master's degree. Using machine learning models and techniques, it predicts the trajectory of disease, recommends optimal treatments and identifies key risk factors for patients. It can also identify hidden patterns.
"When you have proper data and proper insights into patients, you can help them far beyond what drugs can do," Gupta said. "This can be used to optimize care plans and provide access to resources."
TechImpact aims to leverage technology for social impact through workforce development programs and capacity building. The FinTech Innovation Hub has become home base for TechImpact's Data Innovation Lab, which employs eight to 10 fellows per year to work on large data sets and develop products that benefit the state of Delaware and/or nonprofit organizations.
"Sometimes it's as simple as making opaque data sets more transparent," said Ryan Harrington, director of strategy and operations for the Data Innovation Lab. "Other times, it's complex model building. One example from a couple years back was with the state housing authority. They were looking at evictions and the moratorium on evictions during the pandemic. When those moratoria were lifted, there was worry that there would be a wave of evictions. Which communities might be most impacted? Where should you target emergency rental assistance funding? That's a good example of the kind of work we want to be doing."
How you deploy the data is key, Harrington said. Sometimes it is simply producing an analysis, perhaps to see where nursing shortages are.
"We're doing some interesting and important work," said Patrick Callihan, CEO of TechImpact. "And by bringing these groups together [in the FinTech Hub] we can learn from one another and start to work on projects as well."
Understanding data is critical to addressing issues and that is a big part of what TechImpact does.
"We're really grateful for this partnership," Callihan said. "Mike Bowman and Tracy Shickel have been phenomenal to work with — bringing us opportunities and inviting us to be a part of it."
One surprising entry on the roster is the corporate headquarters for Kendal, a nonprofit, Quaker-based organization that has 12 affiliated senior-living communities in eight states — including the East Coast, the Midwest and — soon — the West Coast. Lifelong learning is a key concept and almost all affiliates have a connection to nearby universities, where residents take classes and university students volunteer or find internships within the residential communities.
"We're looking for innovation — new ways, new models and model practices, future thinking," said Diane Massey, director of outreach and engagement for Kendal and interim executive director of Kendal Charitable Funds. "We want to bring that to our affiliates. They're doing the work every day of caring for people and operations. How can we do that even better and solve some of those pain points?"
The connection with UD was appealing, she said.
"Knowing that the FinTech building was going up and the STAR Campus was continuing to evolve its focus on health services, it seemed like a prime place for us to land — with the intention of wanting to have that future focus, innovation, how to improve services, how to get more upstream on some of these challenges," she said. "The aging population numbers are going to continue to grow, and there is a huge need already."
Kendal already has had a student intern over the summer and now has plugged in to another UD brain trust — the student-based innovation found in "Spin In," a program administered by OEIP that connects students from various disciplines with firms that need assistance with a technical or business challenge. Student teams, led by mentors, work for several months learning about the business, doing market studies, developing plans and testing new options.
"Financial health is a component of successful aging," Massey said. "We want to provide information on how all other aspects of life impact your future and financial health and wellbeing is part of that."
Planning for the future
There's no way to predict now what will emerge from the FinTech Innovation Hub. But UD intends to provide significant expertise, energy and innovative prowess to the cause.
"We want the University to be a leader in this," Discover's Parks said. "It's an opportunity for the University of Delaware to take a leadership role in financial health. Millions and millions of people struggle day to day, and the University can get at the forefront of this and be the known place to innovate, find solutions and do the research.
"It could really put the University on the map of a very challenging issue in the United States. We challenge them to use what we've delivered to help it grow. We've given all the tools in the toolbox, now it's up to them to take advantage of it."
Lerner's Yao is confident this will happen.
"I see this in five years," he said. "When somebody talks about fintech initiatives and research, people will point to us. If you're interested in fintech and ask, 'Who should I talk to?' people will say 'Delaware. Go to the University of Delaware. Work with their faculty. Hire their students.' I'm hoping in a few years we'll gain that visibility in fintech."