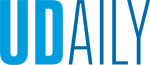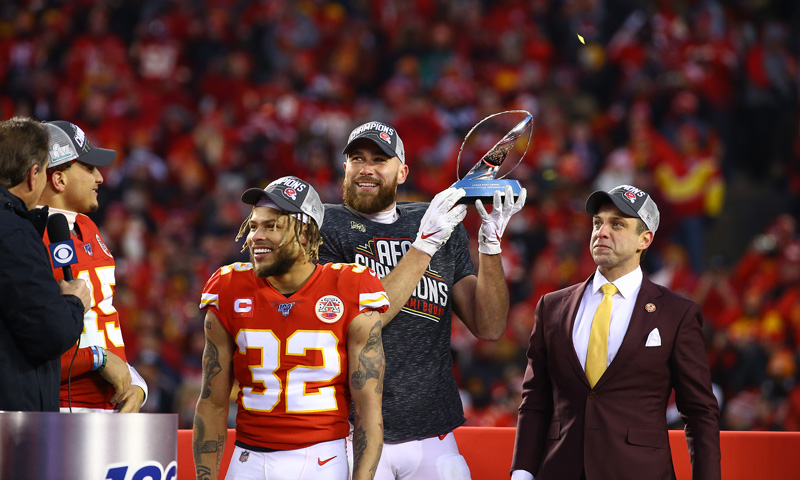 UD grads help Kansas City win Super Bowl
Article by Scott Day Photos courtesy of the Kansas City Chiefs January 31, 2020
Former Blue Hen players Brett Veach and Joey Bleymaier are members of the Kansas City Chiefs
Editor's note: This story was originally published in mid-January. The Kansas City Chiefs defeated the San Francisco 49ers, 31-20, to win Super Bowl 54 on Sunday, Feb. 2.
.....
Over the years, the University of Delaware football program has built a pathway to the NFL.
From Scott Brunner to Rich Gannon to Joe Flacco to Nick Boyle to Bilal Nichols, the list goes on and on. That list is not limited to players on the field and two former Blue Hen standouts shining off the field punched their tickets to Super Bowl 54 in Miami on Sunday, Feb. 2.
Brett Veach and Joey Bleymaier are both members of the Kansas City Chiefs staff, with Veach serving in his fourth season as the organization's general manager, while Bleymaier is in his fifth year on the coaching staff.
The Chiefs went 12-4 in the regular season and won the American Football Conference championship by defeating the Tennessee Titans on Sunday, Jan. 19. They will play the National Football Conference champion San Francisco 49ers for the Lombardi Trophy, which goes to the winner of the Super Bowl. This will be the Chiefs' first trip to the Super Bowl since 1970 and third appearance overall.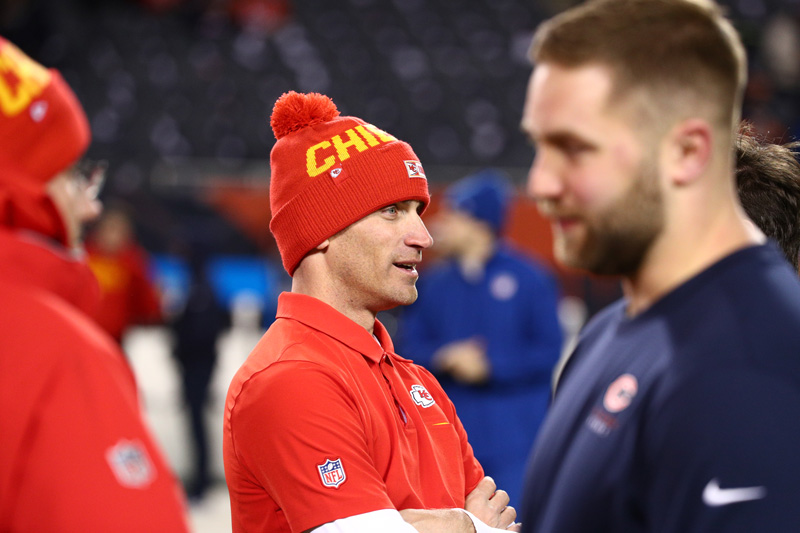 Veach graduated from UD with a degree in health and physical education in 2002, then got a master's degree in educational leadership in 2004. Bleymaier graduated in 2005 with a history degree.
Veach played wide receiver at UD and led the Blue Hens to a four-year mark of 30-16, including three winning seasons and a 12-2 mark in 2000 when Delaware advanced to the NCAA Division I-AA national semifinals. (I-AA is now called the Football Championship Subdivision.) Veach earned third team All-Atlantic 10 Conference honors in 2000 as a junior and is one of only seven football student-athletes in UD history to earn CoSIDA Academic All-American honors. He earned CoSIDA District 2 All-Academic honors three times.
During his four-year career, Veach caught 99 passes for 1,470 yards and 12 touchdowns, and averaged 22.2 yards on 70 career kick returns. He ranks No. 12 all-time at Delaware with 3,382 career all-purpose yards.
Bleymaier, who serves as an offensive quality control and passing game coordinator for one of the most prolific offensive units in the NFL, was a four-year wide receiver for the Blue Hens, including being a member of the 2003 national championship team.
During his time at Delaware, Bleymaier was a three-time CoSIDA Academic All-American nominee and 2003 District 2 All-Academic First Team honoree. He was a three-time member of the Atlantic 10 Academic All-Conference team and finished his career playing in 48 games, catching 74 passes for 854 yards and 10 touchdowns.