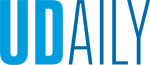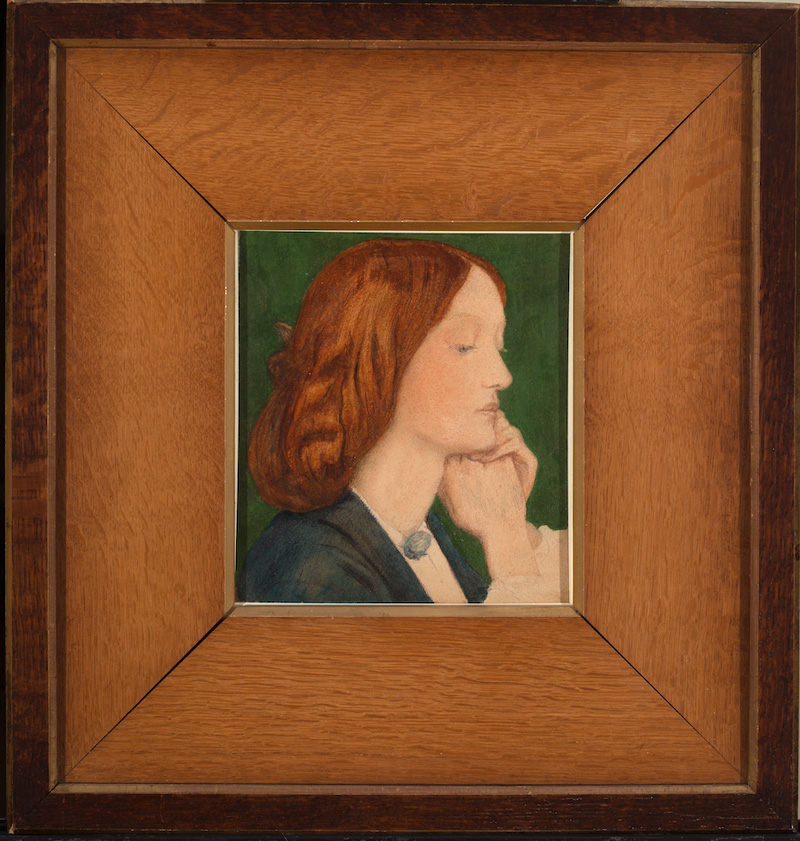 Still stunning after all these years
Article by Beth Miller Photos by Evan Krape and Lara Kaplan | Portrait by Dante Gabriel Rossetti, used by permission of the Delaware Art Museum October 15, 2019
A lock from Pre-Raphaelite muse Lizzie Siddal goes from UD to London gallery
Oh, the places you may go — even long after your demise.
Consider Elizabeth "Lizzie" Siddal, muse of Pre-Raphaelite painters and an artist in her own right, whose portrait hangs in many a public gallery and private collection and is among the holdings of the Delaware Art Museum, which has the largest collection of Pre-Raphaelite works outside of Great Britain.
More than 150 years after her death, a very special bit of Lizzie — a lock of her famously stunning red hair — is on its way to the National Portrait Gallery in London and its "Pre-Raphaelite Sisters" exhibit, which opens Oct. 17.
It will be the first time her hair has ever been part of an exhibition.
The story of how Mark Samuels Lasner, senior research fellow at the University of Delaware Library, Museums and Press, came to be in possession of what he says may be the "most famous hair of the 19th century," could really be the start of a full-length feature movie. More to come on that.
When the gallery asked to borrow Siddal's hair, Samuels Lasner agreed to the loan. But how do you display hair? He didn't know, so he asked the best possible source: Debra Hess Norris, director of the Winterthur/University of Delaware Program in Art Conservation.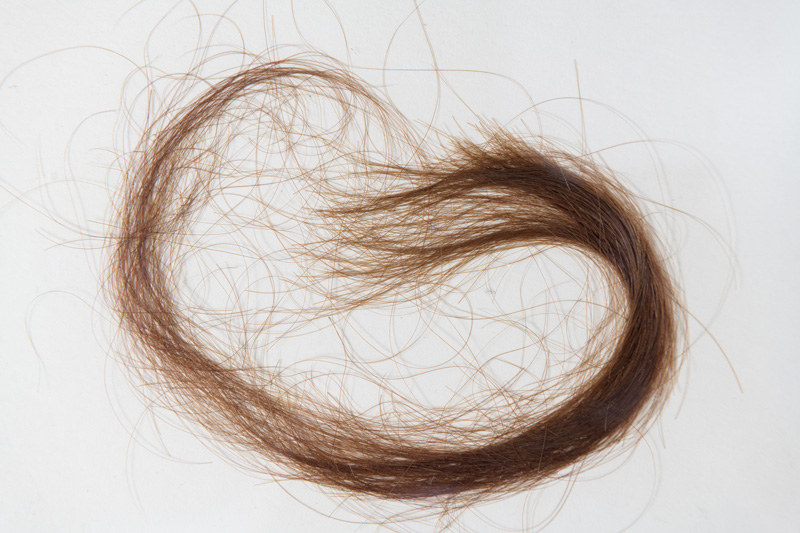 And this past summer, the hair was prepared for exhibition by Morgan State University student Layla Huff of Bethesda, Maryland, an undergraduate student intern, under the supervision of Melissa Tedone, book and library conservator at Winterthur and site supervisor for the HBCU Library Preservation Internship program of which Huff was a part.
It was the extraordinary sort of project students experience in this eight-week internship, which teaches principles and techniques of the highest-quality conservation to aspiring undergraduates from Historically Black Colleges and Universities (HBCUs).
Huff worked with expert Winterthur conservators, including William Donnelly (preventive conservation), Laura Mina (textiles conservation) and Lara Kaplan (objects conservation). Her work also was supported by a grant from the Unidel Foundation designed to strengthen graduate education in art conservation.
"I'm grateful I'm not navigating this on my own," Huff said during a break from her work. "It's a lot of pressure — these are artifacts from history. But it's exciting, too. As a history major, I think it's important that artifacts are given the best possible care."
She practiced technique on hair clipped from a friend of one of the conservators. She sectioned it out, moved it around, gathered it into a hairball, used tweezers to comb it into various shapes — all to get used to dealing with hair.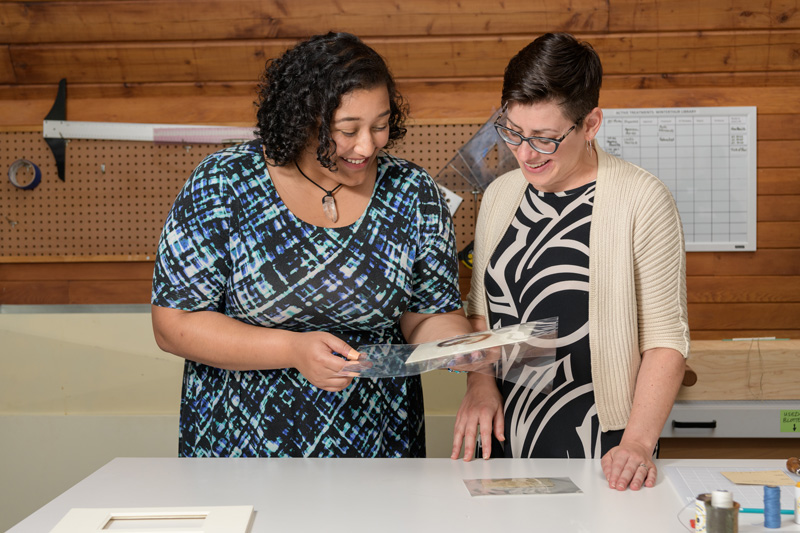 In consultation with expert conservators, it was determined that Lizzie's hair was stable and required no special treatment.
Huff wore special goggles — Optivisors — to help her see fine detail as she worked with Lizzie's hair, cushioned it in felt and used a curved upholsterer's needle to attach it to a display mount. The hair was then placed in a sealed frame.
"Lizzie and I spent a lot of time together," Huff said with a smile. "And it makes the history feel so much more real. It's not just a dusty old book — though I love dusty old books."
Huff said her mother planned to stop at the National Portrait Gallery during a visit to London this fall.
The acquisition
Mark Samuels Lasner wasn't looking for a lock of Lizzie's hair that day in 2014. He had traveled to Vancouver to buy a particular photograph from the collection of the late William Fredeman. Fredeman, a professor of English at the University of British Columbia and a leading scholar on the Pre-Raphaelite poets and painters, died in 1999.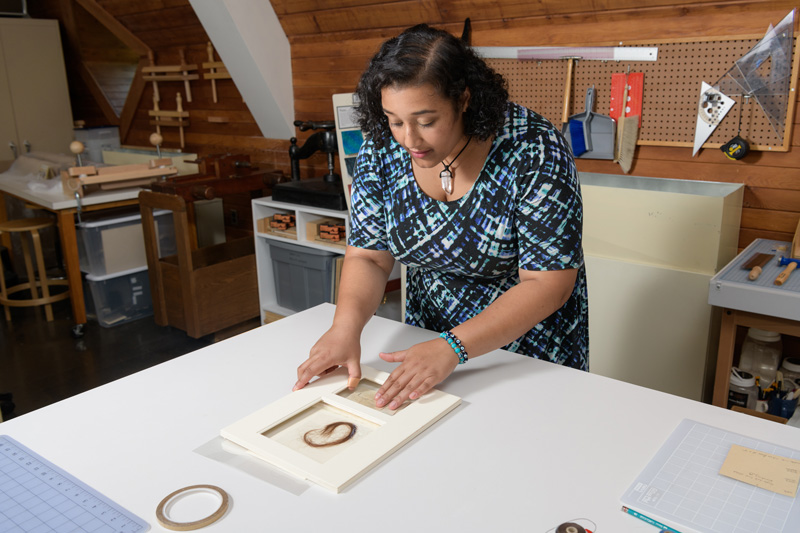 An authority on the literature and art of the late Victorian era, Samuels Lasner is an avid collector of such materials. In 2016, he donated his 9,000-item collection of British literature and art to UD, a gift worth more than $10 million.
During this trip to Canada, he was after a photograph of the highly talented Rossetti family, showing the four children — Dante Gabriel, Christina, Maria and William Michael — with their mother, Frances. Dante, a poet, painter and one of the founders of the Pre-Raphaelite Brotherhood, married Elizabeth Siddal in 1860.
The photograph Samuels Lasner wanted was taken by Lewis Carroll, better known as the author of "Alice's Adventures in Wonderland."
But there was also an odd plastic album, lying in a nondescript part of the floor-to-ceiling stash of Fredeman's collection that filled two storage units. It had translucent sleeves filled with letters and other material that looked interesting, so Samuels Lasner negotiated a price with Fredeman's son, who was selling his father's collection, and went back to his hotel room with his purchases.
There, he examined the album carefully and saw something quite unusual tucked into one of the sleeves — a plastic bag that held a lock of hair and a manuscript note in the hand of Dante Gabriel Rossetti: "Lizzie's hair February 1862."
This, he knew, referred to Elizabeth Siddal.
"I spent the night not sleeping," Samuels Lasner recalled. "It was eerie, almost chilling to think I was in a room with perhaps the most iconic hair in art history. People sort of knew Fredeman had the lock of hair, but they had never seen it."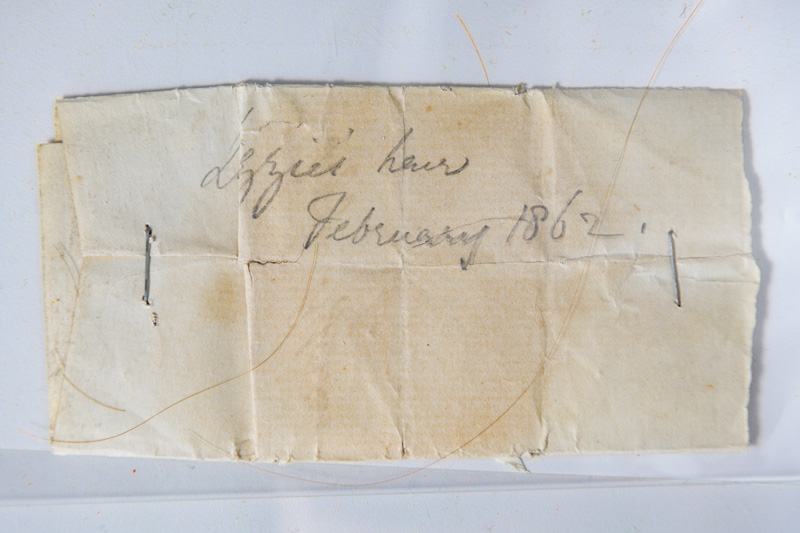 Siddal was working in a hat shop when the Pre-Raphaelite painters discovered her and her stunning hair. She had modeled for many of them before marrying Rossetti in 1860.
One of the most famous portraits — "Ophelia," by Sir John Everett Millais — is a haunting and disturbing image of Lizzie lying, hands slightly raised, mouth slightly open, in a pool of water. She became seriously ill after that cold-water modeling job, fully clothed, in a bathtub, historians have said.
Her marriage to Rossetti was brief. Siddal died two years later from an overdose of laudanum, not long after the stillborn birth of their child. It is not known for sure if this was an accidental death or suicide.
"Rossetti must have snipped off a lock of the famous hair before she was put into the casket," Samuels Lasner said.
In his grief, Rossetti placed in Siddal's casket the manuscript book of his unpublished poetry. He later regretted that decision, Samuels Lasner said, and seven years after her death he had her casket exhumed in order to retrieve the manuscripts, which were included in Rossetti's "Poems," published to acclaim and derision in 1870.
Proofs for "Poems," related manuscripts and multiple copies of the book are among the items Samuels Lasner donated to the University of Delaware. The Mark Samuels Lasner Collection also holds an original drawing by Elizabeth Siddal and one of her rare letters, along with a pencil portrait of Siddal by Rossetti.
"Of all the places in the world that the lock of hair can be, Delaware is probably the right one," he said.