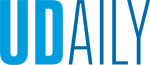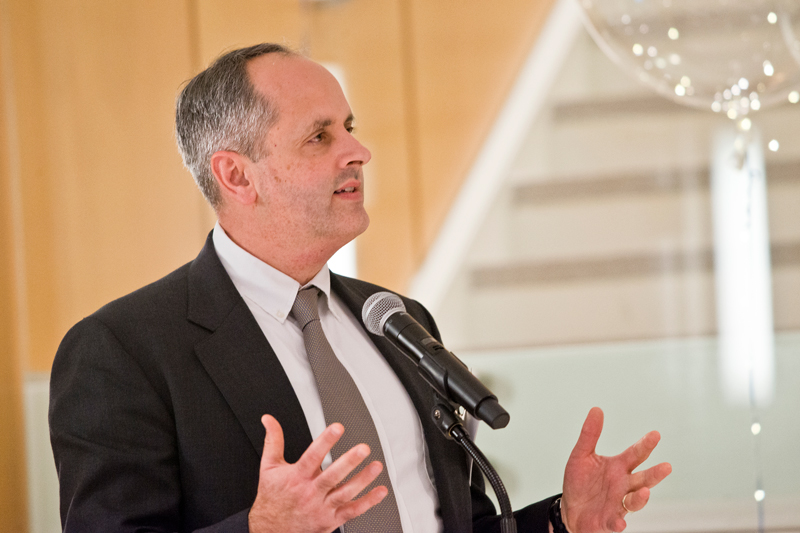 Biomedical research collaboration
Article by Kelly Bothum Photos by Lane McLaughlin November 27, 2019
At IDeAs Symposium, National Institutes of Health officials laud the power of partnerships
If anyone wanted to gauge the level of interest in biomedical research collaboration in Delaware, a quick look at the turnout for the recent Delaware IDeAs Biomedical Research Symposium offered a pretty good barometer.
More than 400 researchers, scientists, students and clinicians visited the University of Delaware's Science, Technology and Advanced Research (STAR) Campus on Nov. 7 for the daylong symposium, which featured breakout sessions with National Institutes of Health directors, a poster session with 200 presentations and networking opportunities with like-minded biomedical researchers.
From the packed sessions to the bustling crowds navigating the Health Sciences Complex and the Tower at STAR, the message was clear — biomedical research in Delaware is thriving, thanks to the efforts to develop and sustain a network of academic, clinical and industry partners.
The collaboration among Delaware's bioscience community even impressed the head of the National Institutes of General Medical Sciences (NIGMS) — part of the NIH - which provides the critical federal funding that has made this biomedical research environment flourish. Jon Lorsch, director of the NIGMS, was among more than half a dozen NIH directors who attended the symposium.
"I think it's really quite impressive how all the different institutions in the state are working together. Part of that is cultural, part of that is geographic, part of it is because the institutions actually synergize," said Lorsch, who oversees the $2.9 billion NIGMS budget supporting basic research to increase understanding of biological processes and build the foundation leading to advances in disease diagnosis, treatment and prevention.
"They're not competing, they're just complementary to each other in different ways. It's an almost unique situation, I'd say," Lorsch said.
Institutional Development Award
Delaware is one of 23 states and Puerto Rico that receive funding through the Institutional Development Award (IDeA) grants, which aim to increase research opportunities in geographic areas with historically low levels of funding from the NIH. In Delaware, the program includes the IDeA Network of Biomedical Research Excellence (INBRE), seven Centers for Biomedical Research Excellence (COBRE) and the Delaware Center for Translational Research ACCEL program.
Since 2001, Delaware has received $257 million in IDeA funding, which has led to $485 million in additional biomedical research funding to Delaware institutions.
"These programs have transformed the state of Delaware and transformed the lives of Delawareans," Charles G. Riordan, vice president for research, scholarship and innovation at UD, told symposium attendees in his welcome. "They have allowed biomedical researchers — broadly defined — to build a network and partner in ways to impact our biomedical research structure."
Vicky Funanage, operational vice president of research at Nemours, said she has seen a culture shift as collaborations have become more institutionalized between the partners.
"It started with the leaders and scientists and clinicians at the various institutions, but what we've done is we've really permeated our graduate and undergraduate student population so it's a movement from the ground up," said Funanage, who is part of both the ACCEL and INBRE programs. "The way the institutions came together is phenomenal."
Future collaboration
The IDeAs symposium offered an opportunity for those interested in the state's biomedical research network to get together under one roof and think about future collaborations that are focused on improving the health of Delawareans, building the biomedical workforce and contributing to the state's economic development, said Steven J. Stanhope, director of the Delaware INBRE program, which co-sponsored the IDeAs symposium.
"People are starting to see the breadth of the network," Stanhope said. "Historically, they have been focused on the resources provided by the federal awards themselves. But some of the most valuable resources are in the partner institutions themselves. The grant funding provides the capacity to connect these resources."
Helen Stimson, president and CEO of Delaware BioScience Association, said the collaborative atmosphere in Delaware is a boon to small biotech companies looking to grow. Access to technology, like high-end research equipment, along with an educated workforce, creates a fertile ground for new ideas to take root.
"It's difficult to bring in large businesses," Stimson said. "We have to grow our innovation."
While researchers attended breakout sessions on fostering community-engaged research, NIH training programs and bioimaging resources available for scientists, a poster session in the Tower at STAR Audion highlighted biomedical research that has taken place in Delaware. Many of the posters were created by undergraduate and graduate students who participated in mentored research opportunities.
Lorsch encouraged symposium attendees to continue efforts that expose students to research.
"I'm impressed with how you brought undergraduates into this training ecosystem. That's so important for the future of research in Delaware," he said. "Keep those opportunities going. The next Nobel prize winner is there."
College of Health Sciences Dean Kathleen S. Matt said the effects of Delaware's cultivated biomedical research culture can be found in investigators like Megan Wenner, an assistant professor in the Department of Kinesiology and Applied Physiology, who has been part of Delaware INBRE and the ACCEL program. Earlier this year, she received a $2.29 million grant from the NIH to study the effects of perimenopause on cardiovascular health in women.
"They began doing those small grants and that led to larger grants," Matt said. "We talk about partnerships, disciplines, translation — you can see it happens here."