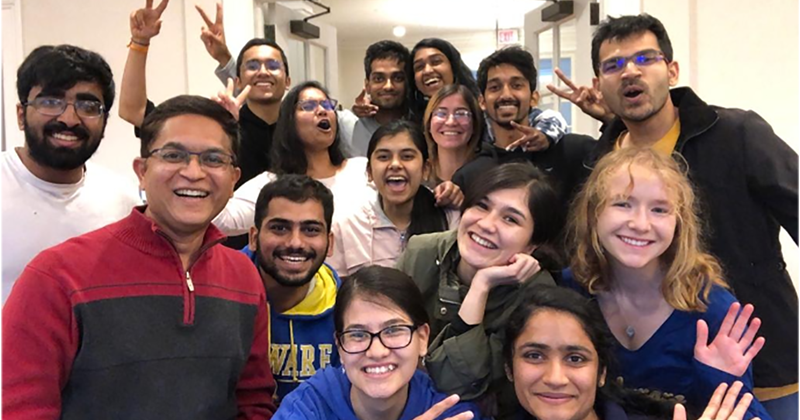 Find Your Happiness with the SKY Club
April 07, 2023 Written by Jessica Downey | Photo provided by Pooja Bhalode
When sophomore business analytics major Saumya Agrawal attended sessions of SKY Campus Happiness last summer, she knew it would be the perfect fit for UD students.
"I introduced it to the e-board members," said Agrawal. "We all felt this would be a great program for students to experience and utilize in their lives. This motivated us to start the club with a positive intention to promote the overall wellbeing of students on campus."
SKY Campus Happiness is a national comprehensive wellbeing program for university students, faculty and staff. Its curriculum includes breathwork, meditation, yoga, emotional intelligence, leadership and service learning. The program is currently being taught in more than 100 U.S. universities, including Stanford, Yale, Harvard and MIT.
Now president of the SKY Club at UD, Agrawal echoes these principles and brings them right to campus. The purpose or mission of the club is to build a community on campus to promote overall wellbeing, overcome stress, enhance concentration and productivity through breath-based techniques and excel in life with inner peace and happiness.
SKY Club Director of Involvement Cathy Megan Doss said the importance of the club being at UD is to increase overall health and wellbeing with a sense of belonging, so that students feel seen.
"Our club is based on exactly these two things and we teach evidence-based techniques to address these challenges, focusing on not just mental health but physical and community health—which is hard to balance at college," said Doss.
In November 2022, the club hosted the SKY Happiness Retreat in Warner Hall with 17 students in attendance playing games, breaking into chat groups, working out, dancing and practicing SKY Breath Meditation.
SKY club advisor Pooja Bhalode said the attendees bonded beyond the day-long retreat, allowing them to form deeper connections.
"Not only did the attendees experience an increase in clarity of mind, energy levels, focus and calmness, but they also shared a strong feeling of connectedness within the group," Bhalode said.
"Whenever we met on campus, we would check in on each other," added Doss.
The e-board shared anonymous feedback from a student who went to the retreat who wrote: "I was feeling so lost, confused and overwhelmed. But now, I feel I can handle college. This is one of the best workshops to build incredible bonds and feel genuinely happy. It was a start to whole new life."
The SKY Club is hosting another SKY Happiness Retreat in Warner Hall from April 21 to 23, 2023. If you want to join in, fill out this interest form; scholarship spots are available on a first come, first served basis.
Outside of the retreat, the SKY Club hosts weekly guided meditation sessions on Mondays and Thursdays in Warner Hall. No membership is required to attended and all students are welcome. Additionally, SKY Club hosts follow-up sessions and fun activities throughout the semester.
"Any student, staff or faculty member in the college community will benefit from the club—especially the ones with hectic schedules," said SKY Club Director of Communications Sierra Legg. "It's a weekly reset that helps you get through the week. It's a great place to socialize, focus on self-care and build a better, more welcoming community. Joining the club has made a big impact on our perspectives toward leading a happy and stress-free life. We encourage everyone to come, join us and experience for themselves. The SKY Club is here for you!"
For more information, follow the SKY Club on Instagram @_skyud.