Filter by College
Filter by Subject
Associate in Arts Program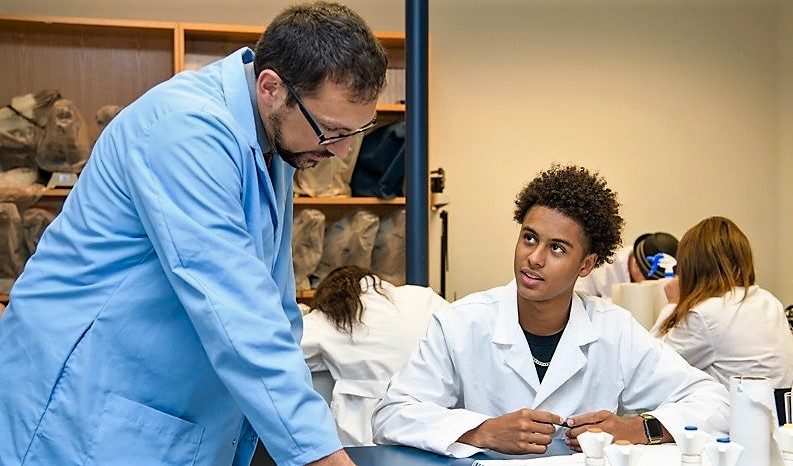 All students in the Associate in Arts Program (AAP) receive dedicated advisement, academic, mental health and social support services. Students benefit from a low-cost education, close to home, with lots of personal attention. An  associate degree can be a valuable intermediate goal, leading to a baccalaureate degree. Like all UD students, AAP graduates are eligible to pursue degrees in any of the University's eight  undergraduate colleges.  Prior to selecting a major, students identify an interest area that informs the courses they take while in the AAP. Coursework can be used to fulfill general education requirements to allow students to stay "on track" for a number of majors – with the exception of "highly structured programs" such as engineering or athletic training.
AREAS OF STUDY

Arts & Humanities
Business
Elementary & Early Childhood Education
Environmental Studies
Life & Health Sciences
Physical & Applied Sciences
Social Sciences
CAREER OPTIONS
Associate in Arts Program graduates can pursue majors and careers across all disciplines, including:
Teacher
Fraud Analyst
Project Manager
Management Trainee
Copy editor
Nutritionist
What's special about this program?
As an Associate in Arts Program student you will benefit from substantially lower tuition.  Eligible AAP students can take advantage of the state of Delaware's Student Excellence Equals Degree (SEED) scholarship and pay no tuition during the fall and spring semesters in the program.  Enjoy small classes – with no classes more than 35 students.  Receive close advisement from full-time professional academic advisors who will help you prepare for your intended major of study.
Get Involved
Associate in Arts Program students are encouraged to attend sporting, cultural, and social events in Newark just like their Newark campus peers. AAP students can use the Morris Library or the Bob Carpenter Sports Center in Newark; they can join UD's registered student organizations; and they qualify for student rates at UD theatre, music, or art events.  AAP students have the option to participate in study abroad, alternative spring break, and other programs offered on the Newark campus.

Community Engagement Scholars
Marching Band
ROTC
Study Abroad
Club Sports
Student Organizations