SFS Announcements
You can find important updates and announcements below.  Information is updated periodically, so be sure to check back.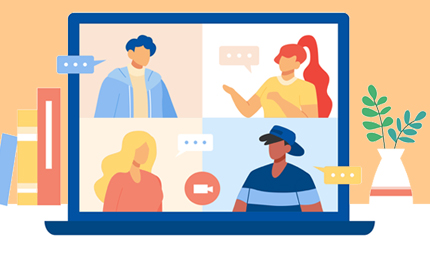 Join SFS for a Virtual Town Hall
SFS will be holding a Town Hall Tuesday presentation covering information on the Financial Aid To Do List on September 26, 2023 at 7pm. 
Student Loan Pause Extension and Debt Cancellation
Student Loan Debt Relief Is Blocked
Courts have issued orders blocking the student debt relief program. As a result, at this time applications are not being accepted. If you've already applied, they will hold your application. The student loan pause may be coming to an end in the coming months, check back for updates as the situation progresses. 
Subscribe and check back here for updates.
On August 24, 2022, the Biden-Harris Administration announced a Student Debt Relief Plan that includes one-time student loan debt relief targeted to low- and middle-income families. The U.S. Department of Education (ED) will provide up to $20,000 in debt relief to Federal Pell Grant recipients and up to $10,000 in debt relief to non-Pell Grant recipients. Borrowers with loans held by ED are eligible for this relief if their individual income is less than $125,000 (or $250,000 for households).
Refer to this page for details about the process and answers to the most common questions, such as the following:
How Do I Know If I Ever Received a Federal Pell Grant?

Which Loans Are Eligible?

How do I know what kinds of loans I have?
Please be aware of scammers taking advantage of the federal student loan debt relief.
Here's how to avoid student loan scammers:
Don't pay anyone to help you apply for loan forgiveness. Nobody can get your loans forgiven faster, even if you pay them. This program is completely free — and the only way to apply is at StudentAid.gov. Sign up for Department of Education updates to find out when the application officially opens.
Don't give away your FSA ID login information. If anyone says they need your FSA ID to help you, that's a scam. Don't do it. They can cut off contact between you and your servicer — and even steal your identity.
Don't trust someone who contacts you saying they're affiliated with the Department of Education. Scammers use official-looking names, seals, and logos. They promise special access to repayment plans. None of that is real. If you're not sure if the "offer" is legit, hang up and call your federal student loan servicer directly.
Billing Timeline for 2023 Summer Session
 

Billing
Notification Sent
Full Payment


All Students


Mid-May

Session I: June 5
Apply for Financial Aid

---
U.S. citizens/permanent resident students interested in applying for financial aid for academic year 2023-2024 should submit a Free Application for Federal Student Aid using UD's school code of 001431.

Student Health Insurance

---
Full-time undergraduate, non-contracted full-time graduate, contracted graduate, and international students are required to have health insurance, and UD provides a student plan into which they can be enrolled automatically.
Health insurance charges are billed to the student account, but can be waived.  Visit University Health Plans to waive the UD Health Plan or to enroll.  Fall 2023 Semester waiver deadline:  September 15.
HEERF II - Coronavirus Response and Relief Supplemental Appropriations Act (CRRSAA)

As part of the Coronavirus Response and Relief Supplemental Appropriations Act, 2021 (CRRSAA), the University of Delaware is estimated to receive $6.08M for student support.  UD is awarding these funds to students based on program guidance and more information is included below.
The Higher Education Emergency Relief Fund II (HEERF II) is authorized by the Coronavirus Response and Relief Supplemental Appropriations Act, 2021 (CRRSAA), Public Law 116-260, signed into law by President Donald J. Trump on December 27, 2020.  In total, the CRRSAA authorizes $81.88 billion in support for education, in additiona to the $30.75 billing former Secretary DeVos expeditiously provided last spring through the Coronavirus Aid, Recovery, and Economic Security (CARES) Act, Public Law 116-136.  Additional information can be found on the U.S. Department of Education's (ED) Office of Postsecondary Education website.
Using ED's guidance, along with the CARES Act legislative language, the following guidelines have been developed in determining eligibility and allowable uses for the HEERF student share.

Unlike the CARES Act, the CRRSAA requires that institutions prioritize students with exceptional need, such as students who receive Pell Grants, in awarding financial aid grants to students.  However, Pell eligibility or receipt is not required to receive CRRSAA funding.  In addition, CRRSAA explicitly provides that financial aid grants may be provided to students exclusively enrolled in distance education.
The June 17, 2020 Interim Final Rule (IFR) (85 FR 36494), which limited student eligibility for emergency funding under the CARES Act to students who are or could be eligible to participate in the Department's Title IV federal student financial aid programs under HEA Section 484, apply to HEERF programs under CARES and is not applicable to CRRSAA funds.  The IFR and its implementing regulation, 34 CFR § 668.2, apply only to funds made available under the CARES Act and not to funds made available under CRRSAA.
Regarding CRRSAA financial aid grants, institutions may not
condition the receipt of financial aid grants to students on continued or future enrollment in the institution,
use the financial aid grants to satisfy a student's outstanding account balance, unless it has obtained the student's written (or electronic) affirmative consent, or
require such consent as a condition of receipt of or eligibility for the financial aid grant.
Financial aid grants for students may be used for any component of the student's cost of attendance or for emergency costs that arise due to coronavirus, such as tuition, food, housing, health care (including mental health care), or child care.
The funds will be applied directly to a student's account.  After obtaining the student's written (or electronic) affirmative consent, the student may leave the funds on the student account; otherwise, the student may elect to take the funds as a refund.  The Department believes that allowing students to consent to the application of a CRRSAA financial aid grant to their student accounts would facilitate use of funds, if desired by the student, while retaining the student's discretion to determine what costs should be covered with these financial aid grant funds.

Q:  Does the student's Free Application for Federal Student Aid (FAFSA) need to be completed in order to disburse HEERF student funds to the student?
A:  While ED's guidance does not require a FAFSA, the FAFSA is the quickest and easiest way to confirm a student is eligible to participate in Title IV programs and meets all applicable eligibility requirements.  As such, UD has limited CRRSAA funding to FAFSA filers.
---
Q:  What eligibility criteria are in section 484 of the Higher Education Act (HEA)?
A:  Section 484 of the HEA states that Title IV eligible students must
be enrolled or accepted for enrollment in a degree or certificate program
not be enrolled in elementary or secondary school
if currently enrolled, be making satisfactotry academic progress
not owe an overpayment on Title IV grants or loans
not be in default on a Title IV loan
file "as part of the original financial aid application process" a certification that includes

a statement of educational purpose
student's SSN

be a U.S. citizen or national, permanent resident, or other eligible noncitizen
have returned fraudulently obtained Title IV funds if convicted of or pled guilty or no contest to charges
not have fraudulently received Title IV loans in excess of annual or aggregate limits
have repaid Title IV loan amounts in excess of annual or aggregate limites if obtained inadvertently
have Selective Service registration verified
have social security number verified
not have a federal or state conviction for drug possession or sale, with certain time limitations.
---
Q:  How will UD determine which students receive emergency grants and the amount of each grant?
A:  ED encourages institutions to prioritize awarding of emergency grants to students with the greatest need.  Information on UD's grant amounts by student population can be found in the table below.