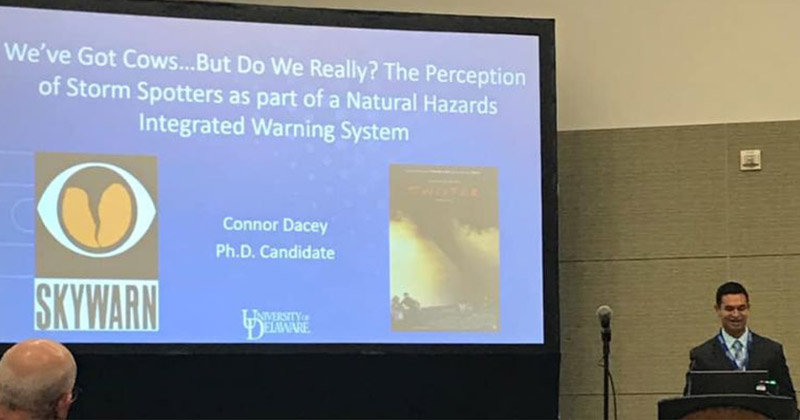 Connor Dacey - Disaster Science & Management
January 11, 2020 Written by Connor Dacey
Boston, Massachusetts, United States
PROGRAM: Disaster Science & Management
Attending the American Meteorological Society's (AMS) Annual Conference in Boston, Massachusetts was an extremely rewarding and exciting experience. This year marked the 100th anniversary of the annual conference, and as such, there was much reason to celebrate. The conference brought together over 5,500 meteorologists, atmospheric scientists, social scientists, researchers, emergency managers, students, and operational forecasters among others from around the world (the highest attendance ever recorded).
The days were long, but filled with immense learning! To elaborate, there were numerous topics discussed throughout the conference ranging from space weather to tropical meteorology to emergency management policy and implementation. There were also different student poster sessions towards the end of the days in which both undergraduate and graduate students were able to discuss their projects and research in a more formal setting. I was able to attend these different oral and poster sessions and learn about a wide range of topics. Since I am working on my Ph.D. in Disaster Science and Management, I tended to learn towards attending those sessions and posters that focused more on the intersection of emergency management and meteorology.
My true interests lie in understanding how both the physical and social sciences can be more effectively intertwined in order to promote effective protective action decision-making during hazardous weather situations. To my benefit, there were many others at the conference who also shared these same interests and presented on similar topics. It was fascinating to learn more about this specific niche within the field of meteorology.
I am also grateful to have presented my dissertation research at one of these sessions. To elaborate, I created and gave a 15-minute long PowerPoint presentation that focused on my dissertation titled The Perception of Storm Spotters as part of a Natural Hazards Integrated Warning System. It was an exciting opportunity to share preliminary results of my research with other scientists and researchers within this field. I obtained a number of compliments from the audience on my presentation and was also given some research topics to think about in the future. Overall, attending the AMS annual conference provided both a great learning experience and networking event that was instrumental to my growth as a graduate student and future emergency manager.