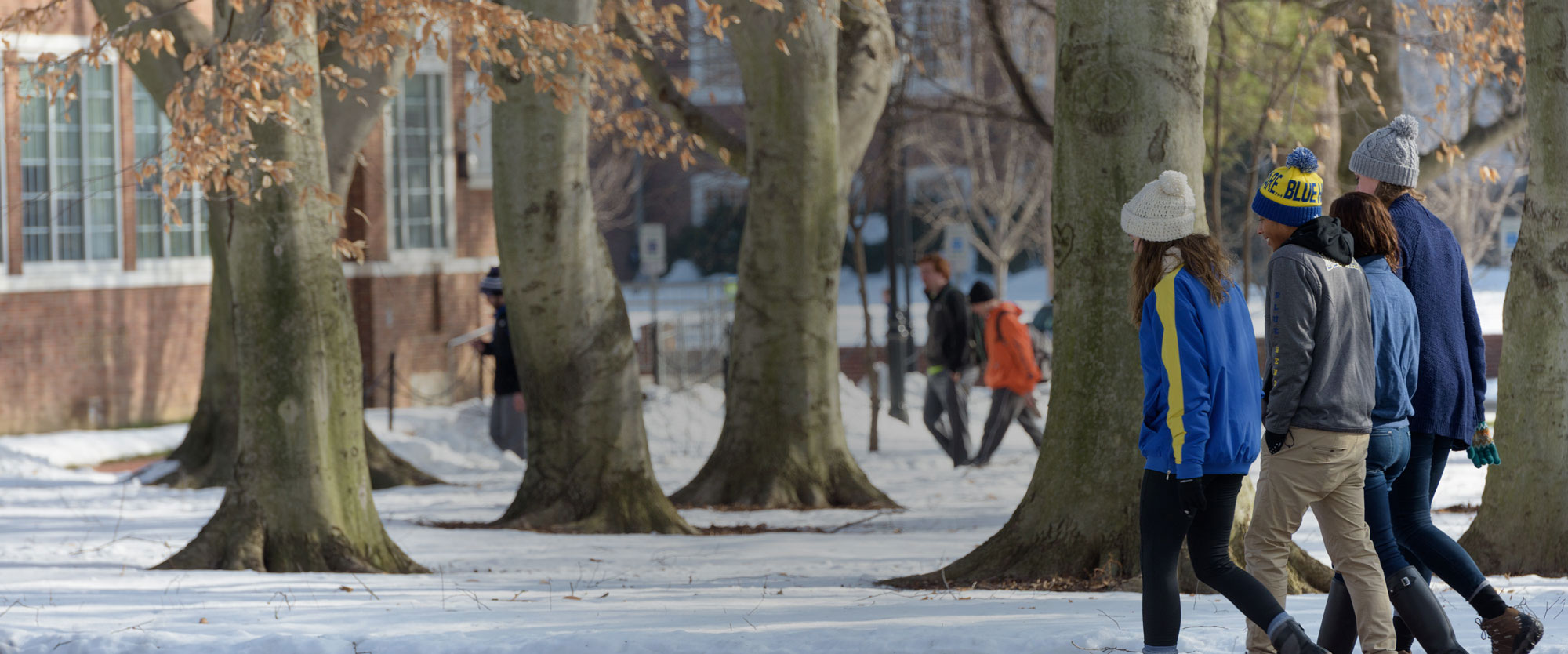 Special Sessions
at the University of Delaware
Students: Does your graduation plan include

Winter
and
Summer Sessions
?
Why invest in special sessions?
Want to get ahead or catch up with your coursework? The University of Delaware has a long tradition of offering high-quality courses rooted in research-based knowledge throughout the year — including winter and summer sessions.
Register now for Winter Session, a five-week term, between UD's fall and spring semesters. While Winter Session includes UD's popular study abroad programs, this special session also offers many in-person, online and hybrid classes to help students meet their graduation goals.
Want to get ahead or caught up with your coursework? Here's your chance.
Not a current UD student? No problem.
Take advantage of winter break and learn from top faculty at a R1 research institution.
Whether you are a current UD student, a pre-baccalaureate certificate student or a student from another college or university who needs transfer credits, UD has a Winter Session course for you!
Many courses can be taken online — whether it's studying in a dorm room or living room back home. Current UD students who reside in the residence halls can stay put during Winter Session whether taking a class online or in person.
Get ahead
Explore a new subject
Work toward a double major
Add a certificate or a minor
Explore internships
Knock out a general ed or breadth requirement
Prepare for advanced courses
Catch up
Retake a course
Concentrate on a specific subject in a shorter period of time
Network with faculty members
Enjoy smaller class sizes

Winter Session
Courses aren't the only thing offered during UD's five-week long winter session!
Students have the opportunity to gain real-world experience and career guidance through the UD Career Center. Explore a winter internship or a job shadowing program. Applications for job shadowing programs open October 19 and close November 2.
CAMPUS LIFE DURING WINTER SESSION
Network with faculty

Network with fellow students

Work with career consultants at the UD Career Center

Go ice-skating or catch a club ice hockey game at UD's ice arena
Cheer on the men's and women's basketball teams (both of which went to the NCAA Tournament last year)

Enjoy the Hot Chocolate Festival!

Explore Newark's Restaurant Week
Summer Session
Registration for UD's Summer Session opens April 3, 2023. Classes begin on June 5, 2023 and take place during a 10-week session. Similar to Winter Session, Summer Session offers students the chance to get ahead or catch up, with condensed classes allowing students to earn credits quickly.
Summer Session also offers students the opportunity to participate in research through UD's Undergraduate Research Program for current students, or the UD SOURCE (Summer Opportunities for Undergraduate Research and Creative Endeavors) program for college students who are not currently enrolled at the University of Delaware.
More information about Summer Session will be available in early 2023.