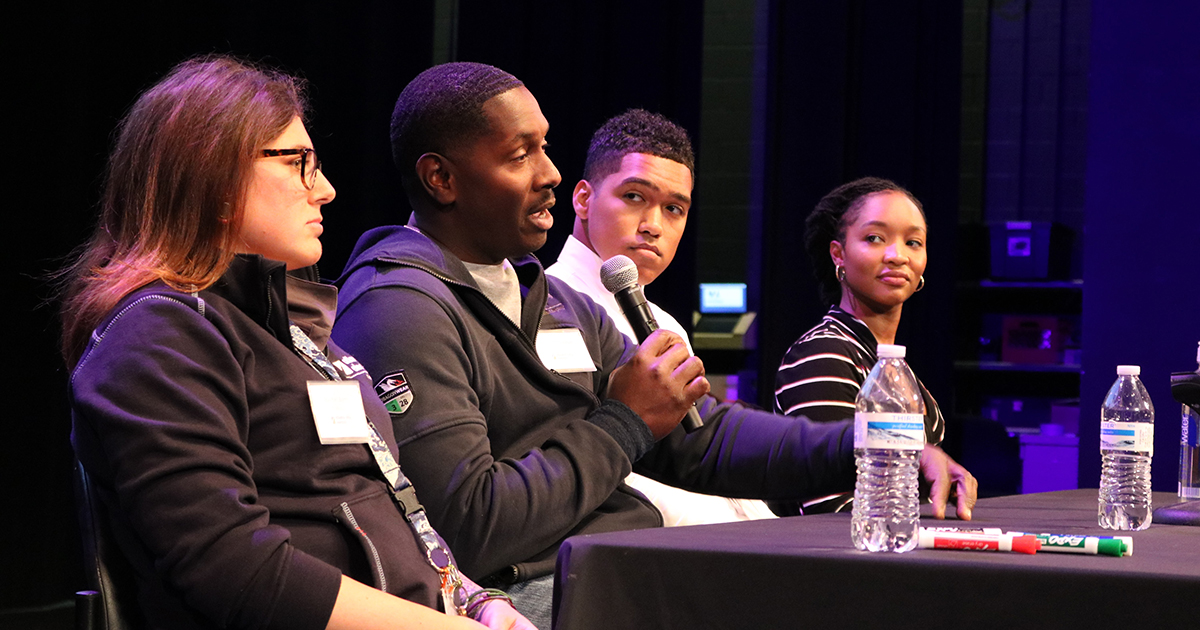 Discussing Diversity: Q&A with South Jersey Industries
February 14, 2022 Written by Jessica Smith | Photo provided by SJI
In this blog series "Discussing Diversity," South Jersey Industries' Diversity, Inclusion and Engagement Team members Shawn Abner-Purnell, TiAira Neal and Stephanie Milelli answer questions about diversity, equity and inclusion and how SJI contributes to a welcoming workplace environment for all.
What is the overall mission of South Jersey Industries?
SJI's mission is to deliver safe, reliable and affordable clean energy for a better today and tomorrow. We deliver clean energy to more than 700,000 customers across 14 New Jersey counties. We serve a population diverse in experiences, background and thought. To best serve our customers, we believe our company, our suppliers and the way we support our communities should reflect that diversity.

How do you incorporate values of diversity, equity and inclusion in the workplace?
The core values of our collective ambition, or OneSJI as used interchangeably, fosters safety, service, inclusion and community. SJI embraces diversity and inclusion as an integral part of the company's culture and core values. SJI demonstrates its commitment to D&I by reflecting on its efforts to build an inclusive environment for all, where differences are respected and appreciated. Together, we're committed to fostering a diverse and inclusive environment, where we value differences and work together to better serve each other, our key stakeholders and the communities we serve. Our D&I efforts are rooted in three tenets: talent, supplier diversity and community partnerships. These tenets are the foundation of our program.
What DE&I programs or initiatives does the company have in place?
In July 2021, SJI named Shawn Abner-Purnell the Vice President of Diversity, Inclusion and Engagement, having served as SJI's Director of Organizational Development, D&I, since 2018. SJI also welcomed Program Manager of D&I TiAira Neal in 2021. Neal brings more than ten years of experience, proven leadership and research in D&I to her role, having held several related positions at higher education institutions such as West Chester University, Rutgers University-Camden and the University of Pennsylvania, as well as a successful tenure as a mental health clinician and behavioral health researcher. In their roles, Abner-Purnell and Neal build strategies that create a culture of inclusion, belonging and engagement for SJI's workforce. They also guide best practices on critical external matters related to D&I.
Currently, SJI has four Employee Resources Groups (ERGs) that serve to further engage its workforce. These include the South Jersey Chapter of the American Association of Blacks in Energy (SJAABE), the Women's Leadership Initiative (WLI), the Veteran's Engagement Team (VETS) and Emerging Leaders. ERGs play a critical role in driving employee engagement, fostering an inclusive and collaborative workplace, developing employees, broadening community partnerships and attracting diverse talent to join SJI.
In 2020, SJI launched its Diversity Council, a cross-disciplinary committee of a diverse representation of key leaders charged with providing strategic guidance to the company around corporate D&I priorities, including talent, community partnership and supplier diversity. The SJI Diversity Council serves as an essential instrument in building and expanding upon SJI's D&I Strategy, regularly reporting to senior leadership on innovative ways to foster inclusion.
We introduced listening sessions in 2020 to increase awareness and gather ideas to strengthen the company's culture of inclusion. In addition to enabling employees from various backgrounds to share their perspectives about inclusion and belonging at SJI, listening sessions also provided members of the Diversity Council and senior management an opportunity to learn about perceived gaps and opportunities at SJI related to D&I.
The SJI Diversity Corner site is provided as an opportunity for SJI to promote a culture of inclusion by highlighting employees from various backgrounds and learning about their professional and personal experiences and highlighting key social and cultural opportunities. SJI also created the OneSJI Diversity Podcast which features topics relevant to D&I in partnership with our ERGs and stakeholders. Additionally, SJI holds quarterly engagement campaigns to better connect employees to corporate strategic objectives through two-way communications and activities ranging from recognition boards, sharing of stories and focused topics in D&I.
SJI recognizes the importance of supplier diversity as part of the sourcing process in order to provide opportunities for diverse businesses to participate as partners in the acquisition of goods and services. SJI's Supplier Diversity Program expands upon relationships with women, minority, veteran, service-disabled veteran and LGBTQ-owned businesses that provide competitive prices and services. In 2020 alone, we purchased approximately $86 million in materials from diverse business owners and suppliers.
Lastly, SJI is committed to enhancing the quality of life in the communities we serve and strives to be a good corporate citizen and committed community partner throughout the municipalities and counties in NJ where we do business. Accordingly, the company supports organizations throughout our service territories that have a positive impact on our customers. SJI has adopted four core pillars to guide our corporate sponsorship and charitable giving activities, as follows:
Educational and Vocational Career Development
Environmental Stewardship
Community Enrichment and Economic Development
Diversity & Inclusion
How do you ensure that all employees feel welcome, including new hires and interns?
Our employees are our greatest asset. Together, we work to foster a culture of belonging, where our professional, well-trained and knowledgeable staff treat each other with courtesy and respect. We're committed to engaging our workforce and helping them achieve their professional goals. At SJI, we do this by helping employees connect with one another in meaningful ways, offering helpful training and development resources and more. We also regularly survey our employees to measure the effectiveness of our employee engagement efforts, including career development and wellness programs.
Two specific programs in place to engage our new hires and interns are our New Employee Ambassador (NEA) program and our IGNITE internship program. The NEA program matches new employees with an ambassador (or "buddy") to help them feel included and connected immediately upon joining the organization. The IGNITE internship program is a robust 11-week summer internship program which incorporates intern onboarding, mentorship and networking opportunities, along with leadership and professional development. Our internship program provides an opportunity for us to source early career talent and for early career talent to learn more about our organization and culture.
Why do you think it's important to foster a diverse and inclusive workplace environment?
At SJI, we work to build a culture of inclusion where employees feel comfortable bringing their whole selves to work each day—regardless of their race, gender, ethnicity, sexual orientation, generation, disability status or any other distinguishing difference that makes up a diverse workforce. We support courageous conversations to grow in our D&I journey and we seek diverse talent to make our business stronger. Creating a culture of inclusion and belonging helps to ensure we are meeting the needs of our workforce, key stakeholders and the communities we serve.
What are you looking for in UD students who want to intern or work at your company? How can they stand out when speaking with your recruiters at our career fairs?
If a student is graduating and seeking full-time employment, we look at their internship and/or work experience while in school. If a student is seeking a summer internship, we would like to see at least one previous internship they have participated in, but this is not a necessity. Having general work experience while in school is also beneficial. Additionally, for both internships and full-time positions we look for candidates that show enthusiasm for our company, industry and the job itself. We love our candidates to be passionate and have a willingness to learn. We do take note of how candidates are presenting themselves (e.g., dress professionally, have an organized or blurred out background when interviewing virtually) and how they communicate with the hiring team while interviewing. One thing that makes all candidates stand out is their preparedness for the interview, regardless of in-person or virtual format, such as having questions to ask the hiring team. We want to hire candidates who will take initiative while working at SJI and to help us achieve our company goals, and that starts with how they go through the interviewing process.
Are you currently hiring interns or entry-level employees?
We are looking to fill several Summer 2022 internships in various departments, including system planning and integrity, customer advocacy (sales support) and human resources.
We are also looking to hire entry-level positions, including a financial planning analyst associate, administrative assistant, records specialist associate, sales/marketing power program associate and a dispatcher.
Through our early career talent development programs, we welcomed 17 new employees. Our development programs include:
IGNITE: our internship program for college students.
POWER: our rotational leadership development program for early career talent.
Partnership with Atlantic County Institute of Technology: our training program for high school seniors.
Anything else UD students should know about your organization?
Check out SJI's new D&I video on YouTube!