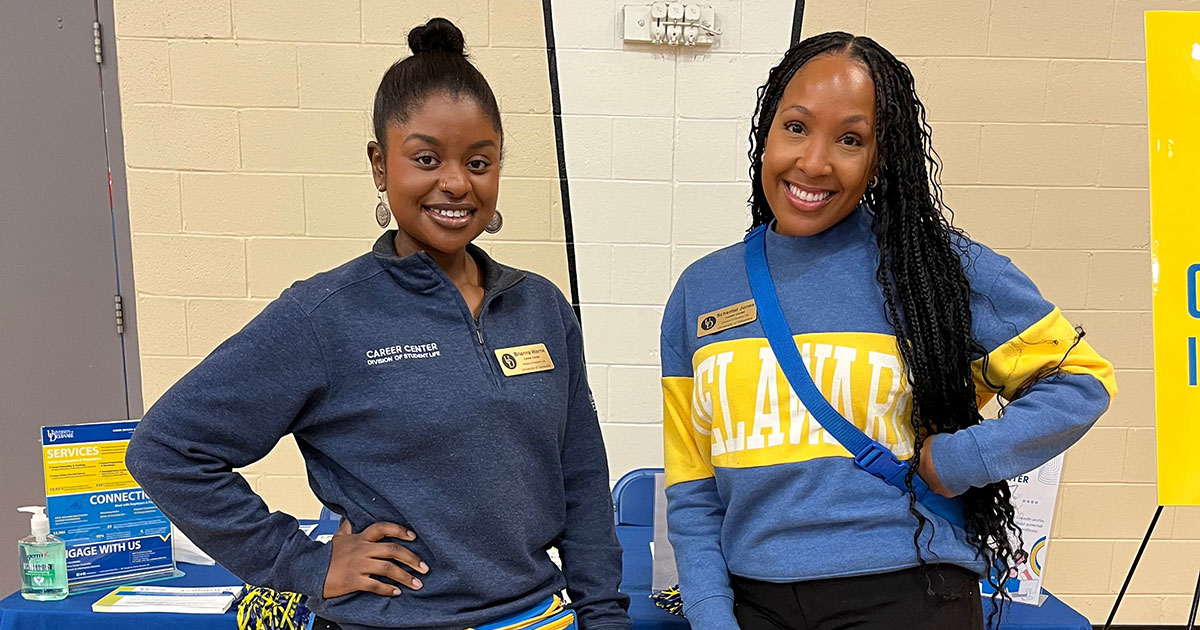 How UD CAMI is Breaking the Barriers to Student Success
March 14, 2023 Written by Jessica Downey | Photo by Jessica Downey
A new resource from the UD Career Center, the UD Career Access & Mobility Initiative (UD CAMI) was created in order to improve access to career information, resources and experiences for students from historically marginalized, first-generation and limited-income populations.
The UD CAMI team of two describe their work as "equity in action," ensuring students with limited social capital and financial resources can fully participate in highly impactful career opportunities and thrive professionally during their time at UD and beyond.
"UD CAMI is uniquely positioned to support the career development of students who, too frequently, experience barriers to participation in high impact career practices," said UDCC Assistant Director of Career Access & Equity Schentel Jones. "UD CAMI offers students the opportunity to take charge of their career readiness and development, all while navigating the intersectionality of their own cultural identity amongst a community of peers with shared career aspirations."
One way to become familiar with the initiative is to explore the UD CAMI module in Canvas, utilizing the interactive tools to learn more about expressing their identity in the workplace and how to find resources exclusively for them.
"Students who advance through the UD CAMI module will gain access to cultural identity-based job boards, educational resources, communities and professional associations," said Jones. "They will also participate in activities that teach them strategies that can positively impact their career design plan, such as how to evaluate an employer's commitment to diversity and how to navigate workplace microaggressions."
Additionally, UD CAMI works with employers and alumni who will provide a welcoming and inclusive environment to ensure the best fit for underrepresented students.
"We are thrilled to partner with an array of small and large companies, both private and nonprofit, especially those who have a demonstrated commitment to diversity, equity and inclusion efforts within their organizations," said UDCC Assistant Director of Internships & Career Experiences Brianna Warne. "We're also excited to partner with UD alumni to connect students with opportunities in experiential learning, such as job shadowing and internship experiences."
As Jones and Warne are both new to the University, they have hit the ground running, meeting with several campus departments who serve diverse student communities, attending events like First-Generation Celebration Day and presenting at We're First and RISE student meetings.
"We've also conducted our first UD CAMI focus group to meet face-to-face with our students to learn more about their unique UD experiences and what they're looking for from the Career Center," said Warne. "This was a phenomenal first step in gaining insight into specific needs that may not have been heard before."
Both Warne and Jones have a deeper understanding of what UD CAMI students are going through from their own experiences. Warne credits much of her success to opportunities she pushed herself to take in her undergraduate years, including becoming an RA which led to a passion for higher education.
"I wish I had the wherewithal to seek these resources when I was in undergrad, let alone have something like CAMI," said Warne. "My parents are immigrants and I grew up in a suburban town. Even with my parents' support, there was I lot I had to navigate on my own once I left home for school. It was daunting as a Black woman from a very limited-income background."
Jones has worked in diverse college environments to advance student success and career readiness. Her own dissertation and research examined the impacts of supportive relationships on the success of underrepresented college students.
"I am honored to be a higher education professional and I believe that the sum total of my personal and professional experiences has led me here," said Jones. "As I reflect on my own college experience as a woman who was both Black and first-generation, I relate to so many students whose intersectional identities impact the way in which they navigate the college environment."
For students who are unsure where to start, Warne and Jones advise that it's never too early or late to start your career development journey. The first step is to attend the UD CAMI Welcome Event on Wednesday, March 15 at 6 p.m. in Trabant University Center Lounge. Learn more about UD CAMI, enjoy free food, enter to win raffle prizes and say hello to Jones and Warne in person. They're more than ready to help you set out on your professional path.
"You are not alone in this college journey," said Jones. "Find your tribe who will keep you uplifted and inspired as you strive for excellence. Don't ever be afraid to ask for help—you'd be surprised at how many people are eager to offer their support, knowledge and assistance."
"No matter how high a GPA is or how great an internship is, we all start at the same point: the beginning," said Warne. "While my career is in higher education, I am a person of many interests. Lean into your passions and make time for any creative outlets you may have. You never know where they may lead you, and you'd be surprised at the many ways you show up to others. The best thing about yourself is that you are the only version of yourself out there. Don't be afraid to share that with the world!"
Don't miss the UD CAMI Welcome Event and reach out to the team with questions anytime at CAMIudcareercenter@udel.edu.