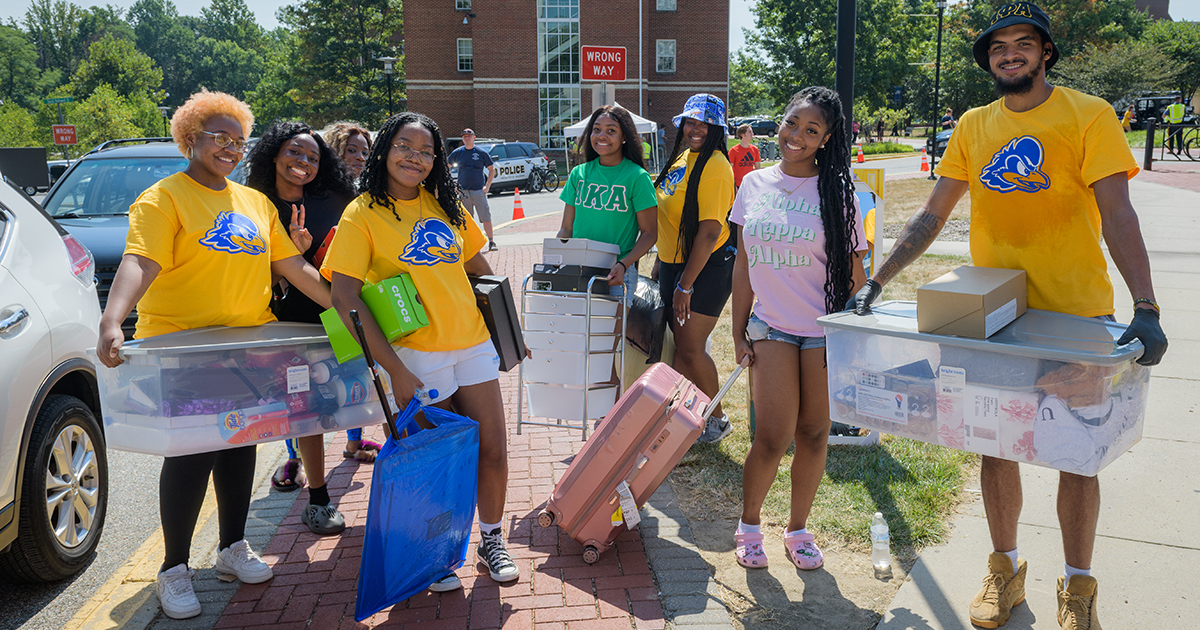 Blue Hen Helpers Still Needed
August 23, 2023 Written by Stephanie Clatworthy | Photo by Evan Krape
Do you remember your move-in experience at the University of Delaware—the excitement, trepidation and nervousness you felt when you first arrived on campus? Now think of all those volunteers who greeted you when you arrived, pointed you in the right direction or helped you carry a suitcase.
It's your turn to give back! If you want to make a difference in your University community, the Blue Hen Helper program is still looking for volunteers this Friday, August 25 and Saturday, August 26.
Blue Hen Helpers are student, staff and community leaders who play a key role in the University's opening and move-in days. As incoming students and their families embark on this new chapter, Blue Hen Helpers assist with the process to ensure a smooth transition.
"As we know, move-in days are an exciting yet hectic time for new students at the University of Delaware," said Danielle Marenco, assistant director of housing operations in Residence Life and Housing. "To ease the transition and provide much-needed support, the Blue Hen Helper Program plays a crucial role."
Volunteers will receive a free t-shirt for their participation to wear during their shift. What is involved in being a Blue Hen Helper?
Provide directions: Help new students and their families find their way around campus by offering guidance and assistance. Your familiarity with the University will be invaluable to those who are navigating the campus for the first time.
Unload vehicles: Assist with unloading vehicles and transporting belongings to the designated residence halls. Your support will ease the burden for new students and their families, allowing them to settle in comfortably.
Assist with moving items: Help students move their belongings to their respective rooms, ensuring a hassle-free transition. By lending a helping hand, you will play a significant role in creating a welcoming and inclusive environment.
Check-in volunteers: Help coordinate the efforts of fellow Blue Hen Helpers by assisting with volunteer check-ins. Your organizational skills and friendly demeanor will contribute to the functioning of the program.
Your commitment will make a significant difference in welcoming new students and fostering a strong Blue Hen community. Let's come together and make this a remarkable experience for everyone involved. Shifts are available Friday, August 25 and Saturday, August 26, from 8 a.m. to 3 p.m. Click here to sign up via Google Forms.