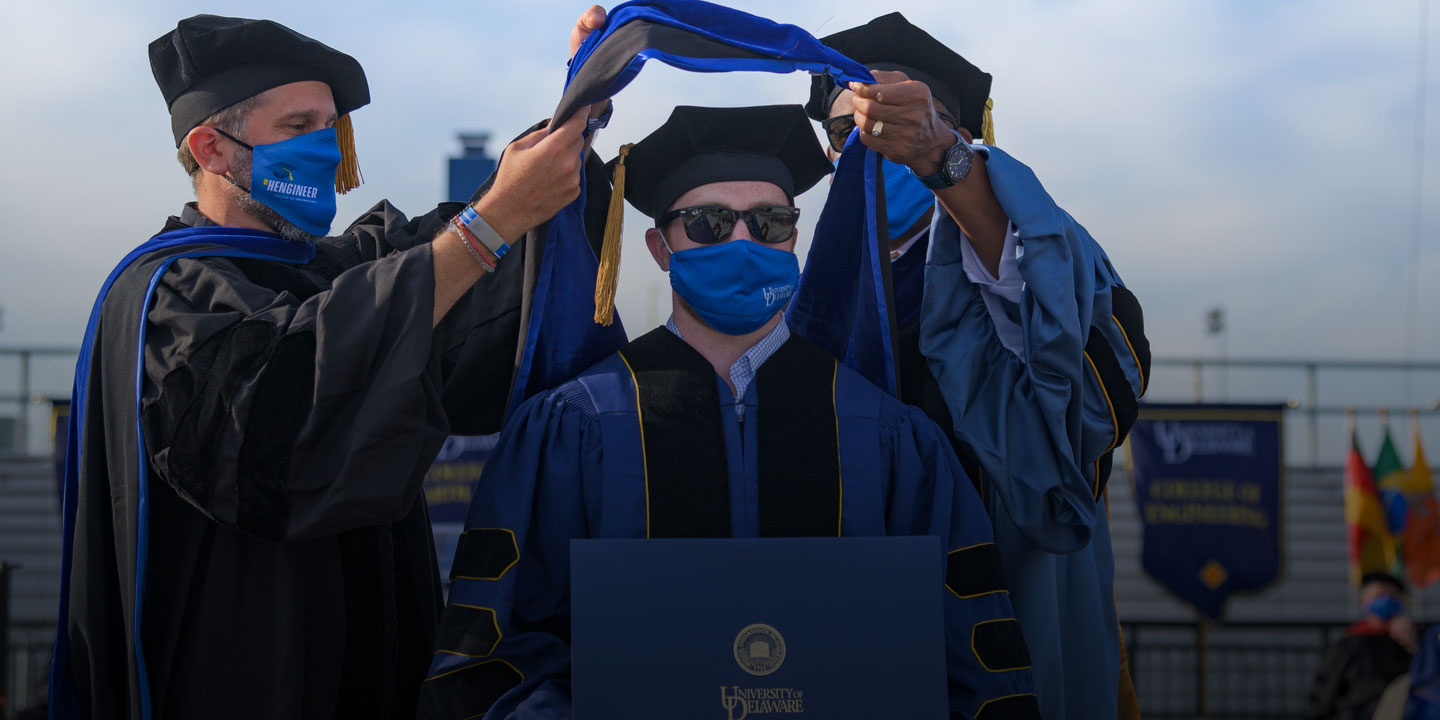 Academic Regalia
Cap and Gown Information
Academic regalia is required for degree candidates at Commencement. All candidates who do not possess regalia must obtain their regalia from the B&N UD Bookstore.
Associate, Bachelor and Master Candidates
The B&N UD Bookstore is the only approved vendor for the University of Delaware Commencement items, including official University regalia (caps, gowns, hoods, and tassel) from Oak Hall. This exclusively ensures that regalia worn at graduation will be uniform and is required.
Degree candidates (associate, bachelor, and master) planning to attend the Commencement need to order their regalia no later than Monday, April 10, 2023. Candidates may order regalia online. Regalia pick up will begin on Wednesday, April 12th during regular business hours.
All UD seniors are encouraged to attend Life After UD resource fair Wednesday, April 12 – Friday, April 14th on the second floor of the B&N UD Bookstore to pick up their regalia. The three-day event will help graduates learn about the resources available to them as they transition from students to alumni, and all attendees will leave with special giveaways. Grad Images will be on site to take portraits and Balfour Rings will be in store as well.
Candidates who wish to purchase separate regalia components (e.g., tassel, hood, gown, cap), may do so at the B&N UD Bookstore starting on Wednesday, April 12th.
If you are trying to order regalia and you do not see your major listed on the website, please email bksudel@bncollege.com and we will have it added.
If you are not local, starting Monday, April 17th, 2023 through Wednesday, May 10th you can place an order for your regalia to be shipped to your residence by calling the B&N UD Bookstore at 302-831-2424. The fee for shipping is $8.99.
Degree candidates who participated in a Study Abroad Program are invited to wear a special sash signifying the program(s) in which they have participated. You can order online or purchase in store.
Renting associate, bachelor or master regalia is not an option. All regalia for associate, bachelor and master candidates is keeper regalia and not available to rent.
The B&N UD Bookstore does not provide Honor Cords.
Doctoral Candidates
To participate in the Hooding Ceremony, doctoral candidates must rent their cap, gown, and hood. Doctoral regalia can be rented online.
Rental regalia orders must be placed by April 10th, 2023. Pick up for doctoral rental regalia will begin on Wednesday, May 17th, 2023. These must be returned no later than Saturday, June 3rd to the B&N UD Bookstore.
Doctoral candidates who wish to purchase custom regalia must place their order NO LATER than March 27, 2023. Production for custom regalia orders take 8 weeks. Candidates may order custom regalia for purchase online.
How to Wear Your Graduation Hood and Cap
The Graduation hood depends on your major and degree. The pictures below are for a Bachelor of Arts in the College of Arts and Sciences. Your regalia may be a different color or style, but the instructions for wearing the hood are the same.
Place the hood around your neck and shoulders so that the major portion hangs down your back and the velvet border is up.
If possible, fasten the cord on the front of the hood to your shirt or dress to help keep the hood away from your neck.
Looking from the front, the velvet border should be on the top.
Looking from the back, the satin lining of the hood should be exposed by rolling the velvet border back. The tip (or tail) should be pointing away from you.
Caps are to be worn squarely on top of the head with tassel:
Right side for bachelors' and associates' degree candidates, after degrees are conferred, move the tassel to the left side.
Left side for doctoral and masters' degree candidates.