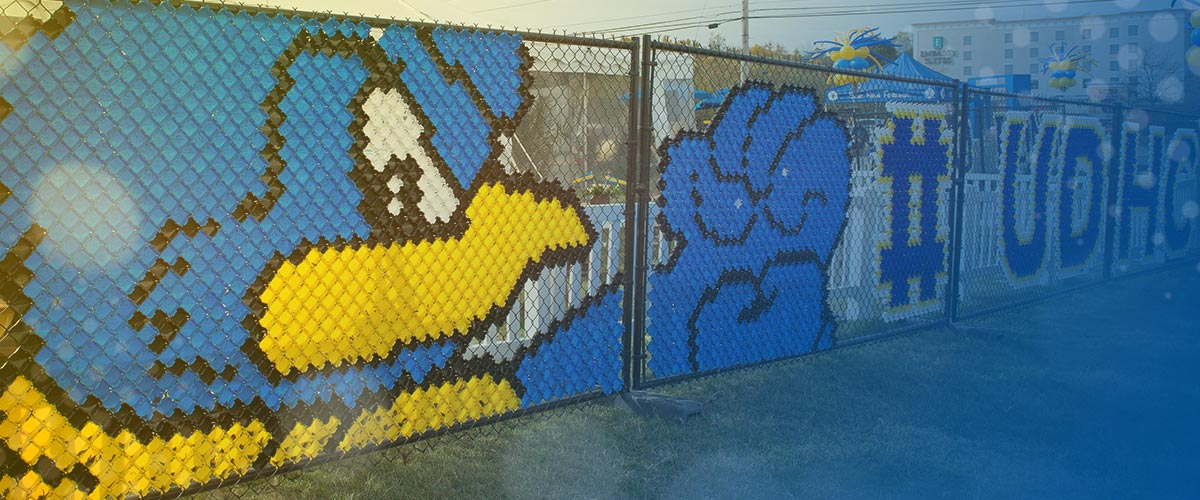 Homecoming 2020
Events, activities & resources—virtual style!
The University of Delaware celebrates the tradition of Homecoming each fall. While 2020's Homecoming activities may look a little different, the feeling of UD spirit and pride across the Blue Hen community remains.
So, deck yourself in blue and gold, break out your UD pennants and flags and show all who surround you that your UD spirit lives on, from wherever you are!
In honor of Homecoming, you can also come together with the UD community to support students facing unforeseen challenges in 2020 by making a gift to the Blue Hen Strong Fund.
To help set the Homecoming mood, check out these events and activities during Homecoming week, October 19–24, 2020.
FIGHT SONG ALARM RINGTONE
What better sound to wake up to during Homecoming week than the tune to "And then we'll fight! fight! fight! For Delaware"? Bring some of that blue and gold energy to your wake-up call!
HOMECOMING TRIVIA ON INSTAGRAM
Follow @udsaa (the UD Student Alumni Ambassadors) on Instagram to see trivia Q&As with some UD celebrities—you might even recognize a professor, advisor or classmate!
---
ZOOM ZOOM ZOOM! BLUE AND GOLD BACKGROUNDS
---
UD GETS PUZZLED!
In honor of all of the blue and gold flags we love to see waving at the Homecoming tailgates, piece together these pieces of a Blue Hen flag puzzle as fast as you can!
---
IN THE COLORING SPIRIT?
Coloring is a great activity for all ages—show us your best artwork during Homecoming week with these YoUDee, Baby Blue and other UD coloring pages. Share them on social with #BlueHensForever!
Take part in some of these virtual-friendly traditions from the UD Bucket List—perfect for celebrating your Blue Hen spirit during Homecoming week!
BlueHensForever
Feel like connecting? Post which of these items helped you or made you smile using #BlueHensForever on Facebook, Instagram or Twitter.