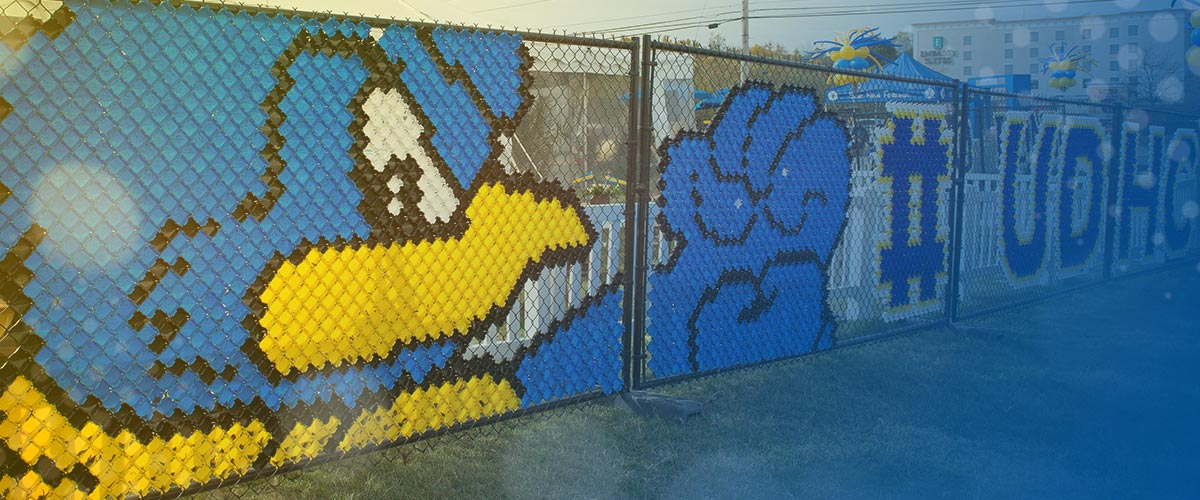 Homecoming 2021
The University of Delaware celebrates the tradition of Homecoming each fall. Homecoming brings together Blue Hens to cheer on the football team and participate in events and activities full of UD spirit and pride.
In 2021, Delaware will take on James Madison University on Saturday, October 23, for the Homecoming game. Reunion events for alumni celebrating their 30th, 35th, 40th, 45th and 50th reunion years will also take place around Homecoming weekend. More details about reunions and other Homecoming events will be available in late summer.
In the meantime, gather your blue and gold gear, break out your UD pennants and flags and show all who surround you that your UD spirit lives on, from wherever you are!
FIGHT SONG ALARM RINGTONE
What better sound to wake up to during Homecoming week than the tune to "And then we'll fight! fight! fight! For Delaware"? Bring some of that blue and gold energy to your wake-up call!
---
ZOOM ZOOM ZOOM! BLUE AND GOLD BACKGROUNDS
---
UD GETS PUZZLED!
In honor of all of the blue and gold flags we love to see waving at the Homecoming tailgates, piece together these pieces of a Blue Hen flag puzzle as fast as you can!
---
IN THE COLORING SPIRIT?
Coloring is a great activity for all ages—show us your best artwork during Homecoming week with these YoUDee, Baby Blue and other UD coloring pages. Share them on social with #BlueHensForever!
BlueHensForever
Feel like connecting? Post which of these items helped you or made you smile using #BlueHensForever on Facebook, Instagram or Twitter.