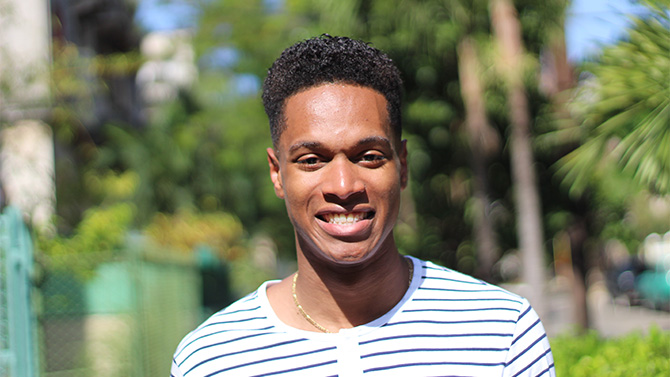 Focused lines
Article by Casey Impagliazzo Photo courtesy of Mark White May 02, 2017
Senior environmental engineering, political science major Mark White reflects on paths to success
Looking back on his four years, senior Mark White's nonchalance in describing his dual degrees, extensive travel through seven countries, and a registered student organization (RSO) affiliation that helped him land a career at GE nine months before graduation quietly underlines the world of possibilities contained within a University of Delaware student experience.
In an interview with the Division of Student Life, White described the avenues and attitudes in which he found his path to success.
"My mother and father and I pulling up to Russell B on move-in day freshman year, with Blurred Lines on the radio, I remember everything about that day," White said. "The time goes by in the blink of an eye. I definitely didn't consider what I would do after graduation when I arrived here, but I quickly learned that the key to college is expanding your network — not just learning answers, but how and where to meet people who have the answers that you need in order to be successful."
Q: What formative experiences come to mind when you look back on your life at UD?
White: I studied abroad in London as a sophomore, and spent my free time in Madrid. That semester really opened my eyes to travel. Taking advantage of that opportunity, one of the top study abroad programs in the nation, removed that layer of fear and discomfort I didn't know I had about navigating foreign countries without knowing the language or customs. Since that trip, I've been to Cuba, Puerto Rico, the Bahamas, Spain again, France, Canada and Ireland.
I've learned a ton during my time at UD, and only about 40 percent of that growth came from academic learning in my two majors. Undergraduate Research, Study Abroad, Greek Life, and NSBE gave me opportunities to improve my interpersonal skills, public speaking, professional writing, financial management, and planning for my future. Becoming an American Global Fellow to live with English Language Institute students has also helped me learn a lot about cultures.
Q: What could have made your experience even better?
White: Academically, the RISE engineering program has been phenomenally helpful in guiding me through the rigorous environmental engineering curriculum. Overall, it is helpful for administrators to be accessible to individual students, and to have a specific person that I can go to when I have a question or a problem. The StUDent Government Association cannot feasibly elevate the voices of 17,000 undergraduate students, so regular drop-in office hours for students, an online form, or town hall events can all provide additional opportunities for students to voice their concerns to those who might be able to make change.
Q: What advice do you have for students who might be interested in following a similar path to yours?
White: You have got to do what you would love to do with your life. Far too often, we get caught up in trying to fulfill what others think we should do, but you've got to focus on a path — and you have to build your network. During my first visit to campus, I visited the Center for Black Culture and met N'Kosi Oates, who I still keep in contact with today. My on-campus and alumni fraternity brothers in Phi Beta Sigma Fraternity Inc. are always checking in with me to see how things are going.
When I first decided to attend a convention with UD's chapter of National Society of Black Engineers (NSBE), I wasn't sure I wanted to attend because I didn't think it would be of use to me as a freshman. Attending that convention however, opened my eyes up to what professional networking is all about. From then on, I never missed a convention. In the following semester, as a sophomore I attended my second convention with NSBE. I ended up talking to General Electric at that convention, getting asked back for an internship in their transportation division that I completed my sophomore year, applying for and completing an internship in their renewable energy division my junior year, and applying for a full-time position my senior year which I accepted right before my senior year began in August.
One thing I'll miss about UD is being surrounded by so many unique minds, people of religions you've never heard of, or from places you never knew there were people in. It's really cool to have the opportunity to learn about and see all sides of the people around you. Being at a big school, it's easy to stay inside your shell. Stepping outside of your comfort zone is really not easy at first, but it's the only way you'll get through.
Lines of communication
Students with a question, a concern, or a problem to solve are encouraged to reach out to the Office of the Dean of Students for assistance. ODS, part of UD's Division of Student Life, can be found in 101 Hullihen Hall and reached by phone at 302-831-8939 as well as via email at deanofstudents@udel.edu. Questions, concerns, ideas and feedback can also be submitted directly to the division via its new online form.
About the Division of Student Life
The Division of Student Life includes the Career Services Center, Center for Black Culture, Center for Counseling and Student Development, New Student Orientation, Office of the Dean of Students, Office of Student Conduct, Residence Life and Housing, Student Diversity and Inclusion, Student Health Services, Student Services for Athletes, Student Wellness and Health Promotion, and the University Student Centers. For more information about Student Life, visit the website.