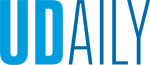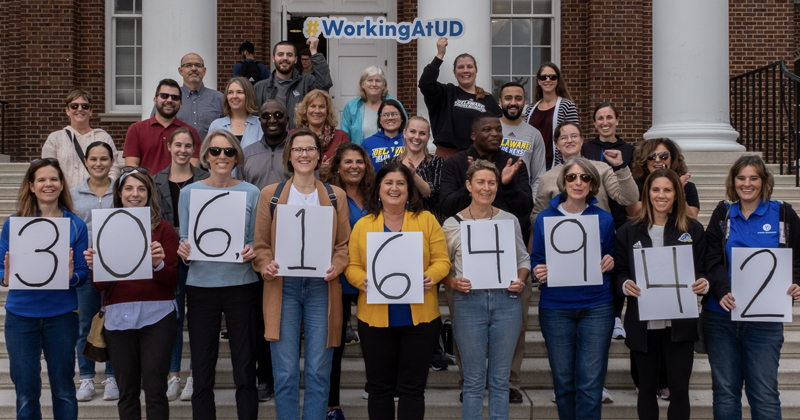 Walktober 2023
Article by Human Resources Photo by Robert O'Steen November 13, 2023
Walktober participants log 306,164,942 steps
UD's annual fall-themed activity challenge, Walktober, was capped off with a shoe drive and group walk on Thursday, Nov. 9, when employees gathered to celebrate participants' collective achievements. Beginning on Sept. 18 and ending on Oct. 29, 859 faculty, staff, retirees and household members recorded over 394,623 minutes (about nine months) of exercise, collected 24,746 total leaves and logged 306,164,942 steps — equivalent to around six times around the world.
Human Resources organized the group walk, which began at the Carpenter Sports Building, moved down the Green and briefly stopped on the steps of Memorial Hall to hear from Melissa Bard, vice president and chief human resources officer, who shared words of encouragement and highlighted the importance of mental and physical wellbeing.
Congratulations to this year's winning teams:
1st Place: "My Sole Called Life" Moira Curtis, Bema Amponash, Caitlin Gallagher, Sally Healy, Yawo Baah, Jaime Tomlinson and Joan Parker
2nd Place: "Walk the Walk" Janet Caruccio, Jennifer Riegner, David Schultz, Christine Schultz and Jeff Riegner
3rd Place: "Lil 'wRECking Bobbers" Andrea Alesi, Laura Grimes, Lauren Dudziak, Cecilia Kelly, Tim Groth, Alysha Parker, C.K. Pena, Aimee Mercado, Adam Jines and Mirza Javed
Participants collected 34 pairs of shoes to be donated to Samaritan's Feet for distribution to people in need around the world. Gently worn sneakers will be accepted at the Human Resources offices, 550 S. College Ave., Suite 201, Newark, DE 19713, until Friday, Nov. 17, and is open to anyone who would like to contribute.
For further information and to see more photos, please visit the wellbeing webpage.