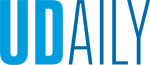 Rallying for Ukraine
Article by Mike Chalmers Photos by Kathy F. Atkinson and Mike Chalmers February 28, 2022
Students organize event to show support for Ukraine
When roommates Greg Tarnavskyi and Vlad Krylov saw video of Russia's invasion of Ukraine last week, they wanted to show that the University of Delaware community is united in its condemnation of the war.
Tarnavskyi, a junior political science major from Ukraine, and Krylov, a senior economics major from Russia, organized a rally on The Green on Monday, Feb. 28, that drew students, faculty and staff demonstrating support of Ukraine in its fight against Russian forces.
"This is a battle for the basic values of humanity," Tarnavskyi told demonstrators. "We need to stop [Russian President Vladimir] Putin and stop this war."
The rally opened with a recording of the Ukrainian national anthem, and when the music unexpectedly cut out, the organizers began singing instead. There were only a handful of demonstrators at the beginning of the rally, but more people stopped to join the event on their way between classes. Demonstrators held Ukrainian flags and signs reading "STOP PUTIN" and "RUSSIA GO HOME." During the rally, Naoyuki Sunam, who earned a doctoral degree in psychology from UD last year, wrote "Stop Putin" in Japanese on a sign alongside the Ukrainian flag.
"It just breaks my heart to hear about the suffering on both sides of the war," said Sunam, who has a friend from Russia.
President Dennis Assanis attended the rally with his wife, Eleni. He thanked the students for organizing the rally and thanked the demonstrators for voicing their support for a peaceful end to the conflict.
"We stand with the people of Ukraine and Russia who do not want this war," Assanis said. "Thank you for coming out and speaking out and standing for freedom."
Brendan Czuczuk, a sophomore political science major whose family comes from Ukraine, also helped organize the rally.
"It's rare to see so many people united around a cause like this," Czuczuk said. "Around the world, we're seeing more people rallying to support Ukraine. I've never been more proud to be Ukrainian."
Brendan's father, Ihor Czuczuk, drove from Trenton, New Jersey, to attend the rally and provide the demonstrators with information about the political and historical background of the war. "It's not really Russians we're fighting; it's Putin, the Kremlin and his cronies," he said. "Ukrainians need to know that Americans support them."